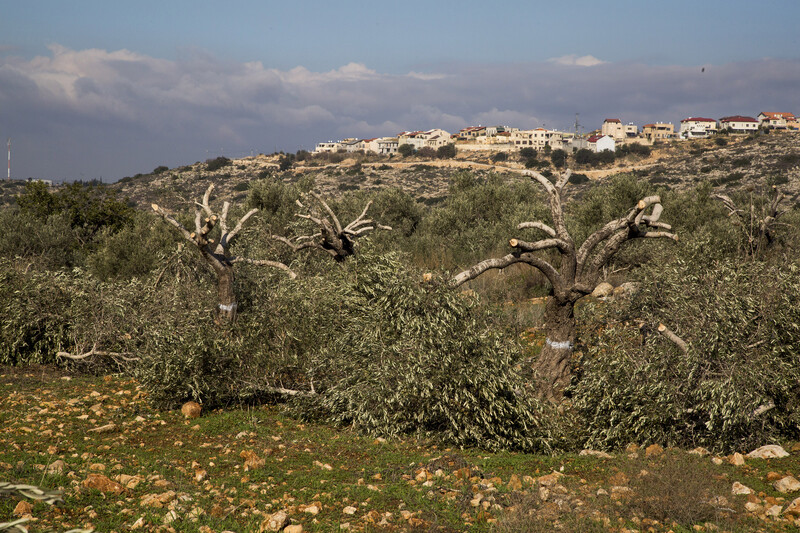 The administration of US President Donald Trump surprised many observers on Thursday by issuing a public warning to Israel over its accelerating construction of settlements in the occupied West Bank.
"The American desire for peace between the Israelis and the Palestinians has remained unchanged for 50 years," the White House said in a statement from press secretary Sean Spicer. "While we don't believe the existence of settlements is an impediment to peace, the construction of new settlements or the expansion of existing settlements beyond their current borders may not be helpful in achieving that goal."
Spicer reiterated that Trump "hopes to achieve peace throughout the Middle East region." He added that the "administration has not taken an official position on settlement activity and looks forward to continuing discussions, including with Prime Minister Netanyahu when he visits with President Trump later this month."
Benjamin Netanyahu is scheduled to be in Washington on 15 February for what will now be a closely watched meeting for any signs of tension with Trump.
Aggressive land theft
Since Trump took office, Israel has announced plans for some 6,000 new settler housing units in the occupied West Bank.
This includes more than 550 in occupied East Jerusalem, and plans for an entirely new settlement deep in the West Bank.
The new settlement is intended as "compensation" to the settler movement after Israeli police this week implemented the court-ordered removal of settlers from Amona, a colonial outpost built on privately owned Palestinian land north of Ramallah.
But Israel had already promised to move the settlers within the West Bank, replacing one land theft with another.
"Shot across the bow"
Taken on its own, the White House statement is weak – although US policy has always been very tolerant of Israeli settlements in practice, rhetorically the previous administration was tougher, dubbing them "illegitimate," and allowing the passage of December's UN Security Council Resolution 2334 that confirmed they constitute a "flagrant violation under international law."
The Trump statement may signal a return to the policy of the George W. Bush administration which approved settlement construction as long as it did not extend beyond existing settlement boundaries.
But context is everything here. As Chemi Shalev, a commentator in the Tel Aviv newspaper Haaretz observes, "the main importance of the statement is that it was put out at all."
"Israelis had assumed that Trump would swallow just about anything their government would do, if only to be different from President Barack Obama," Shalev adds. "The White House statement was a shot across the bow to Netanyahu that there's a limit to everything."
Netanyahu and his ministers have not concealed their glee at Trump's rise to power, with some seeing it as an opportunity to annex most or all of the occupied West Bank outright.
And triumphant settler leaders found a warm welcome at Trump's inauguration ceremony last month.
But the latest statement is another signal from the new US president that Israel will not get everything it wants – at least not right away.
Despite expectations that he would immediately fulfill a campaign promise to move the US embassy from Tel Aviv to Jerusalem, Trump poured cold water on the idea.
"I don't want to talk about it, yet," the president told a Fox News interviewer days after taking office.
The warning about settlements came after Trump met with Jordan's King Abdullah, on the sidelines of the so-called National Prayer Breakfast in Washington on Thursday morning.
According to The Jordan Times, the pair discussed "the importance of intensifying efforts to revive Palestinian-Israeli peace negotiations" and other regional issues.
European complicity
While he has proven erratic and unpredictable, it would be foolish to expect Trump to do what none of his predecessors have done: make Israel pay a price for its settler-colonization of Palestinian land.
So in the absence of action from the US, might European leaders who have been sounding increasingly urgent warnings about the danger settlements pose to the so-called two-state solution step up?
So far there is no sign of that. On Thursday, Federica Mogherini, the EU's top foreign policy official, put out a mild statement calling Israel's latest settlement push "a very worrying trend, posing a direct challenge to the prospects of a viable two-state solution, which is increasingly difficult and risks becoming impossible."
The EU noted the UN Security Council's recent confirmation that the settlements are "illegal under international law," but the pro forma statement gives Israel no cause to worry that it might face any real consequences for its brazen violations.
Tags