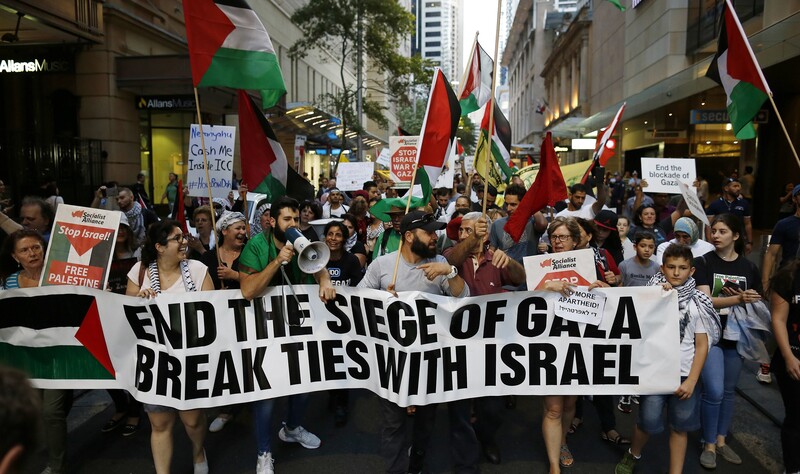 A new poll finds that 55 percent of Australians see boycotting Israeli goods and services as a reasonable way to apply pressure in support of Palestinians rights.
That is up from just 31 percent who expressed support for the boycott of Israel in 2014.
In the same period, the number who said they would not support a boycott of Israel fell from 47 percent to just 25 percent. One in five remains undecided.
Overall, 34 percent of Australians said they sympathize more with the Palestinians than with Israel, an increase from the 27 percent who held that view in 2014.
Fewer Australians (26 percent) said they sympathize more with Israelis than with Palestinians.
The poll was conducted by Roy Morgan Research, Australia's oldest polling firm, on behalf of the Australia Palestine Advocacy Network and a coalition of groups supporting Palestinian rights. Morgan has conducted regular polls on Australian attitudes on Palestine since 2009.
By a large margin, Australians oppose Israel's construction of settlements on occupied Palestinian land: 61 percent are against the settlements, while 17 percent support them.
More than half of respondents disapprove of the Australian government's rejection of UN Security Council Resolution 2334, adopted in December to demand Israel stop settlement activities, which are illegal under international law.
Israel "its own worst enemy"
A general measure of sympathy for the Palestinian cause is the number of Australians who say their country should recognize Palestine as a state. That is now up to 73 percent, from 62 percent in 2011, according to the survey. Just eight percent oppose such recognition.
"What this latest poll shows is that more Australians support the Palestinian position than the Israeli position, and increasingly so," Peter Manning, a member of the Australia Palestine Advocacy Network executive, told The Electronic Intifada.
Manning, a former head of television news and current affairs at Australia's public broadcaster ABC, sees Israeli actions as explaining the shift in opinion.
"Israel is its own worst enemy and the more settlements that are built, and the more Palestinian land that is stolen, and the more those actions are reported in the media, the more Australians find that the true victims in the Israel-Palestine dispute are not the Israelis but the Palestinians," he said. "Thirty years ago it would have been the reverse."
While still critical of media coverage in Australia, Manning notes that journalists are more willing to describe Palestinian territory as "occupied." He said this indicates to audiences that "being under occupation is the major cause of resistance for Palestinians and there will be no end to this conflict until the occupation finishes."
Manning said he's not surprised at the favorable attitudes that Australians hold towards the boycott, divestment and sanctions (BDS) movement, since targeted boycotts have a long history in political advocacy in the country, including campaigns related to apartheid South Africa and Burma.
In keeping with trends seen in the United States and Canada, the poll shows evidence of a generational split in Australia: only those aged 65 and older were more sympathetic to Israel (37 percent) than to the Palestinians (32 percent).
Government "out of step"
Australia's Prime Minister Malcolm Turnbull, of the conservative Liberal Party, was one of the few world leaders to condemn December's UN resolution.
"The current government is way out of step with the way Australians think about Palestine," Manning said. He cites the impact of Australia's well-organized pro-Israel lobby and notes that Australian business leaders that back the Liberals also favor close ties with Israel.
In February, Turnbull welcomed his Israeli counterpart Benjamin Netanyahu to Australia.
According to a joint statement, the two leaders "affirmed the importance of bilateral defense cooperation" and committed themselves to the "expansion of trade, investment and commercial links between Australia and Israel."
Tags