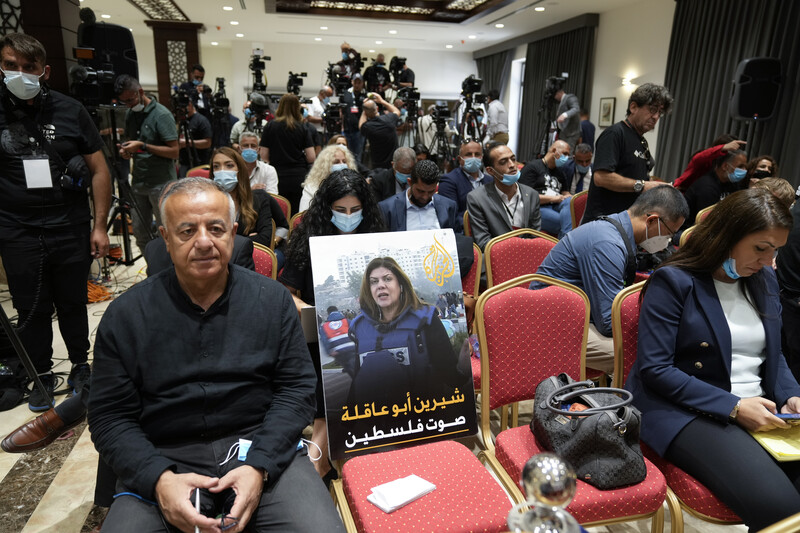 The family of Shireen Abu Akleh on Monday rejected the results of Israel's official investigation into the slaying of the world-renowned Al Jazeera journalist.

Abu Akleh was fatally shot in the head in Jenin on 11 May, as she and other journalists were covering an Israeli army raid in the occupied West Bank city. Her colleague Ali al-Samoudi was shot in the back and injured.

"We could never expect any type of accountability or legitimate investigation from the very entity responsible for gunning down an unarmed and clearly identifiable journalist," Lina Abu Akleh, the journalist's niece, said in a tweet sharing the family's reaction.

Earlier, the Israeli army claimed, according to the newspaper Haaretz, "that Abu Akleh was likely mistakenly shot by an Israeli soldier while under fire who was using a telescopic scope and misidentified her as an armed Palestinian gunman."

There have been at least nine separate investigations of Abu Akleh's killing. Eyewitness accounts have been consistent that there were no exchanges of fire in the area at the time that Abu Akleh, who was clearly identified as a journalist, was killed.

One of those investigations was conducted by CNN which reported in May that it had obtained "new evidence — including two videos of the scene of the shooting — that there was no active combat, nor any Palestinian militants, near Abu Akleh in the moments leading up to her death."

"Videos obtained by CNN, corroborated by testimony from eight eyewitnesses, an audio forensic analyst and an explosive weapons expert, suggest that Abu Akleh was shot dead in a targeted attack by Israeli forces," the American network added.
Absurd on its face
But Israel's latest contradictory account claims, according to Haaretz, that Palestinian gunmen fired towards an Israeli army vehicle. "One of the soldiers believed Abu Akleh was part of the armed militants who fired at them, and he shot at her through a telescopic scope," the newspaper stated, citing the army's findings.
"It cannot be unequivocally determined who shot her," a high-ranking Israeli army official quoted by Haaretz stated. "It needs to be said that there were both IDF soldiers and Palestinians at the scene."
This account does not add up – and not only because previous investigations have consistently found there were no exchanges of fire prior to Abu Akleh's killing. How could the Israelis claim to know that one of their soldiers shot at her through a telescopic sight, while at the same time have no idea who it was?
The soldiers on the scene would know who fired a weapon. The Israelis would know precisely who had been issued a rifle with a telescopic sight. If only one soldier had fired, that person would be the prime suspect. If more than one did so, that would narrow down the number of suspects. Israel's claim that it cannot determine who fired the fatal shot is absurd on its face.
The Israeli military advocate general's office said it would not open an investigation into any of the soldiers involved as "there is no suspicion that a criminal offense was committed."
And in a further effort to spin the killing as unintentional and even justifiable, Israeli army chief Aviv Kochavi on Monday called Abu Akleh's death "an unfortunate incident" that had occurred "during operational activity to thwart Palestinian terror."
"Our family is not surprised by this outcome since it's obvious to anyone that Israeli war criminals cannot investigate their own crimes," said the statement shared by Lina Abu Akleh.
The family said it would continue to demand that the US government conduct its own investigation into the killing of Shireen Abu Akleh, who was an American citizen.
Another whitewash
Human rights groups have long pointed out that the main task of the Israeli army advocate general's office is not determining the truth but shielding Israeli soldiers from accountability.

In 2016, B'Tselem announced it would stop cooperating with the military investigation system.

"We will no longer aid a system that whitewashes investigations and serves as a fig leaf for the occupation," the Israeli human rights group said at the time.

On Monday, B'Tselem dismissed the army's probe of Abu Akleh's killing as another "whitewash," saying the slaying "was no mistake" and that it was instead Israeli "policy."

"Enormous public and international pressure was needed to make Israel spurt a faint confession that one of its soldiers had killed journalist Shireen Abu Akleh, while at the same time shaking off any responsibility for her death," B'Tselem added.

"The killing of Abu Akleh is the predictable result of Israel's outrageous open fire policy in the occupied territories. This policy claims more and more victims while the whitewash continues undisturbed."

The Committee to Protect Journalists dismissed Israel's findings as "late and incomplete," adding that the result of the investigation announced Monday "does not provide the answers – by any measure of transparency or accountability – that her family and colleagues deserve."

Omar Shakir, the Israel and Palestine director for Human Rights Watch, noted that Israel's focus on the allegedly "unintentional" nature of Abu Akleh's killing "is a deliberate misdirect."

"Israel routinely uses excessive force – their pattern of indiscriminate fire regularly kills and maims Palestinians, including journalists," Shakir said.

"No-one questions the intent of a perennially drunk driver who kills – they punish them severely."
Washington's complicity
Israel's latest attempt at a cover-up only makes sense as a public relations exercise.

While Israel has pretended to conduct an investigation of Abu Akleh's killing, the United States – Israel's chief patron – has pretended to demand one.

In reality, the US has been helping Israel get away with the murder – ignoring growing demands from members of Congress and the Abu Akleh family for the US to launch its own investigation.

Given its record, there's little reason to think Washington – and its faithful followers in the European Union – won't continue to play Israel's game, unless the demands for real justice and accountability remain loud and constant.

Monday's Israeli announcement – on Labor Day, a national holiday in the US – also raises suspicions that it was timed to attract as little attention as possible.

Notably, the US picked 4 July – its own so-called independence day and another major public holiday – to issue a statement claiming that Washington "could not reach a definitive conclusion regarding the origin of the bullet that killed" the journalist.

While the US at the time acknowledged that Israel likely killed Abu Akleh, it offered justifications and excuses that were widely derided and rejected.

"Israel's killing of our dear Shireen cannot be swept aside," the Abu Akleh family said Monday, as it urged supporters to maintain pressure on President Joe Biden and Secretary of State Antony Blinken.

"No other family should have to endure what our family has had to. We cannot and will not stop until we have justice for Shireen."
Tags