This article is being updated as new information is available.
The Facebook account of the man charged in the shooting attack that killed six persons and injured several more at a Quebec City mosque on Sunday evening indicates he was a fan of US President Donald Trump, French far-right leader Marine Le Pen, the Israeli army and other far-right groups.
A fellow student of the suspect has also confirmed he had strong pro-Israel, anti-immigration and pro-Trump views.
Alexandre Bissonnette, 27, was arrested as a suspect in the slayings several miles from the mosque, after he called police himself, the newspaper Le Soleil reported.
A source close to the investigation, told the newspaper La Presse that during the hours-long interrogation following his arrest, Bissonnette did not conceal his hostility toward Muslims.
Canadian Prime Minister Justin Trudeau condemned the shooting as a "terrorist attack on Muslims in a center of worship and refuge."
Bissonnette appeared before a judge in Quebec City on Monday afternoon and was charged with six counts of premeditated murder and five counts of attempted murder.
Pro-Israel, pro-Trump
Bissonnette studied political science at the University of Laval.
Jean-Michel Allard-Prus, a fellow student, told Le Journal de Quebec that he often talked politics with Bissonnette.
"He has political ideas on the right, pro-Israel, anti-immigration," Allard-Prus said. "I had a number of debates with him about Trump. He was obviously pro-Trump."
Initially, police said there were two suspects and media named the other as Mohamed Khadir, reportedly in his 30s. He was detained near the mosque minutes after the shootings that took place when the building was packed for evening prayers.
But on Monday Quebec police said said only one of the men was a suspected shooter and the other was a witness.
Bissonnette is the suspected shooter.
The other man initially arrested and held over night before being released – his name is actually Mohamed Belkhadir – told La Presse that he had been been at prayers in the mosque on Sunday night, and then went outside to shovel snow on the steps. A short time later, he heard the gunshots that lasted 15 to 20 seconds. He then went inside to call emergency services. He saw an injured person and tried to assist. He then saw an armed man and ran away, not knowing the armed man was a police officer. "I thought it was someone who had come back to shoot," he said.
Police evidently thought Belkhadir was a fleeing suspect and arrested him.
"I understand and respect that they caught me," Belkhadir added. "They saw me run away and thought I was a suspect."
Victims
On Monday evening Quebec authorities confirmed the names of the six persons killed.

They include Azzeddine Soufiane, 57, a Moroccan native and pillar of the local Muslim community who ran a grocery store near the mosque; Algerian native Abdelkrim (Karim) Hassane, 41; Mamadou Tanou Barry, 39, an accountant and married father, originally from Guinea; and Ibrahima Barry, 39, who worked for the public health system and had also immigrated from Guinea.

Also killed were Khaled Belkacemi, a professor of agriculture at the University of Laval and pharmacist Aboubaker Thabti.

Thabti had emigrated to Quebec from Tunisia in 2012 with his wife and three young children.

Well-wishers have left floral tributes and gathered near the mosque:

On Monday night thousands of people held a solidarity vigil near the mosque.
Far-right affinity?
Quebec media have pointed to the Facebook page of Bissonnette. The Facebook page became inaccessible some time after The Electronic Intifada made copies of it.
The Facebook page showed that Bissonnette has "liked" a number of political figures and entities which, if taken as signs of his views, may indicate far-right leanings.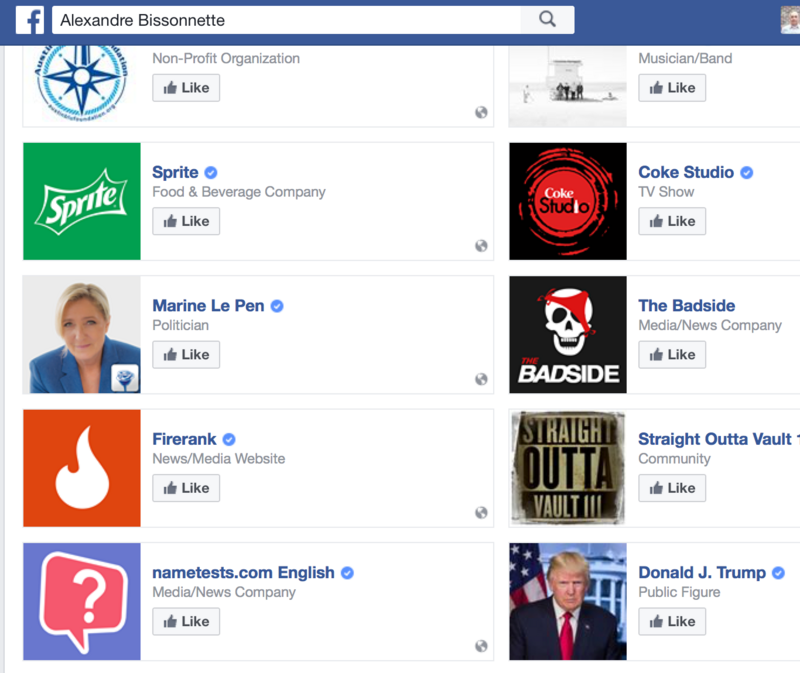 His "likes" include the official Facebook pages of Trump, Le Pen, the "Israel Defence Forces" and a group called "United with Israel."
He "liked" Richard Dawkins, a leading proponent of "new atheism," which often veers into strident Islamophobia.
Bissonnette also "liked" the nationalist Parti Québécois which ran a losing general election campaign in 2014 on a "Charter of Values" that was widely seen as promoting intolerance of Muslims. The party has strongly condemned the attack.
Most of the postings on his personal page showed Bissonnette engaging in mundane activities, including fishing and enjoying cheese pairings.
But the Quebec publication La Presse reported that Bissonnette was known as a troll to members of a Facebook group called Bienvenue aux réfugiés – Welcome to Refugees.
According to the group's administrator, Bissonnette often posted comments attacking foreigners in general and feminists, who he termed "feminazis."
Trump's false news.
Meanwhile, the far-right outlet Fox News initially focused on Belkhadir – about whom next to nothing was known except his name and his reported Moroccan ancestry. It later updated its story, but only after disseminating the ultimately false impression that a Muslim man had been the shooter.
The Trump administration itself used the false information from Fox News to justify its ban on travelers from certain Muslim-majority countries.
This follows a familiar pattern of downplaying threats of right-wing violence and the possible political motives of suspected attackers when they are not of Arab ancestry or Muslim.
It ultimately turned out that Belkhadir is not a suspect at all.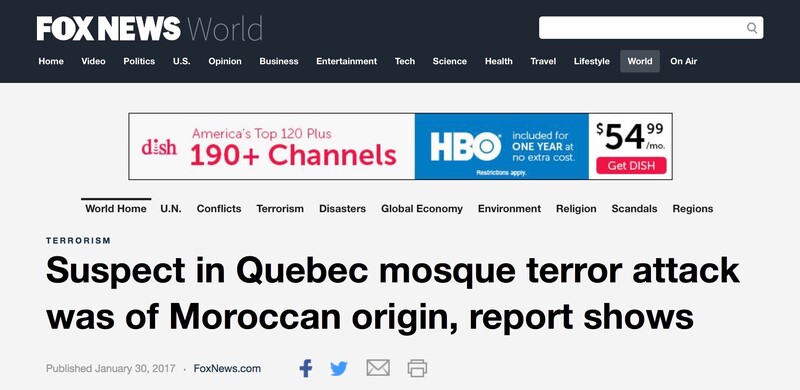 Authorities have termed the shooting a "terrorist" attack but have yet to reveal any other motives.
While social media postings can't tell the whole story, the US government clearly thinks they are relevant to discerning people's beliefs or intentions.
The Trump administration is considering asking foreign visitors for their social media accounts, a policy that actually started under Obama.
In September, a man arrested for burning a Florida mosque had shared extreme pro-Israel and anti-Muslim propaganda on his Facebook page.
Dylann Roof, who was sentenced to death for murdering nine people at an African American church in Charleston, South Carolina, had similarly used the Internet to spread his white supremacist creed.
The Quebec killings come at a time of heightened tension, amid protests over Trump's ban on refugees and travelers from seven Muslim-majority countries.

Tags