The parents of two Palestinian boys who were shot dead in cold blood on 15 May have called on Pope Francis to speak out against the killings of their sons and the systematic violence Palestinians face under Israeli occupation.
"We appeal to Your Holiness as a religious and spiritual leader to call on international human rights organizations to seek justice in the prosecution of the perpetrators and hold their leaders accountable for the murder of our sons," the parents say in a message issued through Defence for Children International-Palestine Section (DCI-Palestine).
They also urge Francis to watch the video footage of the killings "documenting the murder and showing clearly how our children were killed without the blink of an eye."
The boys, 17-year-old Nadim Siam Nuwara and 16-year-old Muhammad Abu al-Thahir, were shot dead by Israeli soldiers at a Nakba Day protest near the Ofer military prison in the occupied West Bank village of Beitunia.
But the Pope, spiritual leader of the world Catholic communion and head of state of Vatican City, has offered only general platitudes.
Pope Francis is currently visiting present-day Israel and the occupied West Bank. He has neither visited nor spoken about Gaza, where 1.7 million Palestinians are besieged.
On Sunday the Pope visited Bethlehem in the occupied West Bank and made a stop at the apartheid wall which he contemplated in silence.
He has continued his visit to occupied Jerusalem where draconian movement restrictions by Israel have "prompted some Christians to complain they will have little chance of seeing Francis."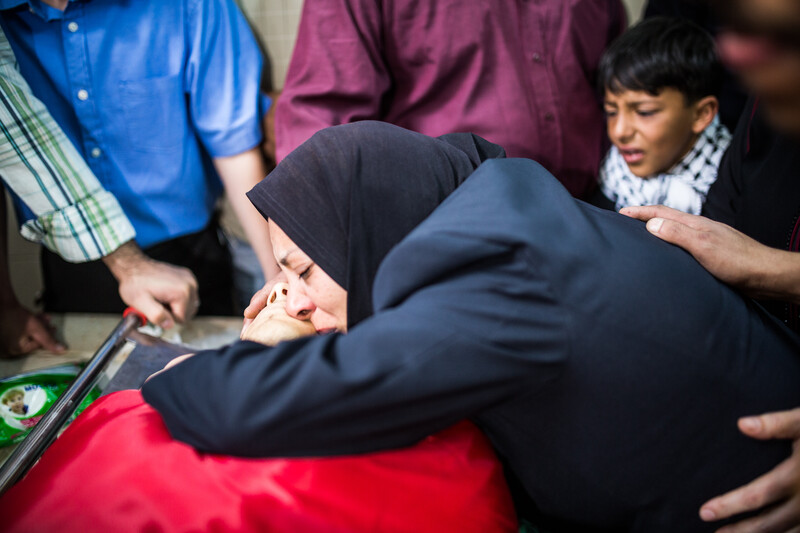 Parents' plea
"Our hearts are torn in anguish for the loss of our sons, whose young lives, dreams, and hopes were cut short by the bullets that struck them," the Abu al-Thahir and Nuwara families say in their message to the Pope. "They were murdered with the utmost cruelty and disregard for human life, at a time when our people were recalling the tragedy of the Nakba that befell upon us at the hands of the Israeli occupation."

"We hope that Your Holiness will interfere to put an end to the crimes committed against our children, women, and elderly," the parents add.

"We attach high hopes to your historic visit to our holy and blessed land, and we hope it will be a good start to exert every possible effort at the international level to end the occupation, so that our children may live in peace and security in the land of love and peace," the message concludes.

The killings of the two boys on 15 May raise the number of Palestinian children killed by Israeli occupation forces in 2014 to four, according to data collected by DCI-Palestine. More than 1,400 Palestinian children have been killed by Israeli occupation forces and settlers since 2000.
Missed opportunity
Pope Francis, who famously personally returns phone calls, has not responded to previous calls by faith leaders to speak out against Israel's systematic abuse of Palestinian children, including petitions published by the Palestinian Christian organization Sabeel and signed by more than five thousands individuals including hundreds of faith leaders.
Francis missed a high profile opportunity to address the plight of Palestinian children when he met with Israeli leaders today. "I vow to pray for the institutions of the State of Israel and for its citizens," the pontiff said. "I especially promise to continually ask God for peace and for the blessings related directly to peace: security, prosperity and fraternity."
Offering general platitudes, the Pope added: "We unequivocally reject everything opposed [to] peace and coexistence between Jews, Christians, and Muslims including: violence and terrorism and all forms of discrimination based on race or religion; all forms of anti-Semitism; acts of intolerance toward people or place [of] worship of Jews, Christians and Muslims."
A day earlier, standing next to Palestinian Authority de facto leader Mahmoud Abbas, the Pope also made a speech laden with generic calls for "peace."
Francis, reflecting a Vatican foreign policy in line with the United States and European Union, has insisted that "there is simply no other way" toward "peace" than the defunct "two-state solution," which calls for segregation of Palestinians and Israeli Jews into separate entities.
Many Palestinians have also been deeply dismayed at the Pope's decision to lay a wreath at the tomb of Theodor Herzl, the founder of Zionism who inspired the ethnic cleansing of Palestine – the ongoing Nakba.
Tags