In Jerusalem today, Israeli occupation forces banned Muslim men under fifty years old from reaching the Al-Aqsa mosque and attacked worshipers with tear gas and stun grenades.

In besieged Gaza, meanwhile, Palestinians marched toward the Nahal Oz siege gate on the territory's eastern boundary with present-day Israel to show support for Al-Aqsa, which is increasingly under assault from Jewish settlers.

Gaza students Belal Dabour and Asem Alnabeh were present and offered live accounts via Twitter.

Alnabeh tweeted that marchers set off toward Nahal Oz from three locations in Gaza.

The day's events as witnessed by Dabour and Alnabeh began when hundreds of people gathered in central Gaza City to march toward the Nahal Oz crossing with Israel east of Gaza City, according to Dabour.

As the marchers headed east thorough the Shujaiya section of Gaza City, more people joined the march, Alnabeh tweeted.

As the group reached the Nahal Oz crossing, Israeli army jeeps gathered on the other side.

Palestinians youths threw stones toward the occupation forces, who fired shots into the air and fired tear gas grenades at the marchers, according to Alnabeh.

One young man, pictured by Alnabeh, tried throw one of the gas grenades back, in a scene reminiscent of the weekly protests in West Bank villages such as Bilin and Nabi Saleh.

The gas caused some people to faint, Dabour tweeted.

He also said it was his first time ever breathing in tear gas, calling it an "uncomfortable feeling."

A photo Dabour tweeted shows a young man being treated for gas inhalation.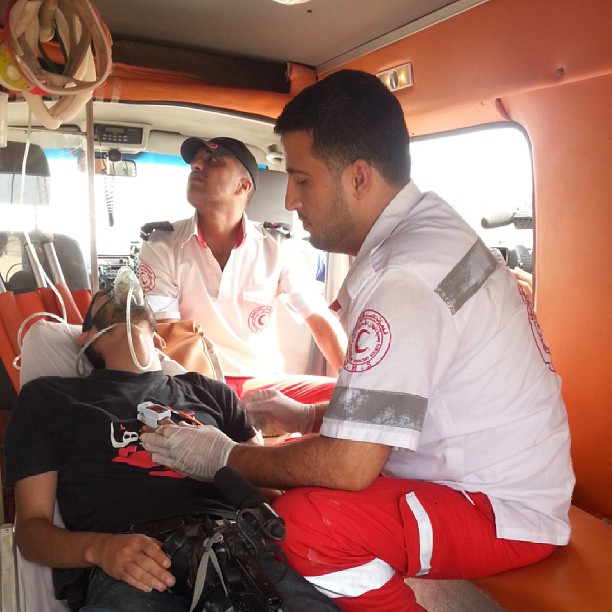 The video at the top of this post shows one injured person being carried away.

Despite thick clouds of tear gas, the marchers were undeterred from their goal of reaching the border.

According to Dabour, hundreds of people entered the so-called buffer zone, territory in Gaza that Israel has unilaterally forbidden Palestinians from entering.

Alnabeh said that Israelis fired munitions that set fire to fields in the area.

One young man managed to raise a Palestinian flag on a pylon, in view of the occupation forces. Alnabeh and Dabour returned home safely.
Tags