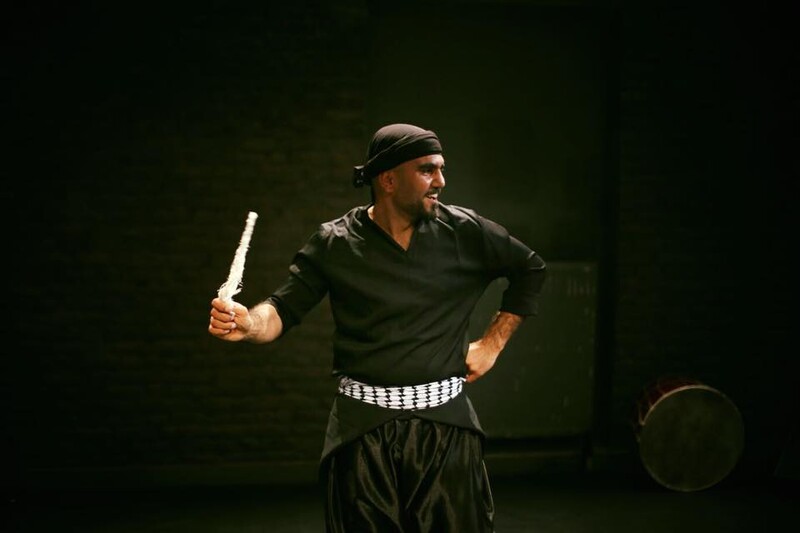 There is growing concern in Belgium for a Palestinian refugee and dancer who was detained by Israeli authorities as he tried to enter the occupied West Bank from Jordan a month ago.
Mustapha Awad, who was born in Ein al-Hilweh refugee camp in Lebanon, has been granted refugee status and citizenship in Belgium.
For two weeks after his arrest, Awad was not allowed to see a lawyer, according to prisoners solidarity group Samidoun. He was only allowed to see someone from the Belgian consulate on 8 August, after 20 days of interrogation.
According to Samidoun, Awad appeared in court on 16 August, and was then returned to an Israeli interrogation center.
"My client was arrested at a frontier post for belonging to a terrorist organization, something he firmly denies," Awad's Belgian lawyer told media last Friday.
The 36-year-old Awad is the co-founder of Raj'een, a Palestinian folk dance group.
"It was his first time going to Palestine to visit the land of his parents. He has never lived there," the lawyer added.
Belgian state broadcaster RTBF cited Israeli media reports claiming that Awad is affiliated with the Popular Front for the Liberation of Palestine.
Israel considers that political faction, along with virtually all other Palestinian political parties to be a "terrorist" organization.
According to RTBF, Awad is due to appear again before an Israeli judge on 3 September.
The Belgian foreign ministry has confirmed Awad's arrest and said it is "following the situation," but has given no further details.
Awad's case is reminiscent of Salah Hamouri, a Palestinian-French human rights defender who has been in Israeli detention for a year without charge or trial.
The French government has done little to secure Hamouri's freedom.
Activists in Belgium are campaigning for Awad's release.
A delegation from the Committee to Free Mustapha Awad visited the foreign ministry in Brussels on Wednesday:
They have also launched a Facebook page and a petition that calls on the Belgian government to "assume its responsibilities to protect its citizens against arbitrary arrest and against any form of torture or inhuman treatment."
Waed Tamimi sentenced
An Israeli military court sentenced Waed Tamimi to 14 months in prison for throwing stones at an Israeli Border Police officer last year and a similar incident a year earlier.
Waed, 21, is the brother of Ahed Tamimi, the teenager recently released after eight months in prison for pushing and shoving an Israeli soldier on the family's property in the occupied West Bank village of Nabi Saleh.
The siblings' mother, Nariman, also spent eight months in prison for filming the incident involving Ahed.
As in Ahed's case, Waed's sentence was the result of a plea bargain in which he admitted to charges leveled by Israeli occupation forces.
Israel's military court denies Palestinians basic guarantees of a fair trial and due process and has a conviction rate of nearly 100 percent.
"The court found that stones thrown by Waed Tamimi and others struck a border policeman, who was wearing a helmet, in the head and arm, injuring his arm," the Israeli daily Haaretz reported.
While Palestinians are regularly accused by Israeli military authorities of responding to incursions by occupation forces with stone throwing, Israeli soldiers who injure, maim and kill Palestinians enjoy near-total impunity.
Waed will get credit for time spent in prison since he was seized from his home in an early morning raid by occupation forces in May.
After Israeli soldiers beat and bruised Waed in the course of his arrest, he was taken to a hospital, his father Bassem wrote in a Facebook post at the time.
Arresting journalists
Also in the occupied West Bank, Israeli forces on 15 August arrested Ali Dar Ali, a reporter with the Palestinian Authority's Palestine TV.
Israeli forces arrested Dar Ali in a dawn raid on his home in the occupied West Bank village of Burham and confiscated his cell phone and computer.
A spokesperson for the Israeli army told The Times of Israel that Dar Ali was arrested for "incitement" because he filmed and livestreamed Israeli forces as they prepared to demolish a house in the Amari refugee camp near Ramallah.
"Israel is using every legal measure at its disposal, including accusations of incitement, to thwart critical reporting of its policies and activities in the West Bank and keep journalists like Ali Dar Ali in jail," Sherif Mansour of the Committee to Protect Journalists stated.
"We call on the Israeli authorities to release Ali Dar Ali immediately and let him work freely."
The military court at Ofer prison where Dar Ali is being held has extended his detention multiple times. It now stands until 4 September.
In June, Israel's parliament started considering a bill that would punish filming or recording Israeli soldiers and publishing the content with up to 10 years in prison.
Reporters Without Borders has urged rejection of the bill, describing it as part of Israel's tightening crackdown on journalists and human rights defenders who document abuses against Palestinians.
Dar Ali's detention is the latest in a series of Israeli arrests of Palestinian journalists.
Israeli occupation forces arrested four Palestinian journalists in the West Bank on 30 July, three of whom have been released on bail.
But on Sunday an Israeli military court halted the release of the fourth, Ala al-Rimawi, following a request from the military prosecutor.
In a statement through his lawyer, al-Rimawi said that Israel's arrest campaign was aimed at frightening and intimidating Palestinian journalists from doing their jobs and reporting reality.
Al-Rimawi said that it was evident from his interrogation that Israeli authorities consider terms used by journalists such as "martyr," "occupation," "confrontation" and "steadfastness" to constitute incitement.
According to the Palestinian Prisoners Club, 18 Palestinian journalists are currently held by Israel.
Prison strike solidarity
Palestinian prisoners and former prisoners affiliated with the Popular Front for the Liberation of Palestine have sent a message of solidarity to incarcerated workers in the United States who launched a nationwide strike on 21 August.
Prison Strike 2018 comes in response to an April incident in which several prisoners died in South Carolina.
"Seven comrades lost their lives when prison officials turned their backs on a riot they provoked," strike organizers state. "We are demanding humane living conditions, access to rehabilitation, sentencing reform and the end of modern-day slavery."
There are more than two million people in American prisons, a 500 percent increase over the last 40 years that is not related to trends in crime.
Mass incarceration policies that enrich private prison firms disproportionately target poor people and people of color, in particular Black men.
"Today, prison workers are some of the most exploited workers in the United States, and the same ruling class that profits from the confiscation of Palestinian land and resources and from the bombing of children in Yemen also profits from the forced labor of prisoners," the Palestinian prisoners state.
"Your struggle is a workers struggle that is part of our global conflict against the vicious exploitation that our peoples face today."
Tags