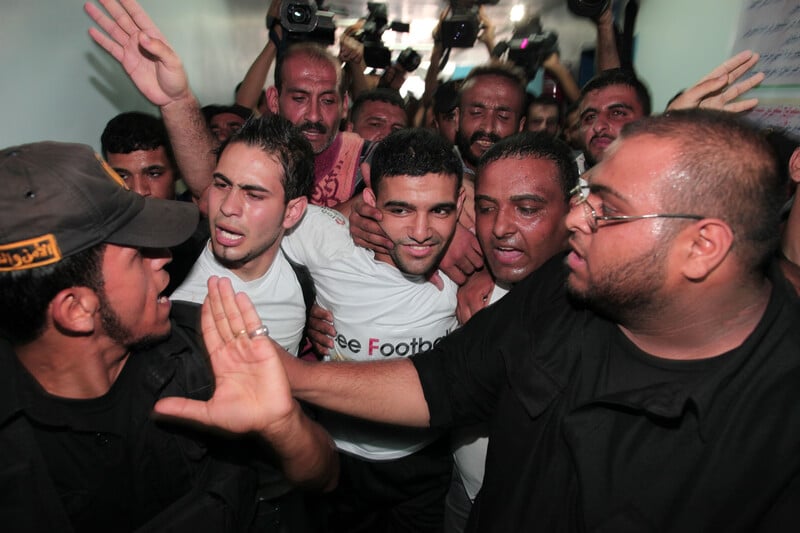 Palestinian national footballer and hunger striker Mahmoud Sarsak has, according to several reports, rejected an invitation by the FC Barcelona football club to watch its El Clásico game against Real Madrid on 7 October, along with Israeli occupation soldier and ex-prisoner of war Gilad Shalit.

In a 27 September statement, FC Barcelona invited Sarsak, along with two Palestinian Authority officials, in a bid to placate the growing anger over the invitation to Shalit, which has been condemned by dozens of Palestinian football clubs and sporting associations, and by Palestine solidarity activists in Spain.

In response to the move, Sarsak told EI blogger Shahd Abusalama that he rejected the offer. After speaking to Sarsak this morning, Abusalama tweeted that Sarsak "told me his definite denial of going [to FC Barcelona's] match if Shalit is there calling this normalization."

Ma'an News Agency's Arabic website also carries a report quoting Dr. Ramy Abdu, the Gaza manager of the Council for European Palestinian Relations, stating that he spoke personally to Sarsak who "confirmed" he would not attend the match "under any circumstances" and that he rejected any equivalence between his struggle and those of thousands of fellow prisoners on the one hand, with the situation of an occupation soldier, on the other. Abdu also posted his account of his conversation with Sarsak on Twitter and Facebook. In a 28 September TV interview, Sarsak confirmed he had received the invitation and explained why he would not accept it.
FC Barcelona distances itself from Shalit
In a 27 September statement on its website, FC Barcelona responded to the uproar over Shalit, claiming, "The Club did not invite Mr. Shalit to the game, but accepted a request to watch a match during his visit to Barcelona."
This apparent distancing came after senior club officials had told the media that the invitation to Shalit had come at the request of an Israeli ex-minister.
From the FC Barcelona statement:
In the same manner as Mr. Shalit's request was accepted, the Club has also accepted the Palestinian embassy's request to extend three invitations to three Palestinian delegates. Musa Amer Odeh, Palestinian Authority ambassador; Jibril Rajoub, President of the Palestinian Football Union, and the Palestinian footballer Mahmoud Al Sarsak will also watch the Clásico at the Camp Nou.
FC Barcelona' attempt to draw an equivalence between Shalit, an occupation soldiers who was taken prisoner from a tank while enforcing Israel's brutal and illegal blockade of Gaza, and Sarsak, who spent three years in detention and isolation without charge or trial by Israel until he forced Israel to free him after an epic three-month hunger strike, has backfired.
Normalization promotes "false symmetry and balance"
Moreover, apparently misunderstanding the nature of Palestinian objections to the Shalit invitation, the FC Barcelona statement went on to boast of joint activities it had organized by Israelis and Palestinians in the name of "peace and harmony":
In addition, during the inauguration of La Masia. Centro de Formación Oriol Tort, last October, FC Barcelona - through its Foundation - contributed to the peace process between Israel and Palestine. A total of 31 children, 16 Palestinians and 15 Israelis, trained for the first time together with La Masia residents. The goal of the exercise was to cultivate an athletic relationship between the two groups.
The Palestinian Campaign for the Academic and Cultural Boycott of Israel (PACBI) specifically rejects such initiatives. As PACBI explains in its guidelines:
Cultural events and projects involving Palestinians and/or Arabs and Israelis that promote "balance" between the "two sides" in presenting their respective narratives, as if on par, or are otherwise based on the false premise that the colonizers and the colonized, the oppressors and the oppressed, are equally responsible for the "conflict," are intentionally deceptive, intellectually dishonest and morally reprehensible.  Such events and projects, often seeking to encourage dialogue or "reconciliation between the two sides" without addressing the requirements of justice, promote the normalization of oppression and injustice.
Update, 28 September: In TV interview, Mahmoud Sarsak confirms FC Barcelona Clasico invite, says he won't attend with Shalit
Tags