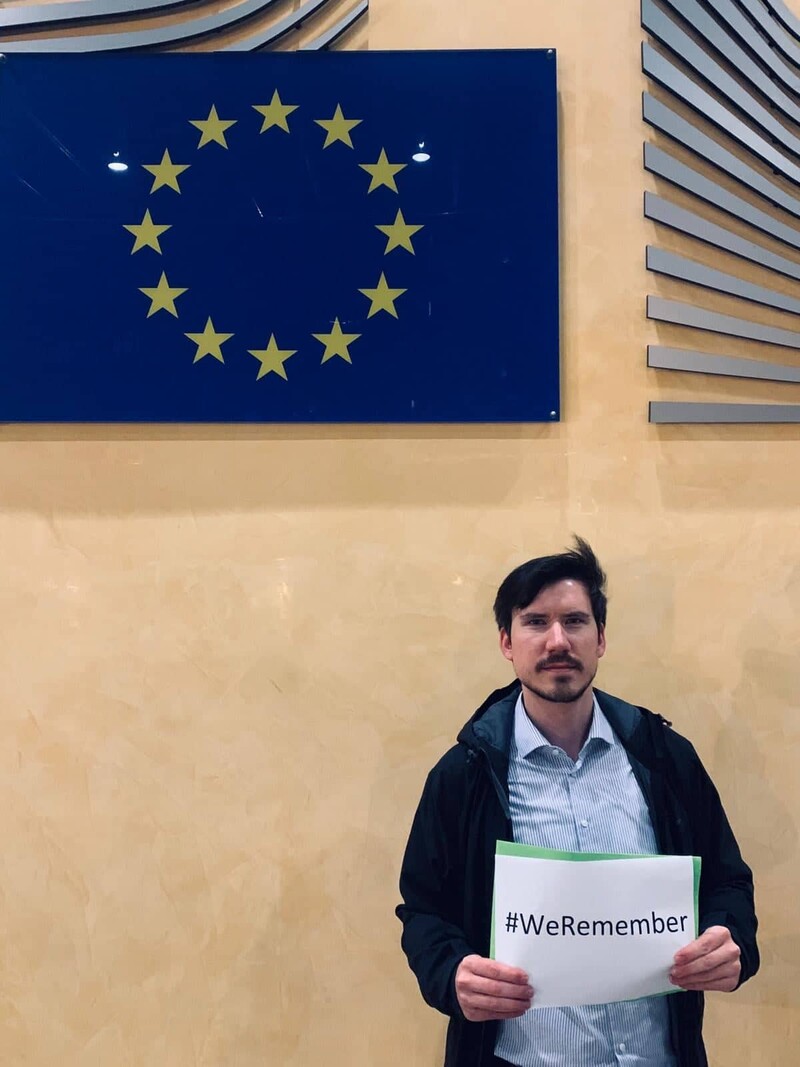 The European Union has distanced itself from a libelous attack by one of its officials against The Electronic Intifada's Asa Winstanley.

Johannes Börmann "expressed his own views which the [European] Commission does not share," a spokesperson for the EU's executive body told The Electronic Intifada on Wednesday.

On 8 June, Francesca Albanese, the UN special rapporteur on human rights in the occupied West Bank and Gaza Strip shared on Twitter a recent article by Winstanley debunking the Israel lobby campaign to smear Roger Waters as an anti-Semite due to the rock legend's high-profile support for Palestinian rights.

Winstanley is an associate editor at The Electronic Intifada and the author of a new book, Weaponising Anti-Semitism: How the Israel Lobby Brought Down Jeremy Corbyn.

While sharing Winstanley's article, Albanese commented that the "ferocity unleashed against Roger Waters, an immense artist and true icon of our time, a champion of human rights and justice, is absolutely shocking."

This apparently enraged Börmann, who responded to Albanese: "Retweeting Asa Winstaly [sic], who was kicked out of @UKLabour for #antisemitism, to defend @rogerwaters, who is flying pigs with a star of david, is not the smartest move, honestly. Who is next, David Duke?"

In fact, Asa Winstanley was never "kicked out of UK Labour for anti-Semitism."

Winstanley resigned from the Labour Party in February 2020 under circumstances he described at the time in an article for The Electronic Intifada.

Winstanley explained that he quit Labour "to protest the party's illegal mishandling of my private data, and because it is using its complaints system to conduct a political purge of members who support Palestinian rights."

The foremost journalist documenting the party's witch hunt against left-wing members and supporters of Palestinian rights amid a fake "anti-Semitism crisis," Winstanley had been under investigation for a year prior to his resignation.

In his resignation letter, Winstanley called the investigation "a politically motivated inquisition whose clear purpose is retaliation for my journalism about the party for a publication focused on Palestine."

That investigation never reached any conclusion about any party accusations against Winstanley, let alone anti-Semitism.

In addition to falsely claiming that Winstanley was expelled from Labour "for anti-Semitism," Börmann implicitly likened the journalist to David Duke, the notorious American white supremacist, neo-Nazi and anti-Semite.
History of violations
In their response to The Electronic Intifada, the European Commission spokesperson noted that "staff members can use social media, in their own personal capacity, including to share or comment on EU-related content and topics."

But it added that while employees are "entitled to the freedom of expression, they need to pay due respect to the limits resulting from the Staff Regulations and notably from the principles of loyalty and impartiality."

This amounts to an admission – albeit a tacit one – that Börmann violated those rules.

The Commission added that new and veteran staff are given training to ensure they know how to abide by these rules.

That training appears to be of questionable effectiveness however as Börmann has previously violated the rules of impartiality and yet feels sufficiently secure to continue to do so.

In 2021 for instance, Börmann publicly cheered on the witch hunt orchestrated by the Israeli government and its lobby that resulted in British academic David Miller losing his job at Bristol University.

And in 2019, Börmann publicly accused Jean-Luc Mélenchon, a prominent left-wing lawmaker in France, of "despicable anti-Semitism."

That was another clear breach of civil service regulations that require unelected bureaucrats to remain impartial towards elected officials.

The EU explicitly requires staff to abide by its social media rules whether they purport to be using social media in a personal or an official capacity.

While Börmann claims in his Twitter profile to be representing his own views, he clearly uses his social media to further what he understands to be his professional responsibilities on behalf of the EU.

Börmann is currently responsible for managing an EU funding program "on European remembrance, combating racism, anti-Semitism and discrimination."

Before that, Börmann was the deputy to Katharina von Schnurbein, the EU's anti-Semitism coordinator, who has spent years leading an effort to suppress the Palestine solidarity movement in Europe under the pretext of combating anti-Jewish bigotry.

Like Börmann, von Schnurbein has herself habitually resorted to lying in pursuit of that goal.

Together the pair have been able to flout EU regulations with impunity.

Von Schnurbein has herself been in Israel this week, lavishing praise on its leaders and receiving an award from a major American Israel lobby group.

In recent days, Börmann has lashed out against others as well, accusing one Twitter user of being a "stupid anti-Semite" for making a joke likening his former boss von Schnurbein to the much-beloved American movie character Mrs. Doubtfire, played by the late Robin Williams.
Time for accountability
Börmann's latest rage-filled outburst appears to have been provoked by the recent report from the European Legal Support Center documenting how the official definition of anti-Semitism promoted by Israel and endorsed by the EU has been systematically used to suppress free speech rights.
The report shows that the "overwhelming majority of cases" of dozens of allegations of anti-Semitism using the so-called IHRA definition, were false – Börmann's smears appear to be yet another example of that.
Supporters of free speech and Palestinian rights have long accused the EU of promoting false anti-Semitism smears in an effort to silence supporters of Palestinian rights.
Börmann's resort to lies and libel against journalists and critics of Israel's crimes against the Palestinian people provides further evidence justifying those concerns.
Far from solemnly seeking to stamp out anti-Jewish bigotry, the EU's top "anti-Semitism" officials are using the accusation not just to retaliate against Israel's critics but apparently against anyone they don't like.
And while the EU's distancing itself from Börmann's smears against Asa Winstanley is welcome, it does not go far enough.
Brussels must stop allowing its officials to use their platforms to behave as volunteers in Israel's war against the truth.
Tags