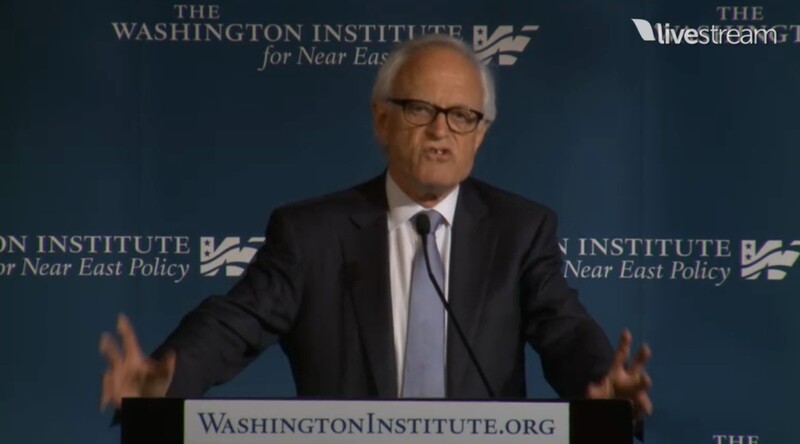 Martin Indyk, the career Israel lobbyist who US President Barack Obama placed in charge of the Palestinian-Israeli "peace process," has publicly ridiculed the notion that Palestinians have rights or are seeking justice.
Indyk's comments come amid sensational new allegations by US officials of Israeli spying activities against the United States.
In an 8 May speech at the AIPAC-affiliated Israel lobby think-tank the Washington Institute for Near East Policy, Indyk gave an overview of the Obama administration's "peace" efforts, which he said are now "suspended."
Indyk claimed the the nine-month effort led by Secretary of State John Kerry failed because neither Israeli Prime Minister Benjamin Netanyahu nor Palestinian Authority de facto leader Mahmoud Abbas "feel the pressing need to make the gut-wrenching compromises necessary to achieve peace."
He faulted Israel for its relentless construction of settlements in the West Bank – a fact the United States has done nothing about.
Here's the moment where Indyk ridicules Palestinian rights:
It is easier for the Palestinians to sign conventions and appeal to international bodies in their supposed pursuit of "justice" and their "rights," a process which by definition requires no compromise. It is easier for Israeli politicians to avoid tension in the governing coalition and for the Israeli people to maintain the current comfortable status quo. It is safe to say that if we the US are the only party that has a sense of urgency, these negotiations will not succeed.
Indyk's qualifier "supposed" and the appearance of quotation marks around the words "rights" and "justice" in the official transcript of his talk indicate contempt for the notion that Palestinians have rights at all.
In fact, in the video of the speech (at about 56:30), Indyk actually uses air quotes or scare quotes when he speaks the words "justice" and "rights," a hand gesture used to indicate a speaker's skepticism or disagreement with the quoted words.
This stands in marked contrast to the Obama administration's frequent insistence on Israel's claimed "right to exist as a Jewish state," an idea that necessarily negates basic Palestinian rights.
Abbas collaboration
Indyk also praised Abbas's US-backed "security forces" for their ongoing collusion with Israeli occupation. He said that Israel's "IDF and the Shin Bet now highly appreciate" Abbas's ongoing efforts, coordinated with them to "promote nonviolence in the face of pressure from extremists."
Of course what Indyk did not state is that Abbas' US-backed intelligence agencies and security forces work against any form of resistance, armed or unarmed.
Worried about Palestinian babies
Indyk also repeated a familiar theme of US and "liberal" Zionist concern: the unspoken fear of the births of Palestinian babies undermining the Jewish majority in present-day Israel.
The envoy affirmed that – in line with his previous statement – the whole purpose of the "peace process" is not to restore Palestinian rights, but to save Israel from the horror of too many Palestinian bodies:
I also worry about a more subtle threat to the character of the Jewish state. Prime Minister Netanyahu himself has made clear, the fundamental purpose of these negotiations is to ensure that Israel remains a Jewish and democratic state – not a de facto bi-national state. The settlement movement on the other hand may well drive Israel into an irreversible binational reality. If you care about Israel's future, as I know so many of you do and as I do, you should understand that rampant settlement activity – especially in the midst of negotiations – doesn't just undermine Palestinian trust in the purpose of the negotiations; it can undermine Israel's Jewish future. If this continues, it could mortally wound the idea of Israel as a Jewish state – and that would be a tragedy of historic proportions.
Nothing achieved
Indyk strained to present the latest failed US effort as successful. He claimed that "In twenty rounds over the first six months, we managed to define clearly the gaps that separate the parties on all the core issues."
In other words, there's no chance of an agreement to produce a "two-state solution" even though Indyk insisted that the negotiations, while suspended, are not over.
Spying
Indyk also took the opportunity to affirm that the US-Israeli relationship has never been better. "Only those who know it from the inside – as I have had the privilege to do – can testify to how deep and strong are the ties that now bind our two nations," he said.
Yet not all is right, as new tension has arisen over dramatic revelations of "aggressive" Israeli spying efforts directed against the United States.
In Newsweek Jeff Stein reveals that "American counter-intelligence officials told members of the House Judiciary and Foreign Affairs committees at the end of January that Israel's current espionage activities in America are 'unrivaled and unseemly,' going far beyond the activities of other close allies, such as Germany, France, the UK and Japan."
Stein also reports that Israeli efforts to recruit Americans involve such tactics as inviting them on all expenses paid trips to Israel and offering to ply them with drugs and sex.
The spying has mostly been directed, according to Newsweek, at stealing US industrial and technical secrets.
The extent of the spying is such that it has been cited as a factor in why the US has refused to allow Israel to join the Visa Waiver Program.
Indyk did not mention the matter, nor the fact that as part of Kerry's unsuccessful efforts to extend the "peace talks" the US had reportedly been ready to release Jonathan Pollard, the American citizen convicted in the 1980s of spying for Israel.
But Indyk did affirm that "President Obama and Secretary Kerry would never suspend US-Israel military relations as their predecessors did … Those military relations are too important to both our nations" – in effect a green light for Israel to continue to do as it pleases with impunity.
Israel – as it always does – has strenuously denied the allegations.
But now, whenever one hears Israel propagandists claim that Israel is the high-tech "Start-Up Nation" and tout some new invention, the proper response should be: did Israel invent that itself, or steal it from the United States?
Tags