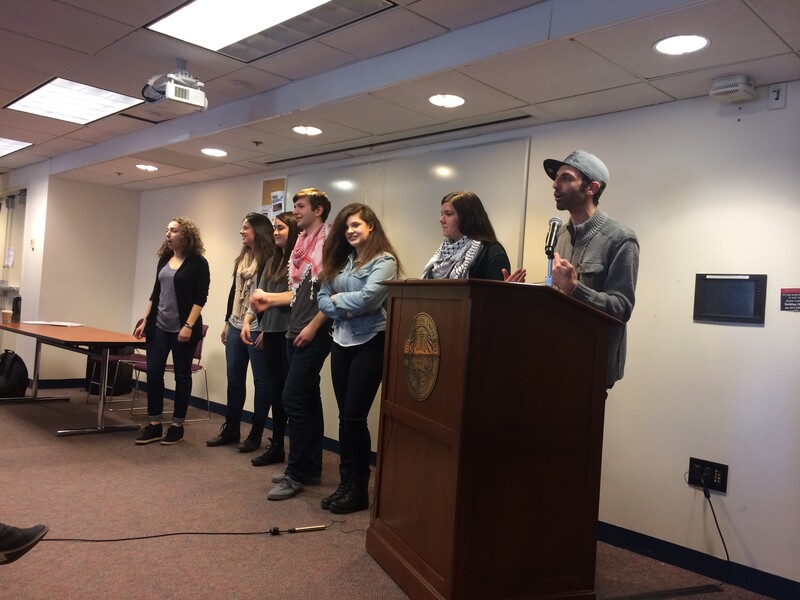 This afternoon I spoke at Northeastern University in Boston, which earlier this month suspended Northeastern Students for Justice (SJP), the first such sanction against a campus Palestine solidarity group in the United States.
A short distance away, in another campus building, university administrators welcomed a delegation of members of the Israeli parliament.
The university-sponsored town hall was expected to include representatives from Habayit Hayehudi, or the "Jewish Home," according to a Northeastern SJP press release.
On its official website, the party refers to Sudanese and Eritrean refugees as "infiltrators" which threaten the "Jewish demographic constitution of Israel."
Habayit Hayehudi, a member of Israel's ruling coalition, advocates the annexation of most Palestinian land and subjecting Palestinians to permanent military rule and apartheid.
"They know we are winning"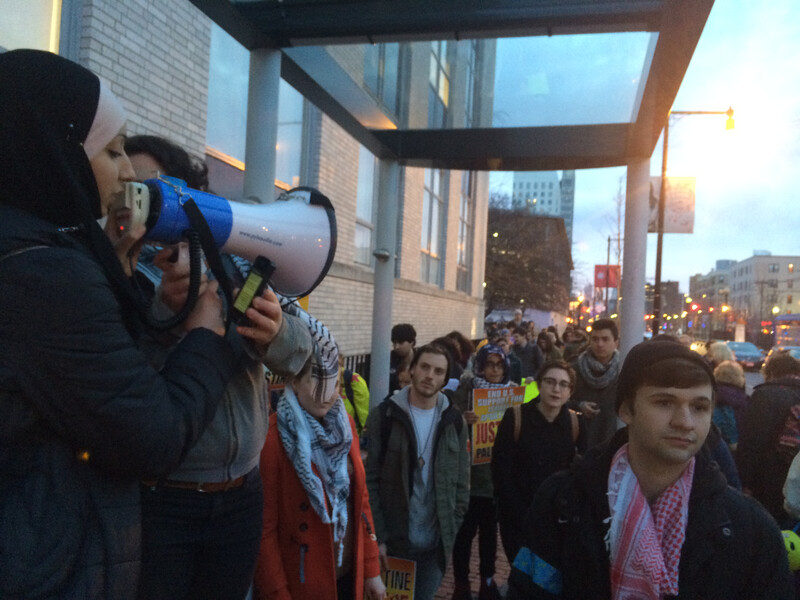 After my talk, Northeastern students and supporters held a rally outside the university to protest the Israeli lawmakers.
University police did not allow the rally to take place on campus property.
The rally was endorsed by some twenty organizations and was attended among others by members of campus Palestine solidarity groups from Boston University, Harvard University, the University of Massachusetts–Boston, Tufts University and Jewish Voice for Peace Boston.
This statement of solidarity from Palestinian activist Omar Barghouti was read out at the rally:
Dear Students for Justice in Palestine activists at Northeastern University,

Dear supporters of freedom, justice and equality, not just in Palestine but around the world and in the US as well:

On behalf of the Palestinian Campaign for the Academic and Cultural Boycott of Israel and the entire BDS National Committee, I salute you and convey to you our gratitude and support. Your work is inspiring; your courage is uplifting.

The global, Palestine-led boycott, divestment and sanctions (BDS) movement has reached a tipping point in the last year, and they know it. 

Israel and its well-endowed lobby are running scared and panicking. Their incessant violence, racism and bullying are failing in the face of morally-consistent, anti-racist BDS activism for Palestinian rights. 

Every war they wage, or try to, every Palestinian or Lebanese child they kill, every pregnant woman they prevent from receiving healthcare, every farmer they prevent from reaching his or her land, every prisoner they torture, every neighborhood they ethnically cleanse, every refugee they deny the right to return because she is the wrong type of person, every wall they build, every Gaza school they bomb, every olive tree they uproot, every racist law they pass, every apartheid policy they implement, they strengthen our resolve to resist, to insist on existing as free, dignified humans, equal to all and lesser than none.

Despite their immense power and corrupt hold on your Congress, we are winning the battle for hearts and minds – not just in Johannesburg, London, Delhi, Oslo and Sao Paulo, but also in St. Louis, Missouri, Olympia, Washington, Chicago, Berkeley, San Diego and Boston, Massachusetts. 

The BDS movement, with the dedicated, creative energies of its activists and partners all over the world, is changing the discourse and even the balance of power between Israeli apartheid and its victims.

Stephen Hawking's boycott of an Israeli conference was precedent setting, and they know it.

The American Studies Association's endorsement of the academic boycott of Israel, following similar decisions by the Asian American Studies Association and the Native American and Indigenous Studies Association, broke what the late Edward Said called "the last taboo in America," and they know it.

The 200-billion dollar Dutch pension fund's divestment from all Israeli banks involved in the occupation recalls an advanced stage in the South African anti apartheid struggle, and they know it.

Withdrawal of major European pensions funds, companies and banks from Israeli projects that violate international law and Palestinian human rights simultaneously indicates the drastic erosion of Israel's standing in world public opinion and further stimulates that erosion, and they know it.

Divestment resolutions taken by student councils at universities across the US, from Loyola to UC Berkeley and many in between, are ushering in a new reality of accountability for corporations that are complicit in Israel's occupation and apartheid, and they know it.

They know we are winning, and that they cannot stop a movement that is anchored in the hearts of conscientious people all over the world.

Resistance to apartheid and to racist oppression in Bilin, Jaffa and Gaza is echoed in and accentuated by the resistance to oppression at Northeastern.

Indeed, you are facing nothing less than a creeping new McCarthyism in the US that is attempting to undermine free speech and suppress freedom of expression in order to protect Israeli apartheid and its corporate beneficiaries in your country from censure and accountability.

Your struggle for Palestinian rights, therefore, is far reaching in the sense that it is also a struggle for freedom and for protecting the First Amendment. Every decent US citizen who wishes to protect hard-won civil rights must join in your campaign against Northeastern's shameful, anachronistic repression. 

Your coalition with African-American, Asian, Latin@, Jewish, queer, indigenous and many other progressive groups cannot but prevail.

If you must write a 500-word essay on obeying unjust orders by a racist, repressive administration, use them to quote Martin Luther King, Gandhi, Mandela, Mahmoud Darwish and Che Guevara on the absolute necessity of doing the exact opposite – disobeying injustice and its enforcers and taking the conscientious decision to reject attempts to silence dissent and free speech.

They are desperate. Their intensified repression is a telltale sign of that despair. Justice will prevail. Justice is prevailing. You shall stand proud in a few years, or a little more, and shout in unison: we were on the right side of history, fighting apartheid again; we contributed to a noble cause for freedom, justice and equality for all, irrespective of identity. 

We are proud of you and of your beautiful insistence on freedom. Our South African moment is near.
Tags