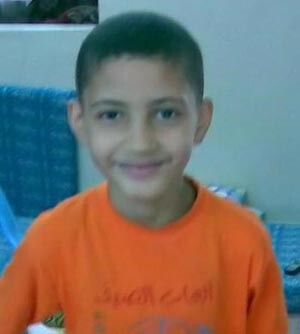 Amna al-Dam kept the deflated red football her 12-year-old son Mamoun was playing with when he was killed by an Israeli drone strike in the occupied Gaza Strip on 20 June 2012.
"I held my Mamoun in my arms when he died and everything felt destroyed for me," his mother said. "I hope that he is the last child to be killed in Palestine."
She described how his body was torn apart, his clothes burned off him – and she recalled his tenderness. "You are my darling, I just want to keep you locked inside my heart," he used to tell his mother.
Mamoun is profiled in a new report by the charity War on Want, "Killer Drones: UK complicity in Israel's crimes against the Palestinian people."
He is one of more than 800 Palestinians killed in Israeli drone attacks since 2006.
"Joint venture"
The "new Watchkeeper drone being developed for the UK military is based on a model that Israel has 'field tested' in attacks on Gaza which left many Palestinians dead, including children," War on Want warns in a statement accompanying the report.
The UK Ministry of Defense awarded a $1.6 billion contract for the drone to a joint venture between Israeli arms company Elbit and Thales UK.
The Watchkeeper is based closely on Elbit's Hermes 450 model, which Israel has used extensively in Gaza.
Reaping EU and UK money
Israel is now the world's single largest exporter of drones in the world, accounting for two in five of all drones sold from 2001 to 2011, according to the report. A key selling point – stressed repeatedly by Israeli arms companies and officials – is that Israel's weapons are "field tested" in "real-time."

This means they are tested on a captive Palestinian population.

Elbit currently participates in five projects subsidized by EU taxpayers to the tune of $40 million, while Israel Aerospace Industries, another arms company, has participated in EU-funded projects worth about $300 million, according to the report.

The UK has 381 current arms licenses to Israel worth $12.7 billion.

"By supporting the arms trade with Israeli companies, the British government is sending a clear message of approval for Israel's aggression against the Palestinian people," Rafeef Ziadah, senior campaigns manager for War on Want, said in its release.

"The European Union is sending a similar message through its research funding for Israeli arms companies. It is high time both the UK and the EU ended their support for Israel's violations of international law," she added.

Ziadeh can be seen in the video above discussing the British-Israeli drone deal and the War on Want report.
Arms embargo
In 2011, Palestinians called for an "urgent military embargo against Israel, 'similar to that imposed against apartheid South Africa in the past.'"
Now, War on Want's executive director John Hilary says this call is more urgent than ever. "The British government and the European Union must end their complicity with Israel aggression and implement an immediate arms embargo on Israel."
Contradictory stance
War on Want's report comes just days after the UK government published guidance "warning businesses about the problems and risks associated with doing business with illegal Israeli settlements and related activities in occupied Palestinian territory, including East Jerusalem."
Because Israel's settlements are illegal, the UK government says, "we do not encourage or offer support to such activity."
It also warns that doing business in occupied territories may entail "possible abuses of the rights of individuals."
Clearly, however, the UK government itself and the arms companies it licenses and contracts with see no problem in doing business with and profiting from firms that use an occupied, captive Palestinian population – and children like Mamoun al-Dam – as dispensable guinea pigs.
Axis of death
To date, only three countries – the US, UK and Israel – are known to have used drones armed with weapons, the report states. Hundreds of civilians have been killed in US drone strikes in Pakistan, and unknown numbers killed in countries including Afghanistan, Somalia and Iraq.
Just yesterday, a US drone attack targeted a wedding procession in Yemen, killing 14 persons and injuring 22 others.
Drones mean unlimited power to kill with impunity for governments and huge profits for arms companies.
On top of the human toll, drones cause psychological terror to entire populations against whom they are used.
"For us, drones mean death," says Hamdi Shaqqura, deputy director of the Palestinian Centre for Human Rights. "When you hear drones, you hear death."
Action alert
War on Want is a partner in the ongoing Stop Arming Israel campaign.
It has created an action alert enabling people to contact EU foreign policy chief Catherine Ashton to demand "concrete action to assure that Israeli arms companies do not receive subsidies from European taxpayers."
Tags