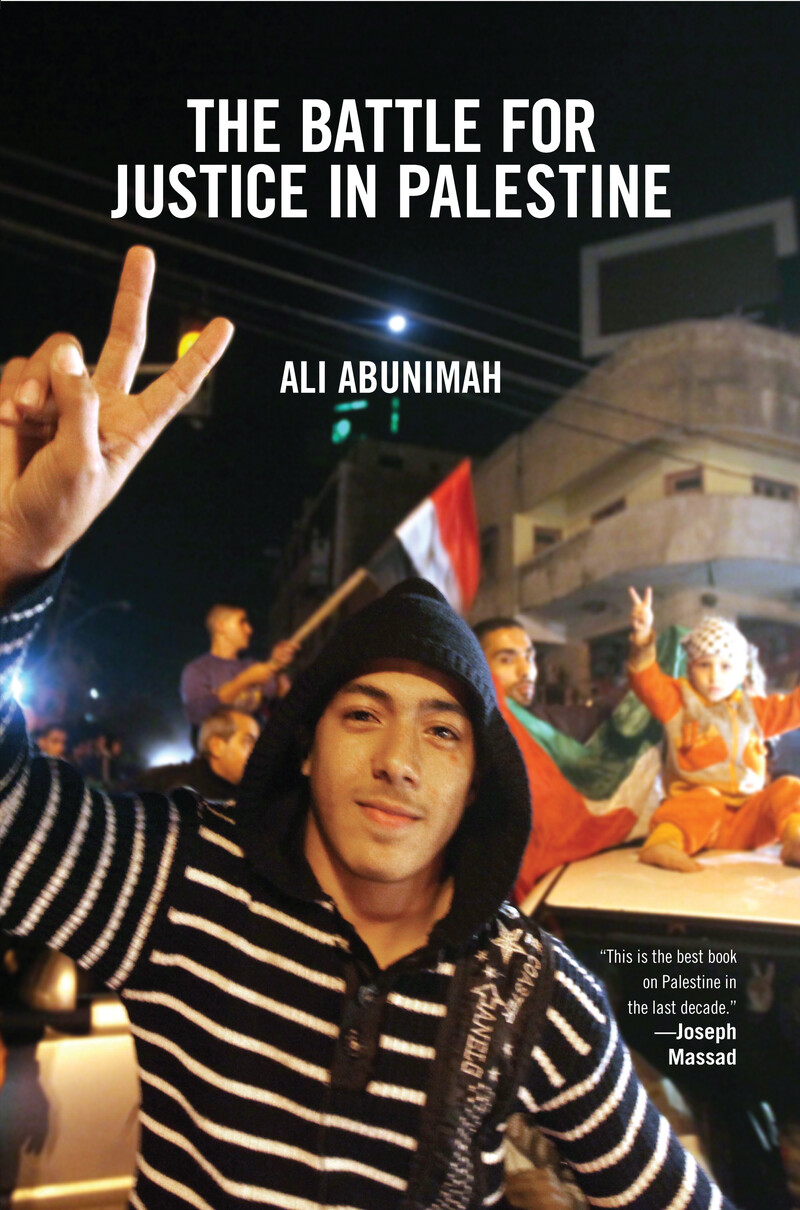 I'm pleased to announce the publication of my new book, The Battle for Justice in Palestine, from Haymarket Books.
It took a year to write but I feel that today its message is urgent. I'm eager for you to read it and to engage with me about it.
Despite US Secretary of State John Kerry's ongoing effort, it is now clear that attempts to achieve a "two-state solution" have finally collapsed. Yet many people are uncertain about what comes next.
My book offers an analysis of this crossroads moment and, I hope, contributes to a conversation about the way forward.
In his review, Ron Jacobs writes that "The Battle for Justice in Palestine is a crucial book appearing in a crucial time." Omar Barghouti says it provides a "crucially needed dose of educated hope."
Some of the questions I tackle head on include: does Israel have a right to exist as a Jewish state? And: would Israeli Jews ever accept a single democratic state in which their colonial and ethno-religious privileges are removed?
I find lessons – positive and negative – in South Africa and Northern Ireland.
Connecting struggles
It was very important to me to learn from those connecting the Palestinian cause to the struggle against racial supremacy and injustice elsewhere, particularly in the United States.
The Battle for Justice in Palestine explores the ideological affinities and cooperation between US big city police forces and America's system of mass incarceration targeting people of color, on the one hand, and Israel's occupation and apartheid, on the other.
I also examine how the same "demographic" anxieties driving many Israelis fuel the American nationalist backlash against immigrants and the militarization of the US border with Mexico.
Israel fights back against BDS
The Battle for Justice in Palestine exposes how Israel is attempting to sabotage and attack the boycott, divestment and sanctions movement – on and off campus – and promotes itself using strategies such as "pinkwashing" and "greenwashing."
While Israel markets itself as clean and green it actually has an appalling record of environmental destruction and racism.
Drawing on my own experiences and those of allies in the movement, especially student activists, I make the case for why, despite Israel's formidable propaganda efforts, the Palestinians are winning.
You can hear me talk about The Battle for Justice in Palestine in an extended interview on Marfa Public Radio.
Availability
The Battle for Justice in Palestine is available or can be ordered from anywhere books are sold.
(If you order it from Haymarket Books, use the code "JUSTICE" to get a discount).
It is also available for iBooks, Kindle and Nook.
Tour
On 6 March, I'll be starting my book tour at Brooklyn College, followed by a week of events in the New York area.
In coming weeks, I'll be speaking in the Northeast, the Midwest and the West Coast of the United States.
For a full schedule (regularly updated) visit The Battle for Justice in Palestine tour page.
I'm looking forward to the lively discussions I hope this book will generate.
What others are saying about The Battle for Justice in Palestine
From Haymarket Books:
"This is the best book on Palestine in the last decade. No existing book presents the staggering details and sophistication of analysis that Abunimah's book offers." – Joseph Massad, Columbia University

"In The Battle for Justice in Palestine it is the voice of Ali Abunimah, fierce, wise – a warrior for justice and peace – someone whose large heart, one senses, beyond his calm, is constantly on fire. A pragmatist but also a poet. This is the book to read to understand the present bizarre and ongoing complexity of the Palestine/Israel tragedy." – Alice Walker

"With incisive style and scrupulous attention to documentation and detail, Ali Abunimah's new book offers a complex portrait, from every angle, of the Palestinian struggle for justice today." – Rebecca Vilkomerson, executive director, Jewish Voice for Peace

"A crucially needed dose of educated hope. This is what hits me from this fascinating amalgam of incisive journalism, analytic prose and intellectually compelling vision that emanates from many years of brilliant activism. Sailing effortlessly from the domestic to the global, from Johannesburg to Belfast and from Chicago to Tel Aviv, Ali Abunimah paints a lucid, accessible picture out of a complex web of racism, racialized oppression, and creative resistance. Abunimah does not give us hope; he helps us dig for it within us by meticulously laying out before us the facts, the trends, the challenges and the inspiring resistance to them." – Omar Barghouti, Palestinian human rights activist, author of Boycott, Divestment, Sanctions: The Global Struggle for Palestinian Rights

"In The Battle for Justice in Palestine, Ali Abunimah—the most astute commentator writing on Palestine today—bursts the leaky myths of Israeli exceptionalism while carefully examining where the battle for Palestine is currently being waged. Forget the endless "peace process," which has ushered in little more than massive economic exploitation, tragic environmental degradation, and servile and destructive politics. Focus instead, Abunimah tells us, on the many civil society and campus initiatives around the world that are bravely ushering in a new era of global grass-roots organizing for justice. Rich in information and deep in analysis, The Battle for Justice in Palestine will inspire readers that Palestinian self-determination is not only possible but absolutely necessary." – Moustafa Bayoumi, author, How Does It Feel to Be a Problem?: Being Young and Arab in America
Tags