Activists in the Irish city of Cork have added their own touches to ads that appeared on bus shelters in their city that call on people to "Visit Israel." The ads now say "Boycott Israel" among other biting and funny messages.
These photos were posted on the Facebook page of the Cork Palestine Solidarity Campaign.
The original ads were placed by a group called Irish4Israel that campaigns against Palestinian rights and the boycott, divestment and solidarity (BDS) movement.
Irish4Israel appears only to have a Twitter account and a Facebook page but neither of them readily identifies the individuals or organizations responsible for the shadowy group. However, an online message signed by one Michelle Cohen claimed responsibility and fund-raised for the Irish4Israel bus shelter ads. And, according to J.Weekly, "Irish4Israel was founded in 2010 by Barry Williams, a non-Jewish student at University College Cork."
Israel's image has taken a battering in Ireland, not only because of its mistreatment of Palestinians, but also due to various social media blunders by Israel's embassy in Dublin.
The embassy proposed a campaign to portray Palestine solidarity activists as sexual deviants and Mossad agents and last Christmas caused offense in the predominantly Catholic country by issuing a bigoted "greeting" that suggested Palestinians would have "lynched" Jesus and Mary.
The alteration of the bus ads by the unidentified activists in Ireland is reminiscent of similar responses to Islamophobic and anti-Palestinian ad campaigns on public transport in the San Francisco Bay Area in the United States.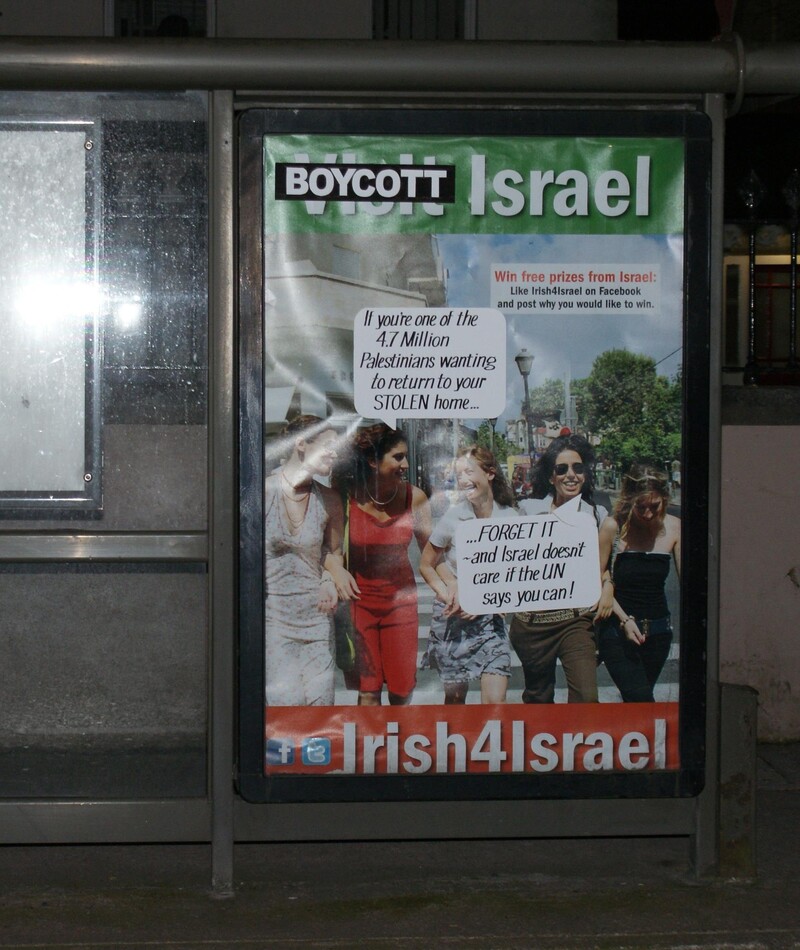 Tags