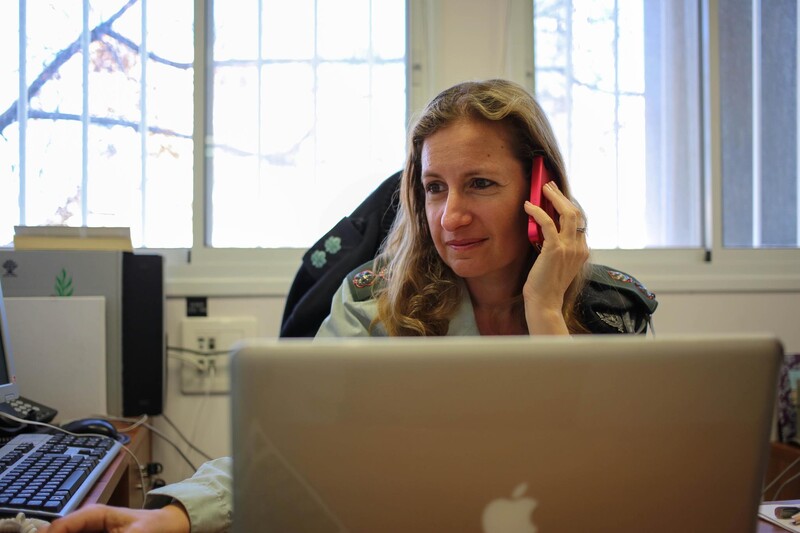 Palestinian journalists are urging the Newseum to withdraw an invitation to an Israeli officer who was part of the military apparatus that planned, executed and justified the intentional killings of their colleagues.
But the Washington, DC, institution is rebuffing their call.
In a 31 May letter, the Palestinian Journalists' Syndicate called on Newseum CEO Jeffrey Herbst to cancel the 7 June event with Avital Leibovich, who was a senior Israeli army spokesperson during Israel's 2008-2009 and 2012 assaults on Gaza.
She remains a reserve officer in the Israeli army and is director of the American Jewish Committee's Israel office.
"We urge you not to provide a platform to someone who has justified, on record and to a world audience, Israel's grave violations of international law and war crimes, and in particular attacks against journalists and press freedoms," the syndicate states.
"We are concerned that by enabling Leibovich's impunity, when serious charges of war crimes are hanging over her, Newseum will directly undermine our ability as journalists to conduct our professional duties without fear from fatal attacks," the letter adds.
Disingenuous response
The Newseum bills itself as a museum of journalism with a mission to uphold fundamental freedoms of expression and appears to be using this as cover to avoid addressing the concerns raised by the Palestinian journalists.
"The Newseum has a bedrock commitment to free speech and free expression," CEO Herbst told the Palestinian Journalists' Syndicate in reply. "We believe that this is the only approach possible to understanding the complex issues we face. That is also why we hold public discussions on important issues."
Herbst called the event with Leibovich "an example of fostering such debate."
But this response is disingenuous at best. The Newseum's advertising for the event bills it as an opportunity for Leibovich to discuss "the social media branch of the Israeli Defense Force (IDF) and how the organization uses media and social media during its various campaigns."
The only other speaker on the panel is a former CIA agent. The advertising makes no mention of the grave concerns human rights organizations have raised about Leibovich's conduct.
If the Newseum had wanted to foster "debate," it would presumably have invited Palestinian journalists, human rights defenders or experts on the laws of war to take part.
In its letter, the Palestinian Journalists' Syndicate cites Leibovich's direct role in justifying Israel's intentional targeting of journalists during its November 2012 assault on Gaza.
"Such terrorists, who hold cameras and notebooks in their hands, are no different from their colleagues who fire rockets aimed at Israeli cities and cannot enjoy the rights and protection afforded to legitimate journalists," Leibovich wrote in The New York Times.
Two Gaza journalists killed during the November 2012 attacks, Hussam Salama and Mahmoud al-Kumi, are both included in the Newseum's Journalists Memorial.
Evidence of war crimes
Human Rights Watch concluded at the time that Israel's official justifications for targeting media workers during its 2012 assault were "evidence of war crimes because they show intent."
Sarah Leah Whitson, director of Human Rights Watch's Middle East and North Africa program, told The Electronic Intifada this week that "Leibovich's comments justifying the IDF's [Israeli army's] unlawful killings of journalists because of their alleged affiliation with Hamas is deeply troubling, particularly in an environment where journalists are being targeted for their assumed political viewpoints around the world."
The Committee to Protect Journalists (CPJ) also condemned Leibovich's statements in a 2012 letter to Israeli Prime Minister Benjamin Netanyahu.
"Alarmingly, spokeswoman Leibovich seeks to erase the crucial legal distinction between armed combatants and journalists covering the perspective of an adversary," CPJ stated.
"All journalists, whether local or foreign, regardless of the perspective from which they report, are afforded the same civilian protections under international law," the group added. "The Israeli government does not have the right to selectively define who is and who is not a journalist based on national identity or media affiliation."
"Inviting a suspected war criminal like [Leibovich] shows contempt for Palestinian human rights and indeed Palestinian lives, including those of journalists," the Palestinian Journalists' Syndicate had written to Herbst.
That appears to be exactly the stance the Newseum is taking.
Tags