Earlier today, the Jewish Agency's social media director Avi Mayer tweeted out a photo of a rally, with the caption: "Protesters demanding stronger action against terrorism have blocked off the entrance to Jerusalem."

It would be hard for Mayer, who has a high profile presence in Israel's online propaganda efforts, to have described the gathering more euphemistically. The Jewish Agency for which he works is a state-sponsored Zionist organization that participates in the colonization and ethnic cleansing of Palestinian land.

But Mayer can't have been in ignorance about the true nature of the rally.

In fact, as video of the rally posted on the Facebook page of former lawmaker Michael Ben-Ari shows, the demonstrators were chanting "mavet la'aravim" – "Death to the Arabs" in Hebrew.

This is the video:

Ben-Ari also posted this image of himself at the rally on Facebook, taken at almost exactly the same spot as the image posted by Mayer:
This image of the rally published by an Israeli website shows Ben-Ari carried on the shoulders of supporters. The signs to the left and right of him carry the word "revenge."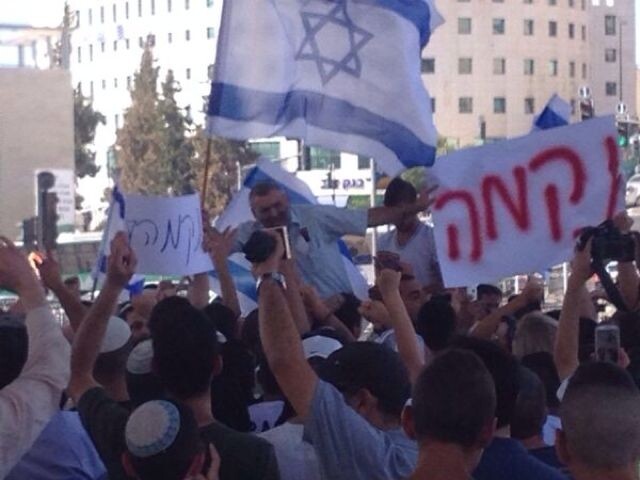 "Transfer the pain"
Ben-Ari, already notorious for his incitement and pogroms against Africans, called for the Tuesday afternoon protest at Jerusalem's "Bridge of Strings" in a video and comment on his Facebook page on Monday:
"The pain is as great as a burning fire!

I call to transfer the pain to the cruel enemy. Make Ramadan into a month of darkness for them!

Share: Tomorrow, under the Bridge of Strings in Jersualem, at 4pm. Death to the enemy, evacuation, and wiping off of [their] smile. And start with Haneen Zoabi, let her go help in Syria."
Zoabi is a Palestinian member of the Israeli parliament and a frequent target of hate speech and incitement.

In addition to this written incitement, in his inflammatory video, Ben-Ari called Palestinian children "little terrorists" – a justification for Israel's frequent killing of them.

The Jerusalem Post published this video showing some of the protestors clashing with Israeli police and reported that four were arrested.

While the rallying cry "Death to the Arabs" is sadly all too common in present-day Israel, what is remarkable is Avi Mayer's attempt to whitewash this violent, death-chanting mob as merely concerned citizens.
"After sundown"
Veteran CNN correspondent Ben Wedeman tweeted this image on Tuesday evening from another area of Jerusalem.
With thanks to Dena Shunra for assistance with analysis.
Tags