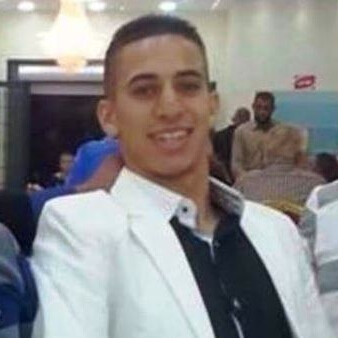 Ali Muhammad Abu Ghannam has become the first Palestinian child to be killed by Israeli occupation forces this year.
The 17-year-old was shot dead by Israel's Border Police as he allegedly ran toward soldiers at a checkpoint in occupied Jerusalem's al-Tur neighborhood late Friday night.
Israeli occupation forces claimed that he was wielding a knife, an accusation his family dismisses as a fabrication intended to cover up a killing in "cold blood."
According to the boy's mother, her son had gone out that night to attend a wedding party, and was not carrying any sort of weapon.
Defence for Children International–Palestine (DCI-Palestine) said in a statement that it is still investigating the exact circumstances surrounding the shooting.
"Israeli soldiers and police use excessive force systematically and with almost complete impunity against Palestinian youth," DCI-Palestine's director of accountability Ayed Abu Eqtaish said. "This tragedy comes on the heels of at least thirty children who have sustained injuries from the use of live ammunition so far this year."
DCI-Palestine says that in each of the cases of injuries, it "could not find any evidence that the children involved posed an imminent threat."
Israeli forces also have a history of lying or disseminating false information about incidents.
Israeli forces attack dead boy's family
Abu Ghannam's mother told DCI-Palestine that her son had left home earlier Friday evening to attend a wedding. She first heard there had been a killing from social media, and only knew that it was her son who had been shot when her husband and son-in-law went to al-Zaayim checkpoint and identified his body.
Following the shooting, she said Israeli forces raided the family home, searched her son's room and the rest of the house and detained his father.
Members of the family told Arabs 48 that the soldiers who raided the house treated them brutally and used pepper spray against them. Israeli forces also smashed the windows of cars parked near the house and the mourning tent.
Muhammad Abu Ghannam, Ali's father, told Ma'an News Agency that when he was taken to identify the body, he was only allowed to see his son's face and not to see where on his body and how many times he had been shot.
According to Arabs 48, Ali worked with his father as a milkman.
As of Saturday evening, the family had refused to accept Ali's body for burial under restrictive conditions imposed by the occupation forces that would forbid a public funeral.
Dozens of Palestinians protesting Abu Ghannam's killing were injured by occupation forces in Jerusalem's al-Tur and Issawiyeh neighborhoods on Saturday.
Palestine Red Crescent official Dr. Amin Abu Ghazaleh said 26 Palestinians were injured by rubber-coated steel bullets, and around fifty had suffered excessive tear gas inhalation, Ma'an reported.
History of fabrication
Israeli police issued a statement, published by Haaretz, claiming that after he arrived at the checkpoint, Abu Ghannam "began running toward a number of police officers at a checking station wielding a large knife."
"He was pushed back by one of the officers, at which point he started running in the direction of the crossing," the police statement said. "The officers shouted at him to stop, warning that they would shoot if he didn't. Combatants guarding the checkpoint saw the youth running toward them and shot him."
But this account, which cannot be independently verified, must be treated with extreme caution given a history of false claims by Israeli occupation authorities.
Last July, for instance, Israeli police spread false rumors that 16-year-old Muhammad Abu Khudair had been murdered by his family in an "honor killing" for being gay.
Police later arrested several Israeli Jews in the abduction and burning to death of the youth, which occurred at a time of intense anti-Palestinian incitement in Jerusalem.
The killing of Ali Abu Ghannam is also reminiscent of the fatal shooting of Muhammad al-Salaymeh at a checkpoint in Hebron, on his 17th birthday, in December 2012.
Nofar Mizrahi, the Border Police officer who killed al-Salaymeh, told Israeli media that the teen had charged at a fellow soldier with what appeared to be a pistol.
"With one hand," she claimed, "he grabbed the soldier's neck and pressed against him, and with the other he put the pistol to the soldier's temple. In that situation, the soldier couldn't break free or react."
Mizrahi claimed that after she shot al-Salaymeh a first time, "he continued to hold the pistol to the soldier's temple, so I fired two more bullets."
But a video of the incident showed Mizrahi's account to be a fabrication.
She was never held accountable either for killing al-Salaymeh or lying about the circumstances.
Children frequently shot
In 2014, Israeli forces killed 11 Palestinian children with live ammunition across the occupied West Bank, including East Jerusalem.
"Live ammunition is routinely used against children by Israeli policemen and soldiers, despite the Israeli military's own regulations permitting its use only in circumstances in which a direct, mortal threat is posed to a soldier," DCI-Palestine states.
Only one case, the killing of Nadim Nuwara, resulted in an investigation and indictment.
Nuwara, 17, was shot dead in cold blood on 15 May 2014 when he presented no possible danger to anyone, in a killing caught by several cameras, in the town of Beitunia.
The Israeli army categorically stated that its forces had not fired any live ammunition that day, a claim subsequently determined to be false.
The same day, at almost the same spot, another teen, Muhammad Abu al-Thahir, was fatally shot in almost exactly the same manner, and his killing too was captured on video.
Despite the large amount of evidence available, occupation authorities have not charged anyone in Abu al-Thahir's killing.
Tags