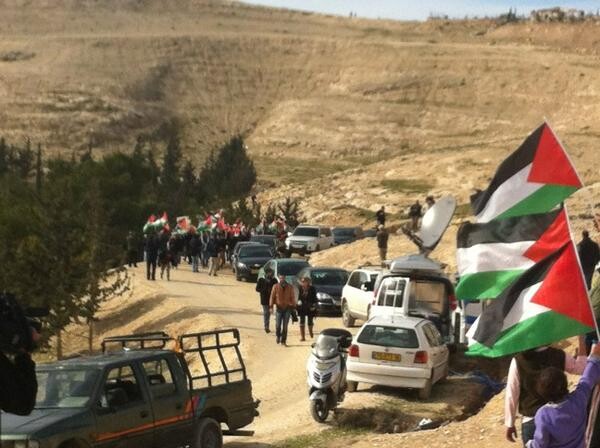 Hundreds of Palestinians remain camped out tonight as Israeli occupation forces prepare to drive them out of Bab Al Shams on orders from Israeli Prime Minister Benjamin Netanyahu.
Activist Abir Kopty tweeted that the activists were surrounded, but in high spirits:
Dozens more Palestinians reach Bab Al Shams
Israeli occupation forces have declared the area surrounding Bab Al Shams a "closed military zone."
Despite this, earlier on Saturday, dozens more Palestinians climbed hills to join the more than 200 who yesterday established Bab Al Shams, a new village on Palestinian land in the occupied West Bank that Israel has seized in violation of international law for new Jewish settlements.
Among those heading toward the village was Suheil Nafar a member of internationally-acclaimed Palestinian hip hop group DAM, who posted photos of the scene in the vicinity of Bab Al Shams on his Instagram account.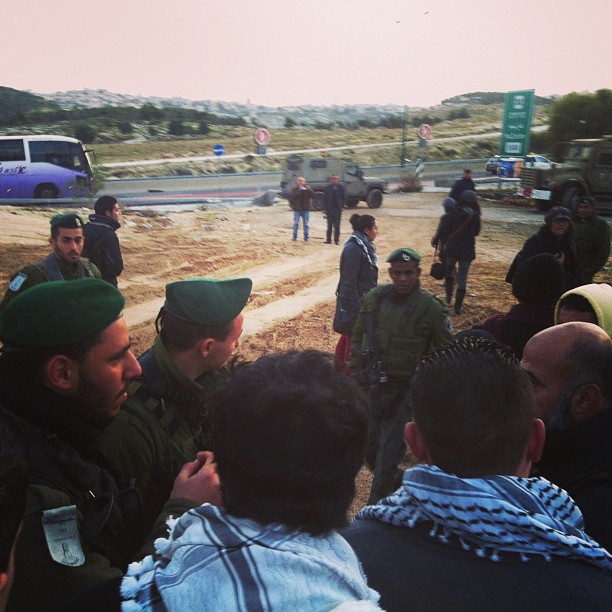 Occupation forces surrounding Bab Al Shams delivered an ultimatum that the activists, who spent their first cold night at the new village, should leave the site in the hills east of occupied Jerusalem or face forced expulsion.
Later on Saturday, Israeli media reported that Netanyahu has asked the Israeli High Court to overturn a temporary injunction preventing the expulsion.
Israel calls the area "E-1." While some media erroneously refer to the West Bank using Israeli-propaganda-inspired euphemisms such as "disputed," under international law Israel is an occupying power, and its efforts to annex, colonize, and demographically change the territory have been declared by the United Nations Security Council to have "no legal validity" and to constitute "a violation of the Fourth Geneva Convention."
Abir Kopty and Irene Nasser, among others, have been tweeting live updates as they happen, using the hashtag #BabAlShams.
"We only have our determination"
Earlier, organizer Abdallah Abu Rahma told Ma'an News Agency that the activists were determined not to be expelled:
Israel's military handed evacuation orders to activists in the Bab al-Shams, or 'Gate of the Sun', protest village on Saturday, stating that the military intends to move protestors by force, local activist Abdullah Abu Rahma said.

Israel's military has also prevented activists from neighboring areas access to the protest village since Friday.

"We only have our determination, and it will not be easy to expel us from our homes. We will use our experience and skills to remain on the land," Abu Rahma said.
Video
A video from Wattan TV with a report in Arabic shows scenes from Bab Al Shams. A man (seated as he speaks) interviewed in the video is identified as Amjad Darwish, a landowner whose property was taken by Israel. "I invite everyone in Palestine, who does not have land, to come here and protect this land," Darwish said, "because the settlements are coming."

Al Jazeera English published this video report by Jane Ferguson. Keep an eye on the Twitter accounts mentioned above to follow events as they happen.
Tags