An Israeli court has agreed to lift beginning tomorrow the gag order on reporting anything related to the detention of the journalist Majd Kayyal, a Palestinian citizen of Israel.
Kayyal, 23, was arrested last Saturday and has been held incommunicado and without access to lawyers ever since, under interrogation by the Shin Bet secret police.
The legal advocacy group Adalah stated on its Facebook page today: "Following a request we submitted to the court, the gag order regarding the matter of a visit to Lebanon that foreign media have reported on will be canceled. The cancellation will take effect at noon tomorrow."
Adalah's cautious language reflects the strict censorship under which organizations located in present-day Israel must operate when gag orders are in effect at the request of the Shin Bet.
The Electronic Intifada had exclusively published the minutes of a closed court hearing on Sunday revealing that Kayyal was held for interrogation following his return from a trip to Lebanon. The blogger Richard Silverstein published a copy of the gag order.
Kayyal had attended the fortieth anniversary celebrations of the Beirut-based As-Safir newspaper, for which he writes. Kayyal also works as a web editor for Adalah. He is held under suspicion of "unlawful travel to an Arab country" and "contact with a foreign agent," accusations Israel habitually uses to harass Palestinian citizens.
Except for several blogs, Israel's professional media have been totally silent about the case. While Arabic-language media have reported on Kayyal's arrest, international media have – like Israeli media – remained silent, even though they do not have the excuse of the gag order.
The matter of Kayyal's detention and the arrest of Palestinian-American student Mariam Barghouti were briefly raised at yesterday's State Department press briefing in Washington.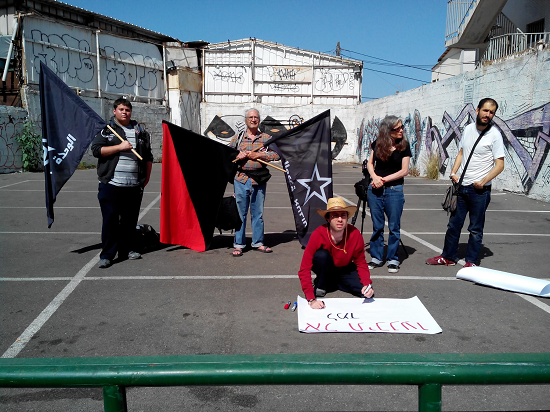 Today, activists held a rally outside the Tel Aviv offices of the Haaretz newspaper to protest Kayyal's detention, the political persecution of Palestinians and the Israeli media's silence.
The court was likely influenced to end the gag order by the fact that the matter had already been reported abroad. The Electronic Intifada recorded a surge of traffic from present-day Israel in recent days viewing its coverage of Kayyal's detention.
Tags