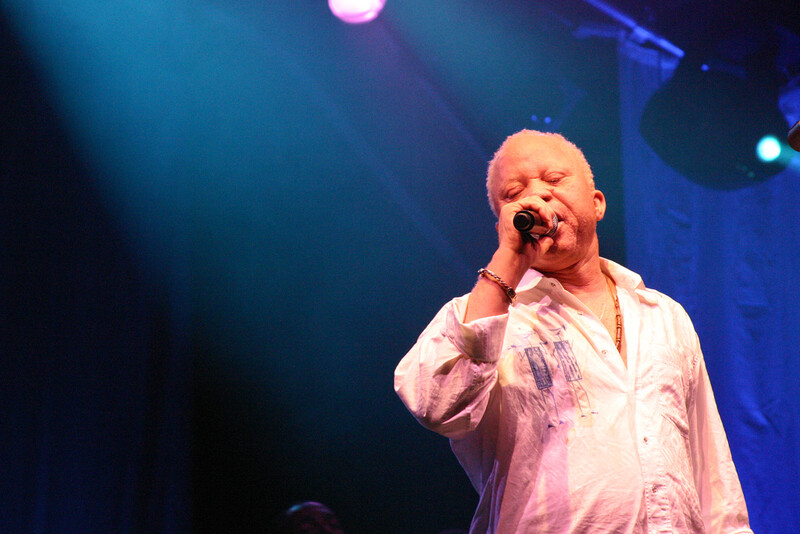 Palestine solidarity activists in France have rejected assertions by Afropop star Salif Keita that they threatened him.
Keita has claimed that he canceled his performance at the Jerusalem Festival of Sacred Music last week after "threats were made by a group named BDS, who also threatened to keep increasing an anti-Salif Keita campaign."
BDS stands for boycott, divestment and sanctions, a global grassroots campaign to pressure Israel to end its violations of Palestinian rights.
Keita's statement, posted on Facebook, also affirmed "we love Israel" and asserted that the cancelation of his concert occurred "when faced with an extremist group, as we believe BDS to be."
The Electronic Intifada wrote to the Salif Keita Global Foundation, which is directed by his wife Coumba Makalou-Keita, who co-signed Keita's statement claiming he was threatened, in order to obtain details about the nature of the "threats" and whether they had been reported to law enforcement.
However, emails went unanswered except for messages from an auto-responder indicating that they had been received.
In the weeks before his planned performance alongside Gil Ron Shama, an Israeli foreign ministry-appointed "goodwill ambassador" and musician, Keita had received appeals from anti-apartheid campaigners in South Africa and from Campagne BDS France, urging him to heed the Palestinian call for cultural boycott of Israel.
Keita, who hails from Mali, a former French colony, has a major following in France, especially among the large African diaspora.
BDS France rejects assertions of threats
In a statement on Saturday, Campagne BDS France responds to Keita's claims:
The international BDS campaign, a nonviolent citizens' campaign aiming to end Israel's impunity, celebrates the growing number of renowned international artists who refuse to appear in Israel. With these successes, allegations have appeared that certain artists have received threats which led them to cancel events.
The statement recalls that last month the manager of Eric Burdon, former lead singer of The Animals, also claimed the singer had received "threats." Burdon's manager never provided any evidence or description of the "threats" and Burdon traveled to Israel on schedule.
Appeals, not threats
The statement adds:
The BDS campaign in France, like BDS campaigns in other countries, always acts in the same manner, in the framework of the Palestinian call for cultural boycott. We direct an appeal to these artists and inform them about the Palestinian call for boycott, divestment and sanctions (BDS) against Israel. We want to be sure that these artists know that these boycott initiatives are nonviolent strategies for international solidarity, and that the BDS movement will continue until Israel complies with international law by ending its illegal occupation; dismantling the Wall, recognizing the fundamental rights of Palestinian citizens of Israel to full equality, and respecting the right of return of Palestinians.

Among the numerous artists who responded to the Palestinian call for cultural boycott of Israel are: Elvis Costello, Roger Waters, Alice Walker, Mira Nair, Cassandra Wilson, Natacha Atlas, Cat Power, Jello Biafra, Lhasa, Gilles Vigneault,  Carlos Santana, Annie Lennox, The Pixies and Massive Attack, as well as other performers from all over the world. Most of them made statements explaining their decision as an act of solidarity with the oppressed Palestinian people.

We contact these artists with the goal of convincing them and at the same time winning their hearts and minds. It would therefore be completely contrary to our principles to threaten them in any manner whatsoever, and it would be completely counterproductive for us. Moreover, we urge any artists who have received "threats" to file police complaints, but up to now we have never seen any proof of such threats.
Cancel and explain or just cancel
Finally, the Campagne BDS France suggests "Artists sympathetic to our case and who wish to boycott Israel can do it either by canceling their visit and explaining clearly their step, or by canceling without giving any reason if they prefer not to do so."
"But they should not stain their courageous and civic act of solidarity with violent and deceitful statements about our philosophy, goals and methods."
Tags