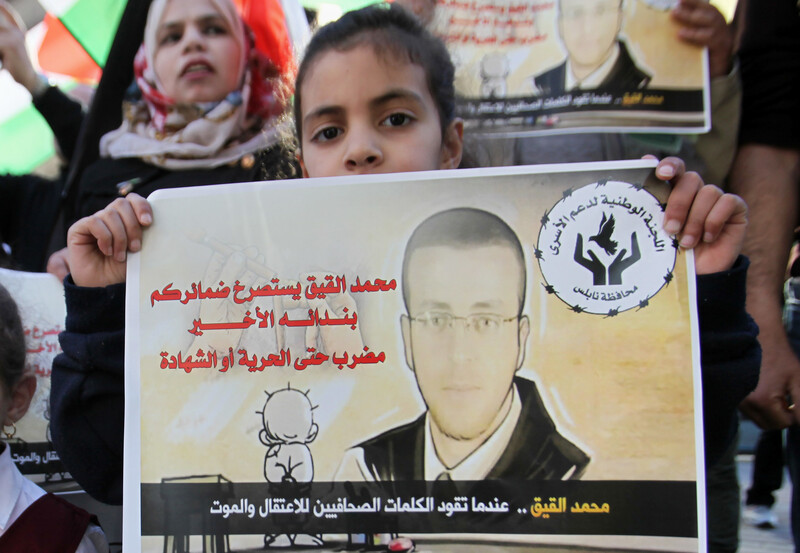 Israel is refusing to allow the family of Muhammad al-Qiq to visit the gravely ill hunger striker in the hospital where he is being detained.
As al-Qiq's condition continues to deteriorate, his wife Fayha Shalash and their two young children are desperate to be by his bedside.
Al-Qiq, a 33-year-old journalist from the occupied West Bank village of Dura, could experience organ failure at any moment after refusing food for 86 days to protest his detention without charge or trial.
The family submitted urgent requests for a visit through the Palestinian Authority and the Red Cross, the Quds news outlet reported.
On Friday, the Palestinian Prisoners Club, whose lawyers represent al-Qiq, said that Israeli occupation authorities had once again refused a request to let family members travel to HaEmek hospital in Afula, a city in present-day Israel, to see al-Qiq.
According to the group, the refusal violates the Israeli high court's 4 February order suspending al-Qiq's administrative detention, which said that he could receive visitors.
The Palestinian Prisoners Club said efforts would continue to try to persuade Israel to allow his family to join al-Qiq given his dangerous health situation.
No lawful authority
On Thursday, the Israeli human rights group B'Tselem made an urgent appeal to Israeli Prime Minister Benjamin Netanyahu to release al-Qiq.
It criticized the decision of the Israeli high court to refuse al-Qiq's request to be transferred to a hospital in Ramallah, despite the fact that the court has ostensibly suspended his administrative detention order.
B'Tselem said the court's decision "reflects a new low in the instrumentalist approach to human beings" and that al-Qiq is currently being held without lawful authority.
"Since al-Qiq's liberty is currently being restricted by a non-existent authority, it is difficult to identify the body that bears direct responsibility for the continued deprivation of his liberty and endangerment of his life," B'Tselem director Hagai Elad wrote to Netanyahu.
Elad added: "Does this responsibility rest with the military commander who issued the original detention order, which has for the meantime been 'suspended'? Does it rest with the attorney general, who is responsible [for] the state's proper legal conduct? Does it rest with the president of the supreme court, whose colleagues have concocted a new legal myth – a person who is not free, yet is not detained?"
Earlier this week, Amnesty International called on Israel to "urgently facilitate [al-Qiq's] transfer to a Palestinian hospital in Ramallah."
Protests by Palestinians in the occupied West Bank, Gaza Strip and present-day Israel have continued in support of al-Qiq.
Al-Qiq's wife, Fayha Shalash, made an appeal by video on Thursday urging people around the world to step up pressure on Israel to free him.
Tags