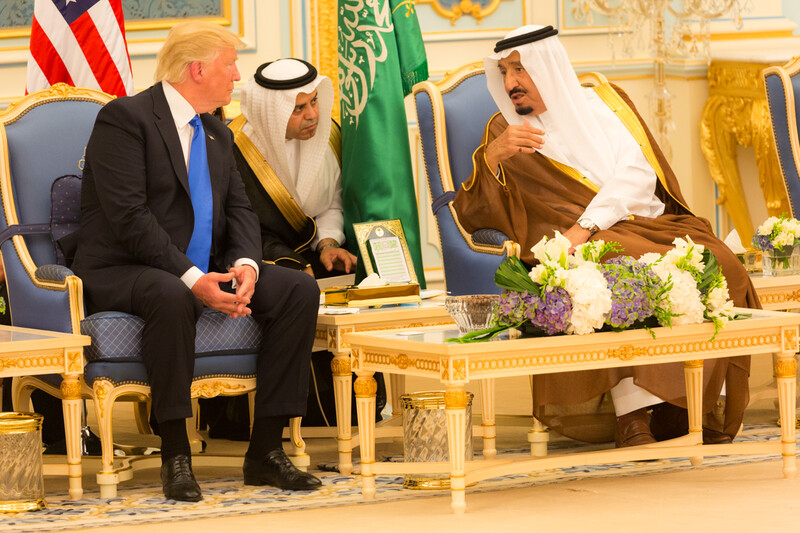 Israeli officials have gleefully endorsed the position of Saudi Arabia and the United Arab Emirates in a growing confrontation with Qatar, the most public acknowledgment yet of the deepening alliance between certain Gulf states and Tel Aviv over their common enmity towards Iran.
Meanwhile, evidence has emerged of close cooperation between the United Arab Emirates and a key Israel lobby group to pressure Qatar over its support for the Palestinian resistance organization Hamas.
On Monday, Saudi Arabia and several of its satellite states, including the United Arab Emirates and Bahrain, broke off diplomatic relations with Qatar and imposed a blockade, cutting land, sea and air links to the country.
Regional media reported that shelves in stores in Qatar, whose only land border is with Saudi Arabia, were quickly emptied as residents feared a prolonged closure could lead to food shortages.
Justifying its decision, Saudi Arabia has accused Doha of "grave violations" such as "adopting various terrorist and sectarian groups aimed at destabilizing the region," including the Muslim Brotherhood, Islamic State, also known as ISIS, and al-Qaida.
Israel's "opportunity"
Israeli officials were quick to offer their support to Saudi Arabia.
"New line drawn in the Middle Eastern sand," Michael Oren, Israel's deputy minister for diplomacy, proclaimed on Twitter. "No longer Israel against Arabs but Israel and Arabs against Qatar-financed terror."
Israeli defense minister Avigdor Lieberman declared that the crisis was an "opportunity for cooperation" between Israel and certain Gulf states.
"It is clear to everyone, even in the Arab countries, that the real danger to the entire region is terrorism," Lieberman claimed. He added that the Saudi-led bloc had cut ties with Qatar "not because of Israel, not because of the Jews, not because of Zionism," but "rather from fears of terrorism."
Chagai Tzuriel, a top official in Israel's intelligence ministry, told The Times of Israel that Qatar was a "pain in the ass" to other "Sunni" Arab states allied with Israel.
Israel's former defense minister Moshe Yaalon also expressed backing for the Saudi-led sectarian coalition. "The Sunni Arab countries, apart from Qatar, are largely in the same boat with us since we all see a nuclear Iran as the number one threat against all of us," he said at a ceremony celebrating the 50th anniversary of Israel's military occupation of the West Bank, Gaza Strip and Syria's Golan Heights.
On Tuesday, Saudi Arabia continued to escalate the situation, suspending the license of Qatar Airways and ordering its banks to sell the Qatari currency.
Who supports "terror"?
While Saudi Arabia offered no evidence for its charges against Qatar, the accusations are rich coming from a regime that has been one of the biggest sources of funding to so-called jihadi groups going back decades.
But like Saudi Arabia, Qatar too has been accused of financing or allowing money to flow to ISIS and al-Qaida-affiliated groups in Syria.
Israel has also had no problem with al-Qaida linked groups, and even ISIS, in Syria, offering them various kinds of cooperation and material support.
So the source of Saudi ire must lie elsewhere. Qatar has for years, along with Saudi Arabia, been part of the counterrevolution to thwart or reverse the so-called Arab Spring uprisings.
Qatar was taking part in the Saudi-led war on Yemen, before being kicked out of the coalition this week.
The two-year bombing campaign in Yemen has killed thousands of civilians and brought the impoverished country to the brink of famine.
But Qatar has often found itself backing different horses: Doha supported the Muslim Brotherhood in Egypt, while Riyadh has backed the regime of Abdulfattah al-Sisi, the army chief who led the 2013 military coup that overthrew the elected Muslim Brotherhood president in Cairo.
These differences had soured relations between Qatar and Saudi Arabia for years.
But Saudi Arabia may have been emboldened to act now, after US President Donald Trump gave full endorsement to strengthening a Saudi-led anti-Iran alliance during his visit to Riyadh last month.
Targeting Hamas and Iran
Qatar has continued to host the leaders of the Palestinian resistance group Hamas and has been under pressure to expel the group's officials – Israeli media claims that Qatar did expel two officials are unconfirmed.
But the biggest difference appears to be that Qatar has not been willing to fully sign up to the Saudi-Israeli alliance against Iran.
A deal in April in which Qatar allegedly paid about $700 million in ransom to release members of its royal family abducted by an Iran-affiliated group in Iraq reportedly enraged officials in other Gulf states.
Qatar also reportedly paid about $300 million in ransom to several al-Qaida linked groups in Syria, according to The Financial Times.
Also in April, Qatar lifted a self-imposed ban on developing a major maritime natural gas field it shares with Iran, which would necessitate cooperation between the two countries, according to the Tel Aviv newspaper Haaretz.
Things came to a head around the time of Trump's visit and his summit with regional leaders.
Qatar's national news agency published comments attributed to the country's leader Sheikh Tamim bin Hamad Al Thani, calling Iran "a regional and Islamic power that cannot be ignored" and asserting that "it is unwise to face up against it."
Tamim also purportedly said his country's relations with Israel were "good." Qatar has flatly denied the statements are real, claiming that the news agency's website and social media accounts were hacked.
Qatar has historically maintained relations with Israel, even welcoming its then foreign minister Tzipi Livni to Doha in 2008.
But the Qatar-based network Al Jazeera has cited the fake comments as a trigger for the crisis, accusing Saudi Arabia and its allies of using them as a pretext to move against Qatar.
UAE embraces Israel
Another factor is the close relationship between the United Arab Emirates and Israel.
Hacked emails published by The Intercept reveal coordination between the Emirates ambassador in Washington, Yousef Al-Otaiba, and the neoconservative pro-Israel think tank Foundation for Defense of Democracies.
The emails reveal "a remarkable level of backchannel cooperation" between the Emirates and the think tank, which is funded by billionaire Sheldon Adelson, a close ally of Israeli Prime Minister Benjamin Netanyahu, according to The Intercept.
The email exchanges included complaints from the Israel lobby group about Qatar's support for Hamas "terrorists."
An agenda for a meeting between leaders of the Israel lobby group and Emirates ambassador al-Otaiba scheduled for this month includes such items as "Qatar support for radical Islamists" including Hamas, Qatar's "destabilizing role in Egypt, Syria, Libya and the Gulf" and the role of the Qatar-backed Al Jazeera network.
It also includes ways to reduce the influence Qatar gains from hosting a major US air base.
One of the items on the agenda is "Political, economic, security sanctions."
The agenda is evidence that the Foundation for Defense of Democracies – a key player in Israel's anti-Palestinian propaganda – was gearing up to deliver in Washington the anti-Qatar message coming from Riyadh and the United Arab Emirates.
US role
The leaked documents reveal that the Saudi-led bloc is troubled by the influence Qatar gains by hosting the massive American al-Udeid air base.
But this is precisely why the US, the overall imperial power, has no interest in a squabble among states that it views as vassals.
Secretary of State Rex Tillerson affirmed the importance of US ties with all the states involved and offered to mediate, urging the feuding rulers to "remain unified."
The US military lauded Qatar for its "enduring commitment to regional security" and affirmed it had "no plans to change our posture in Qatar."
Qatar has taken these messages as signs of strong US support, but as ever Trump was quick to throw everything into doubt.
"During my recent trip to the Middle East I stated that there can no longer be funding of Radical Ideology. Leaders pointed to Qatar - look!" Trump tweeted on Tuesday, appearing to directly endorse the Saudi-led campaign against Doha.
"So good to see the Saudi Arabia visit with the King and 50 countries already paying off," he added. "They said they would take a hard line on funding extremism and all reference was pointing to Qatar."
"Perhaps this will be the beginning of the end to the horror of terrorism," the president asserted. More likely, Trump is pouring gasoline on an already burning region.
A long-term goal of Israel has long been to divide Arab powers against each other, to "let them bleed," as the official Israeli doctrine on Syria goes.
Whatever happens next, Israel will continue to benefit from the chaos and divisions that only strengthen its hand.
Tags