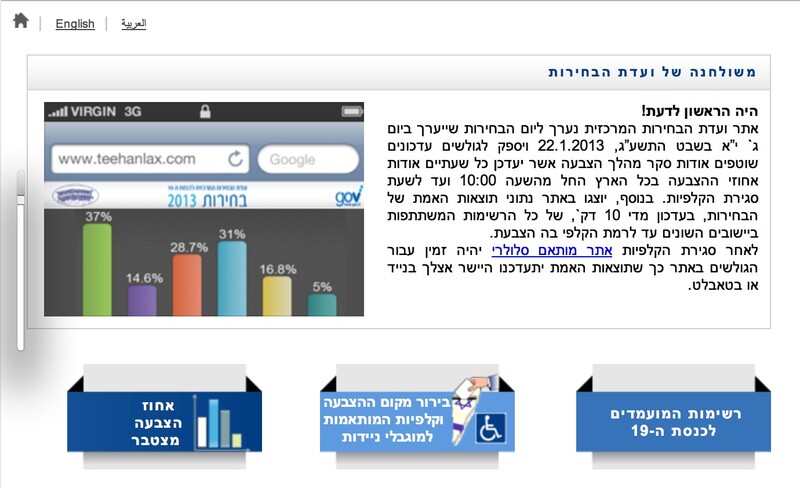 The screenshot above is from the official Hebrew language voter information website of Israel's Central Election Commission.
Look closely at the bottom center of the image where there is a link providing information for voters with disabilities.
It is accompanied by a graphic containing an outline map. Although small and incomplete, it is clear that the entire territory of historic Palestine, including what would be the occupied West Bank and Gaza Strip, is covered with a Star of David and the Israeli flag, suggesting the entire territory is "Israel."
But look at the screenshot below of exactly the same information from the official Arabic language version of the website and you'll notice the map graphic is not there at all even though the links provide the same information for voters.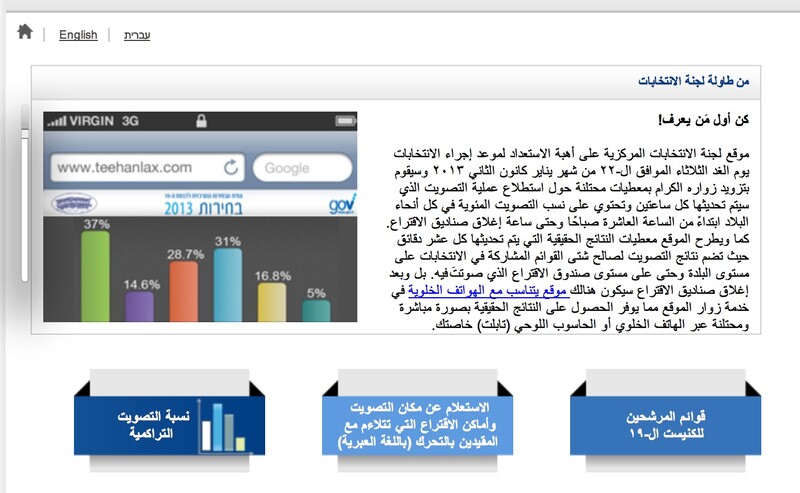 Whoever designed the website appears to recognize that Israeli Jewish voters – the most likely users of the Hebrew site – would mostly be comfortable with this graphical territorial claim, whereas Palestinian citizens of Israel, the target audience of the Arabic site, would understand it for what it is: an assertion of Israeli sovereignty over all of historic Palestine.
Recently, the German interior minister denounced a rap artist's Twitter avatar which depicted an outline of historic Palestine covered in the colors of the Palestinian flag as "sowing hatred."
Of course, as I pointed out in a post a little earlier, there is an election in the West Bank today, but it is an apartheid election for Jewish settlers only.
Tags