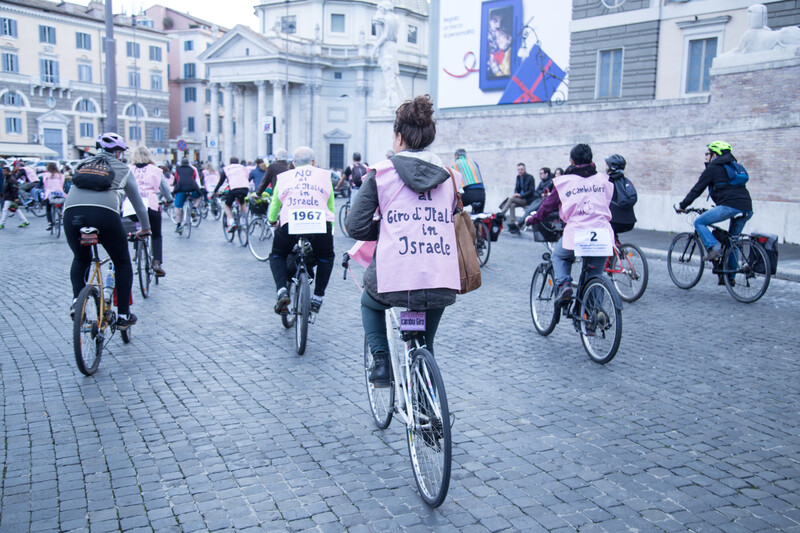 Organizers of the Giro d'Italia cycle race have caved in to threats from the Israeli government by erasing references to "West Jerusalem" and referring only to "Jerusalem."
This means that race organizers are parroting Israel's political claim that Jerusalem is a "unified" city, and Israel's capital under its sole and uncontested sovereignty.
The western part of the city was conquered and ethnically cleansed of its Palestinian residents by Zionist militias as Israel was established in 1948.
While a number of countries have recognized Israel's "de facto" control of what came to be known as West Jerusalem, none has recognized any part of the city as Israel's capital.
Israel's Channel 2 reported Wednesday that the Trump administration may become the first government to do so in coming days, as a preliminary step to moving the US embassy to Jerusalem in line with long-standing demands from hardline Israel lobby groups.
The United Nations and world governments consider East Jerusalem, which Israel invaded in 1967, to be part of the occupied West Bank.
Israeli threats
The first stages of the May 2018 bicycle race will be held in Jerusalem and parts of present-day Israel as part of a major international propaganda effort backed by Israel's government around the time of the 70th anniversary of the Nakba, the ethnic cleansing of more than 750,000 Palestinians by Zionist militias.
Giro d'Italia used the term "West Jerusalem" in materials presented at a high-profile launch event in Milan on Wednesday to announce details of the 2018 race route.
That may have been an attempt to mollify the growing protests about the world famous cycle race's complicity in Israel's efforts to whitewash its image, including its ongoing ethnic cleansing of Palestinians in East Jerusalem.
Erasing "West Jerusalem"
On Wednesday, Israel's ministers of sport and tourism immediately threatened to pull their lucrative sponsorship of the race unless organizers fell into line.

"In Jerusalem, Israel's capital, there is no east or west. There is one unified Jerusalem," the ministers asserted in a joint statement. "If the wording does not change, the Israeli government will not be a partner in the event."

Giro d'Italia organizers wasted no time scrubbing their website and social media from references to "West" Jerusalem. They even deleted a tweet featuring a video that used the term.

The European Union embassy in Tel Aviv, which has been an enthusiastic promoter of the race, had also shared the now-deleted video:

A screenshot made by The Electronic Intifada prior to its deletion shows the wording that race organizers erased:
Organizers also issued a statement signaling their compliance with Israel's political demands.
"During the Presentation of the 2018 race course, technical material containing the wording 'West Jerusalem' was used, due to the fact that the race will take place logistically in that area of the city," RCS Sport, the company that organizes the Giro d'Italia, said. "That particular wording, devoid of any political value, has been removed from any material related to the Giro d'Italia."
Stephanie Adam of PACBI, the Palestinian Campaign for the Academic and Cultural Boycott of Israel, said that the Israeli government's threats had offered the Giro d'Italia an "exit strategy" to "end its complicity in Israel's violations of international law and Palestinians' human rights."
"Giro d'Italia, instead, shamefully chose to bow to Israeli pressure and recognize Israel's illegal annexation of occupied East Jerusalem, contravening international law and the Italian government's own position," Adam added.
Adam said that the organizers' "initial clumsy attempts to mitigate Giro d'Italia's involvement in Israel's crimes by adding 'West' to the stage in Jerusalem did nothing to change the fact that one of cycling's top races is complicit in covering up the actions of an oppressive government operating outside the rule of law."
PACBI also noted that the Israel Cycling Federation frequently sponsors races "in areas under Israeli military occupation in violation of international law" – a reference to West Bank settlements.
Spending millions
Hosting the Giro d'Italia is a major propaganda coup for which Israel has been willing to pay a high price.

It is reportedly paying RCS Sport $12 million and another $2.4 million to reigning Tour de France champion Chris Froome to ride in the race.

Israel is also attempting to whitewash its racist laws against Palestinians, and its mass expulsion of refugees and asylum-seekers from African states, by presenting its Giro d'Italia squad as a showcase of "diversity."
Recruiting the Pope
Israeli Prime Minister Benjamin Netanyahu has even tried to enlist Pope Francis in the propaganda campaign, inviting the pontiff to attend the start of the race.
Earlier this month, dozens of Palestinian groups, including the National Coalition of Christian Organizations in Palestine, urged Francis "not to give your blessing or lend your name in any way to the 2018 Giro d'Italia cycling race because of its unfortunate insistence on whitewashing Israel's military occupation and grave human rights violations."
A major goal of "Brand Israel" propaganda is to market Israel as a venue for apolitical "cultural" and "sporting" events, distracting from these violations.
In that sense, the Giro d'Italia has already backfired. Six months before its start, the race is already deeply mired in politics. Last week, hundreds of cyclists held bike rallies across Italy demanding that organizers relocate the race.
Even if the Giro d'Italia goes ahead in Jerusalem, the controversy and ongoing protests will send a strong message to other international franchises to steer clear of Israel or face major reputational damage.
Tags