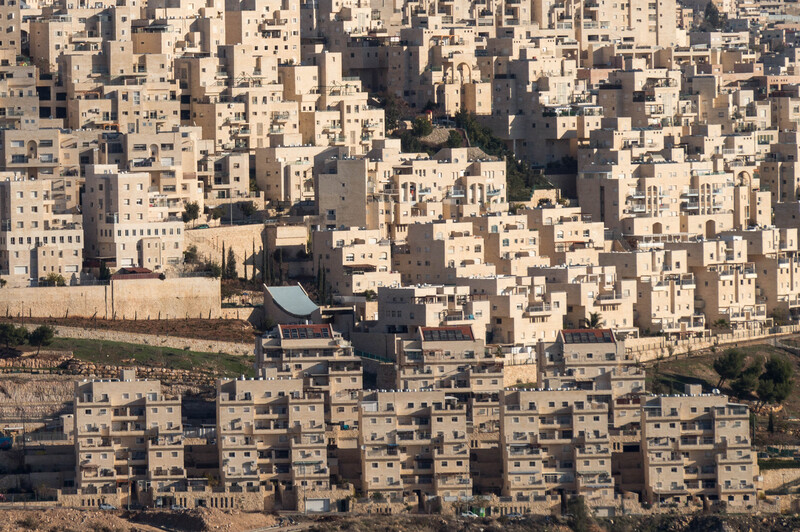 The European Court of Justice ruled on Tuesday that goods from Israeli colonies on occupied Palestinian land must be labeled as originating from settlements.
The judgment is a severe blow to Israel's efforts to legitimize its colonies in the occupied West Bank and Syria's Golan Heights – the construction of which is a war crime.
The court, the highest judicial authority for interpreting EU law, stated that labeling settlement goods is mandatory "in order to prevent consumers from being misled as to the fact that the State of Israel is present in the territories concerned as an occupying power and not as a sovereign entity."
The ruling also acknowledges that Israel's settlements are part of a "policy of population transfer" by Israel "in violation of the rules of general international humanitarian law."
Legal boost for BDS
According to the EU court, accurate labeling is necessary so that consumers can make "informed choices, with regard not only to health, economic, environmental and social considerations, but also to ethical considerations and considerations relating to the observance of international law."
In other words, the EU's top court is affirming that citizens have the right to engage in economic boycotts of goods in order to promote respect for human rights and international law.
This part of the ruling will be particularly welcome to advocates of BDS – boycott, divestment and sanctions – who emphasize the role of civil society action in bringing accountability for Israel's violations of Palestinian rights.
Earlier this year, an advisory opinion from a senior official of the EU court likened Israeli settlement wines to goods from apartheid South Africa.
"Just as many European consumers objected to the purchase of South African goods in the pre-1994 apartheid era, present-day consumers may object on similar grounds to the purchase of goods from a particular country" because it pursues "policies which that consumer happens to find objectionable or even repugnant," Gerard Hogan, advocate general of the European Court of Justice, wrote.
His reasoning appears to have persuaded the judges.
Losing case
A 2011 EU directive requires accurate labeling of goods in order to protect a consumer's right to information, including the origin of a product.
In 2015, the EU issued an "interpretive notice" requiring goods made in Israeli settlements in the West Bank and Golan Heights to be labeled as originating from such settlements.
The French government then issued a regulation in 2016 requiring such labeling on settlement goods.
The case before the EU court stemmed from an effort to overturn that French rule.
It was brought by the Psagot winery, a settlement company that operates on occupied, stolen Palestinian land, and by the Organisation Juive Européenne, an Israel lobby group.
Israeli officials appear to have anticipated that the court ruling would go against them. In recent days anonymous officials criticized Psagot for proceeding with what they expected would be a losing case.
"In what could be described as a preemptive blame game, these officials are warning that the European Court of Justice is likely to rule in favor of the controversial labeling policy, and that the suit brought about by Psagot, while just, will ultimately backfire," The Times of Israel reported.
"The European countries' maneuvering space will decrease after the ruling," an Israeli official said.
The judgment by the EU court follows a similar decision by the Federal Court of Canada in July.
The Canadian court ruled that wines produced in settlements on occupied Palestinian land in violation of international law cannot be labeled "Made in Israel."
The court in Ottawa found that people who wish to express their political views through their purchasing decisions "have to be provided with accurate information as to the source of the products in question."
Lax enforcement
In 2017, EU officials privately admitted that it is "impossible" to reliably distinguish which Israeli-produced goods come from settlements.

This raises questions about how effectively the court ruling will be enforced by an EU bureaucracy and member states that spare no effort to aid Israel and shield it from accountability.

Moreover, the current dispute deals only with how to label settlement goods and not whether such goods should be sold in Europe or other countries in the first place.

Both Amnesty International and Human Rights Watch have documented the devastating impact of Israel's settlements on Palestinian lives and rights, and called on all businesses to stop working in or with settlements altogether.

Amnesty and others have called on governments to ban all trade in settlement goods, but after decades of inaction, EU countries have yet even to ensure proper labeling.

Nonetheless, Tuesday's ruling will be a powerful tool for EU citizens to continue pressuring their governments to end European profiteering from and complicity with Israel's system of occupation, apartheid and settler-colonialism.
Tags