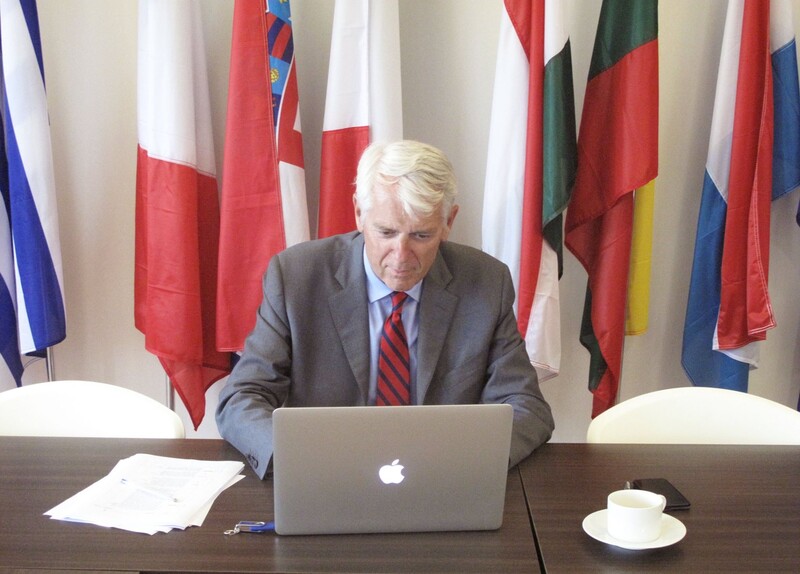 In March, statements by Israel's intelligence minister calling for "targeted civil elimination" of Palestinian human rights defenders made headlines around the world.
What was particularly alarming was Yisrael Katz's use of the terminology the Israeli military employs as a euphemism for extrajudicial executions.
The statements, made at an anti-BDS conference in Jerusalem, caused such concern that Amnesty International expressed its fears for the "safety and liberty of Palestinian human rights defender Omar Barghouti, and other boycott, divestment and sanctions (BDS) activists, following calls alluding to threats, including of physical harm and deprivation of basic rights, made by Israeli ministers."
Barghouti is a co-founder of the BDS movement.
Amnesty noted that the threats by Katz and other Israeli officials came against the background of an "escalation of acts of intimidation by the government and attacks and threats by settlers and other non-state actors [that] have created an increasingly dangerous environment" for human rights defenders in Israel and the occupied West Bank and Gaza Strip.
Dismissing threats
Among those who participated in the anti-BDS conference was the EU's top envoy to Israel, Ambassador Lars Faaborg-Andersen.
Previously, though he refused to condemn the threats outright, Faaborg-Andersen at least acknowledged them, insisting that his presence "should by no means be seen as endorsement of statements – including the threats … made by others at that conference."
Now, however, Faaborg-Andersen is minimizing even further the dangers faced by human rights defenders, even as Israeli human rights group B'Tselem reported just days ago that a human rights worker was attacked and beaten by settlers as Israeli occupation forces looked on.
In answer to a question from Israeli activist Ofer Neiman during a Facebook live chat on Monday, Faaborg-Andersen again defended his role in the anti-BDS conference.
"I participated in that conference in order to explain the EU's position on BDS which the EU does not support," the ambassador wrote. "I also explained the EU's positions on settlements which in the EU's view are illegal, and on the correct indication of origin on goods exported from Israeli settlements to the EU."
"This does not mean that I associated myself with the remarks of Israeli ministers at that conference but nor did I hear anyone threatening anyone's life," Faaborg-Andersen added.
The Electronic Intifada asked the EU Delegation to Israel if this comment meant that the ambassador was disputing the concerns expressed by Amnesty International about the growing dangers to human rights defenders.
A spokesperson for the EU office confirmed the ambassador's statement on Facebook, adding, "That is all the ambassador has to say on this matter."
Faaborg-Andersen's apparent dismissal of the dangers facing human rights defenders is all the more notable since it comes after Israel began to implement its threats against Barghouti, imposing an effective travel ban on him.
Human Rights Watch, by contrast, wasted no time in condemning the step. "Israel's refusal to renew Barghouti's travel document appears to be an effort to punish him for exercising his right to engage in peaceful, political activism, using its arsenal of bureaucratic control over Palestinian lives," the group's Middle East and North Africa director Sarah Leah Whitson told The Electronic Intifada.
No pressure, no peace
Faaborg-Andersen also used the Facebook chat as an opportunity to reaffirm the EU's commitment "to see Israel thrive and prosper as a Jewish and democratic state," a definition that necessarily negates the rights of millions of Palestinians who would have to be barred from returning home and exercising other fundamental civil, political and human rights solely on the blatantly discriminatory grounds that they are not Jews.
The ambassador also spent much of the time fending off criticisms from Israelis who were under the misapprehension that the EU is anything other than solidly committed to rewarding Israel with closer and deeper ties no matter what it does to Palestinians.
"The European Union and Israel have enjoyed five decades of close cooperation and growing interdependence," Faaborg-Andersen reassured Facebook users. "The EU is Israel's leading partner in trade and in research and our partnership has been cemented by important agreements."
These partnerships include EU funding for Israeli weapons research and for Israeli settlements.
Israelis passionately committed to occupation, settler-colonization and segregation can therefore rest easy: as long as Ambassador Lars Faaborg-Andersen and like-minded officials are responsible for policy, the clear message is that Israel will never face any significant or effective pressure from the EU to end its human rights abuses or recognize Palestinian rights.
Tags