Update, 14 May:
French hip hop artist Onra revealed on Twitter that he has withdrawn from the EU-sponsored party on the ruins of the Palestinian community of al-Manshiyya.

This means at least two artists have dropped out.

"I'm not going!" Onra wrote on Saturday to a Twitter user's appeal not to "entertain racists and their apartheid."

Palestinian campaigners welcomed the move:

Also on Saturday, Finnish musician Jaakko Eino Kalevi announced he was withdrawing.

Kalevi wrote on Twitter that he took the decision "as I am now more aware of the widespread opposition to Israel's hosting of Eurovision."

Both have been removed from the published lineup.
Original article
On 15 May European diplomats will be holding a party featuring the Dutch DJs Detroit Swindle and artists from across Europe at Charles Clore Park in Jaffa.

They will be dancing – figuratively, if not literally – on the graves of Palestinians.

The party, hosted by the Dutch, European Union and German embassies, among other European institutions, is supposed to celebrate the Eurovision Song Contest that will be going on simultaneously in Tel Aviv.

The other artists in the lineup are Few Nolder, Hellwana, Jaakko Eino Kalevi, Karpov Not Kasparov, Onra, Pejzaz. It will also include a screening of Johannes Schaff's film Symphony of Now and CID RIM.

But 15 May is also Nakba Day, which commemorates the ethnic cleansing 71 years ago of some 800,000 Palestinians by Zionist militias in order to establish the state of Israel on the ruins of their lives, communities and history.

So-called Charles Clore Park tells part of this story.

It is built on the site of al-Manshiyya, a once thriving neighborhood of Jaffa – a port city that was known as the Bride of the Sea for its central role in Palestinian cultural and economic life.

Jaffa's golden age ended when Zionist militias conquered the city in 1948 expelling all but a few thousand of its Palestinian inhabitants, many fleeing by sea.

But before the Haganah, the main Zionist militia, occupied Jaffa in May 1948, a smaller Zionist gang, Etzel, also known as the Irgun, attacked al-Manshiyya.

Weeks earlier, on 9 April, the Irgun, led by future Israeli Prime Minister Menachem Begin, had carried out the notorious massacre in the village of Deir Yassin, that sowed panic and fear across Palestine.

And in 1946, the Irgun had perpetrated the bombing of Jerusalem's King David Hotel.
In late April 1948, the Irgun attacked al-Manshiyya and conquered it.
"The residents of al-Manshiyya and the other villages tried to resist. They gathered, primarily around the Hassan Beq mosque, and tried to fight, despite their small number and lack of weapons," Zochrot, an Israeli organization that raises awareness about the Nakba, states.
"As the fighting continued, the number of killed and wounded increased, until al-Manshiyya finally fell on 28 April 1948, and was cut off from Jaffa."
The Haganah then moved in to conquer the rest of Jaffa and its surrounding villages.
"Some of al-Manshiyya's inhabitants were expelled to Jordan, and others were sent by sea to Gaza and Egypt," Zochrot states. "A few were transferred to Jaffa and later lived in the Ajami ghetto, alongside refugees from Jaffa and the nearby villages."
Right after the conquest, an Israeli commander gave this account of what al-Manshiyya looked like after his men had finished their work: "Piles of ruins wherever you look, gaping holes in walls, ruined belongings, streams of water flowing from open faucets in destroyed buildings and … deathly silence."
That silence, he added, was "broken from time to time by a shot … fired by our reconnaissance forces."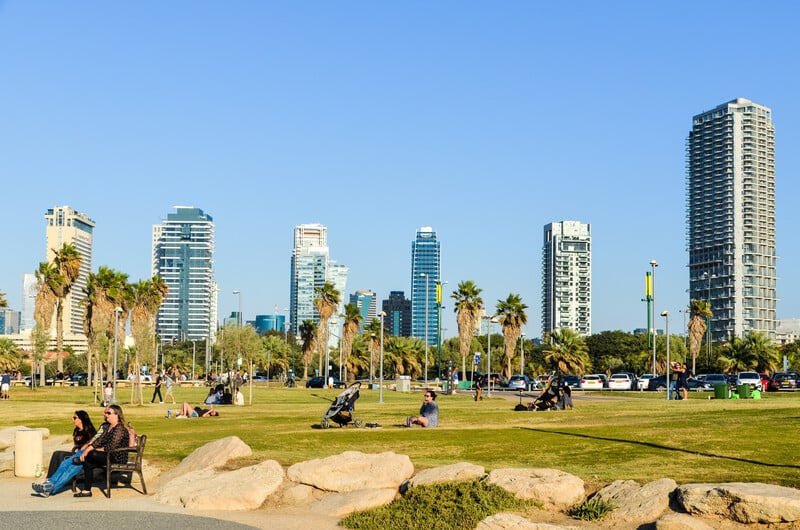 But as it did in hundreds of towns and villages across Palestine, the new Israeli state moved in to destroy the evidence of what existed before, and to rename places to erase their history and identity.
Over most of al-Manshiyya, the Israelis created Charles Clore Park, named for a Jewish British philanthropist.
"The rolling surface of the park formed 'dunes' concealing the rubble remaining from the demolition of the neighborhood, which had been pushed to the seaside," Zochrot states.
"In the Zionist tradition of making the wilderness bloom, the dunes were covered with grass and colored green."
While official Europe is determined to help Israel erase and deny this history and once again celebrate the destruction of Palestine, Palestinians and their supporters are making sure no one can forget.
Tags