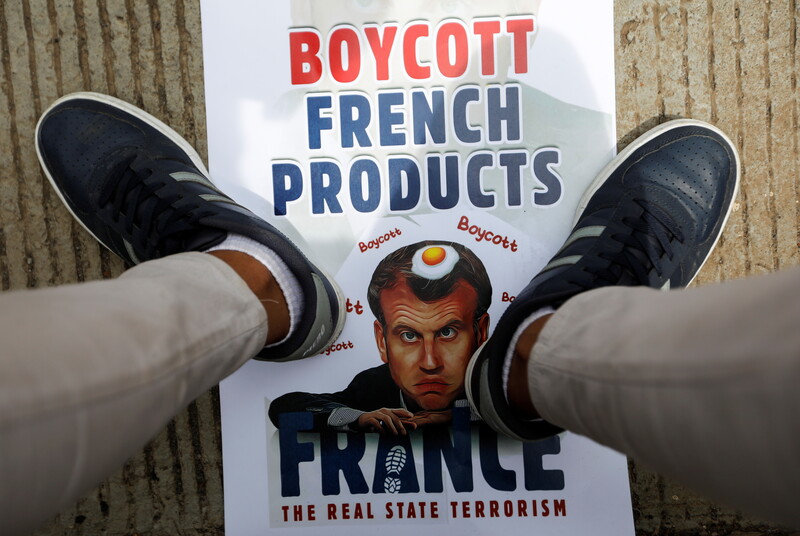 It's usually easy to ignore the turgid blog posts of EU foreign policy chief Josep Borrell.

But the one published Tuesday, with the title "We need to fight Islamist terrorism together," could not be overlooked.

It comes in the wake of recent deadly attacks by lone young men in France and Austria.

Borrell writes that this "wave of terrorism" has "targeted the foundations of our secular and democratic societies."

"We have to identify precisely the kind of terrorism we are facing," Borrell adds. He then offers this convoluted reasoning:
We usually call it Islamist terrorism because the perpetrators and supporters claim to carry out these acts of terror in the name of Islam. But we must avoid to identify this terrorism with Islam. It would be as incorrect as to identify the terrorism of ETA, fortunately defeated in Spain, with the whole Basque people as "Basque terrorism."
In what Borrell would no doubt see as an argument against Islamophobia, he claims that "this terrorism only refers to the extremism of few people, seeking false justifications for their folly in one of the great religions of the world."
The Basque nationalist group ETA used violence in the name of Basque people in pursuit of a Basque homeland.
Indeed, as Borrell notes, that does not mean that they represented all Basques, just as the lone attackers in France and Austria do not represent all – or even any – Muslims.
So if Borrell rejects using the term "Basque terrorism," why does he insist on talking about "Islamist terrorism?" Unfortunately, he does not provide a clear answer.
It is notable that while the EU insists on labeling violent acts carried out by Muslims as "Islamist," it refuses to identify victims of terrorism as Muslim when they are targeted for their religion.
After the March 2019 massacre at two mosques in Christchurch, New Zealand, by an Australian white supremacist, Federica Mogherini, Borrell's predecessor as EU foreign policy chief, did not even mention that the victims were Muslims gathered to pray at mosques.
This shocking omission – that was common to the statements of many European leaders – contrasts with how the EU diligently mentions the religion of victims when they are Christian or Jewish.
Hypocrisy over Israel
Although he singles out "Islamist terrorism," Borrell asserts that "All world leaders need to join forces in clearly condemning all violence in the name of any religion."
So how well does the EU live up to that? It's no surprise that the clearest hypocrisy can be seen in the EU's approach to Israel.
Israel's army and armed settlers regularly commit large-scale violence against Palestinians in the name of the "Jewish people" and in pursuit of what Israel interprets as Jewish values.
Israel justifies its violent colonization of occupied Palestinian land in specifically religious terms.
Last year, Israel's UN ambassador Danny Danon told the UN Security Council that God gave the "Land of Israel" – meaning all of historic Palestine – to the Jews.
He even held up a copy of the Bible and declared, "This is our deed to our land."
Israel has enshrined this Jewish theology in its constitutional law.
Its so-called Nation-State Law states that "Israel is the nation-state of the Jewish people, in which it fulfills its natural, religious, and historic right to self-determination."
The law also defines "Jewish settlement as a national value."
Israel's habitual massacres of Palestinians are carried out in order to maintain Israel as a "Jewish state" with a Jewish majority.
A top Israeli official even claimed that Benjamin Netanyahu is not merely the prime minister of Israel but the "leader of the Jewish people" all over the world – a kind of Jewish pope.
But I can find no record of the EU condemning Israel's unrelenting crimes as "Jewish crimes" or, say, "Judaist terrorism."
I am certainly not arguing that the EU should do so.
Conflating Zionism and Judaism
It is Israel and adherents of its Zionist political ideology who insist on blurring the distinction between Judaism and Jewish people on the one hand, and the Israeli state, on the other.
The EU, too, insists on equating Israel with Jews and Judaism.
This is apparent both in its approach to fighting anti-Semitism and in its open endorsement of Israel's claim to be a "Jewish state."
Yet when it comes to Israel's violence – which Israel itself insists is done with biblical sanction on behalf of Jews everywhere – the EU avoids any such religious labeling.
Palestinians, by contrast, have always refused to conflate Israel with Jews, or to hold Jews collectively responsible for Israel's actions.
Even the Palestinian political and resistance organization Hamas affirmed in its updated charter in 2017 that it "does not wage a struggle against the Jews because they are Jewish but wages a struggle against the Zionists who occupy Palestine."
"It is the Zionists who constantly identify Judaism and the Jews with their own colonial project and illegal entity," Hamas stated.
Denying Islamophobia
Borrell's anti-Muslim insistence on the term "Islamist terrorism" while failing to describe religiously inspired violence committed by Jews in similar terms is not the only problem with his article.
He condemns calls around the world for boycotts of French goods over French leaders' comments about Islam, as well as "hate speech" about "the situation of Muslims in Europe."
Borrell staunchly defends French leaders against "manipulative social media campaigns" and insists that the EU "protects the freedom of everybody to believe and practice religion."
This denial of the reality that Muslims across Europe face persistent hatred and discrimination is belied by research from the European Union's own Fundamental Rights Agency.
According to a 2017 FRA survey, almost one in three Muslim women in Europe who sometimes wear "traditional or religious clothing" had experienced harassment in public during the previous 12 months.
Another piece of research I found listed on the FRA's website is a 2017 study sponsored by Germany's Bertelsmann Foundation.
It found that across Europe, "rejection of Muslim neighbors is widespread."
That "rejection of Muslims is particularly strong in Austria," and in Germany, "19 percent of non-Muslim respondents would not welcome Muslim neighbors."
Overall, the study found, "Muslims – along with the refugees who in recent years have come to Europe primarily from predominantly Muslim countries – are among the most rejected social groups."
France's war on Muslims
Ironically, according to the Bertelsmann study, France was the least intolerant country, where only 14 percent of non-Muslims would not want Muslim neighbors.

It is perhaps because French citizens do not hate Muslims enough in the eyes of French leaders that President Emmanuel Macron and his government have launched an all-out cultural war on Muslims as Muslims.

This ranges from the insistence on constantly denigrating the beliefs of Muslims in the name of "free speech," to introducing new laws against "separatism" that target Muslims.

One such law would subject people to fines of tens of thousands of dollars and imprisonment if they refuse to be treated by a doctor of a different sex.

The Macron government is also waging a witch hunt against Muslim civil society groups whose leaders have not been charged with any crimes.

The head of one charity, BarakaCity, is now seeking political asylum in Turkey.

Macron is even moving to shut down CCIF, a civil rights group that documents Islamophobia.

France's interior minister Gérald Darmanin has declared CCIF an "enemy of the republic."

This is the same minister who recently identified another dangerous enemy that he believes fuels radicalization: The availability of halal and kosher food in supermarkets.

Darmanin's horror at both halal and kosher products is a reminder that even though it is Muslims who are today's targets of official French hatred, that hatred is not so far from the French Republic's historic hatred of Jews.
Ignoring blowback
EU foreign policy chief Borrell does have a point that we need to study why attacks like the recent ones are happening.

He blames everything from "identity politics" to "disinformation and hate speech on the internet."

Yet he is silent about an undoubtedly important factor: These attacks are at least in part blowback from American and European policies of arming and funding self-styled "jihadist" groups from Libya to Syria.

The proxy wars this has fueled have driven millions from their countries, creating a refugee crisis that has been readily exploited by far-right and Islamophobic politicians across Western countries.

This is a reprise of the disastrous American policy of arming the so-called Mujahideen in Afghanistan as anti-Soviet proxies in the 1980s – a policy that led directly to the 11 September 2001 attacks.

The teenage Chechen killer of the French school teacher Samuel Paty, for instance, was reportedly in contact with militants in Idlib – the last remaining stronghold in Syria for al-Qaida-linked groups armed and supported by the United States and its allies, including Gulf regimes, Turkey, Israel and the French Republic.

An honest examination of the results of European wars and interventions is a lot harder than blaming – as Borrell does – "a clash between civilization and barbarism."
Tags