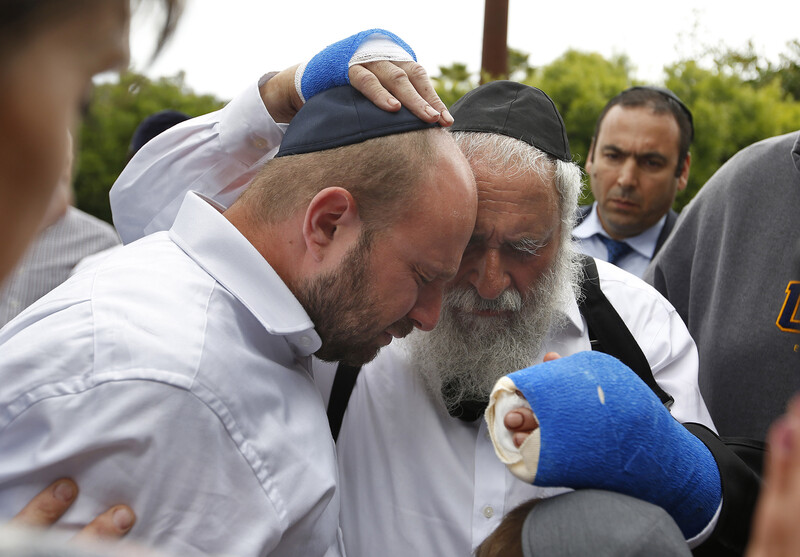 In the wake of another deadly shooting attack on a US synagogue, some of Israel's most extreme supporters are again shielding white supremacists and shifting the blame to supporters of Palestinian rights.
On Saturday, a gunman with an assault rifle attacked the Altman Family Chabad Community Center in Poway, California, during services marking the last day of Passover.
Lori Gilbert-Kaye, 60, was killed and the temple's Rabbi Yisroel Goldstein was among three others injured.
Police arrested a 19-year-old student, John T. Earnest, in Saturday's attack.
The morning of the attack Earnest reportedly posted an online manifesto filled with quotes from the bible, referencing Hitler and identifying himself as a "white supremacist" and "anti-Semite."
Earnest also reportedly took credit for an arson at a mosque in Escondido, California, last month, claiming inspiration from the massacre by a white supremacist of 50 worshippers at two mosques in Christchurch, New Zealand.
The shooting in Poway came six months after a gunman murdered 11 people at the Tree of Life synagogue in Pittsburgh. The white supremacist arrested for that attack also spouted anti-Semitic hatred to justify his act.
Yet some of Israel's most ardent supporters are trying to obscure the role of white supremacism, thus shielding some of Israel's key allies.
ZOA attacks SJP
The Zionist Organization of America issued a statement condemning the Poway attack, but making no mention of the alleged perpetrator or his white supremacist, anti-Semitic motive.

Instead the ZOA used the attack as an occasion to incite against individuals and organizations with absolutely no connection to the shooting.

The hardline Israel lobby group demanded that congresswomen Rashida Tlaib and Ilhan Omar – critics of Israel – be removed from their committee positions, and that universities crack down on Students for Justice in Palestine.

Similarly, Melissa Weiss, the national campus director of the Simon Wiesenthal Center, tried to draw a connection between the Poway attack and an academic conference about Gaza held last month at the University of North Carolina.

Weiss claimed that the "Jewish community in North Carolina pled with UNC" to cancel the conference.

"Please, listen to us. Our lives depend upon it," she added – a shameless effort to use the Poway attack to further the Israel's lobby's goal of inciting censorship of speech about the suffering of Palestinians under Israeli military occupation, siege and apartheid.

Weiss is also a former staffer of the Israel on Campus Coalition, a lobby group that works closely with the Israeli government as part of its secret efforts to smear and sabotage Americans who speak out for Palestinian rights.

Mark Dubowitz, chief executive of the Foundation for Defense of Democracies – another far-right lobby group that collaborates with Israel in its secret efforts – more or less directly blamed Omar:

Similarly, German Green Party politician Volker Beck, a staunch opponent of Palestinian liberation, listed the nonviolent boycott, divestment and sanctions – BDS – movement as the first in a line of alleged culprits for the anti-Semitism he held responsible for the Poway shooting: Vijeta Uniyal, a "social media ambassador" for the anti-Palestinian group StandWithUs, also implicitly blamed BDS for the California attack:
Smearing Ilhan Omar
Congresswoman Ilhan Omar has been repeatedly and falsely smeared as an anti-Semite, and for speaking out against white nationalism.

In the wake of Saturday's shooting, she declared that "Islamophobia and anti-Semitism are two sides of the same bigoted coin," and urged, "Let us stand together as Americans in rejecting hate."

She also rebuked Senator Ted Cruz for his silence over the synagogue shooting: Cruz, like other right-wing politicians who use racist dog whistles to appeal to white voters, had instead attacked Omar and the "anti-Semitic left" without even mentioning the Poway shooting: Omar also had to respond to an attack from right-wing pundit Meghan McCain, who tried to suggest that the congresswoman had some responsibility for the synagogue shooting:
Tone set from above
The deflection of responsibility from white supremacists by far-right politicians and pro-Israel groups echoes the tone set by Israeli Prime Minister Benjamin Netanyahu and his close ally President Donald Trump.

In contrast to his habitual attacks on what he calls "radical Islam," Netanyahu condemned the Poway shooting on Twitter without any reference to white supremacism.

Similarly, Trump, who in the wake of Christchurch denied that white nationalism is a growing problem, tweeted "thoughts and prayers" following the Poway attack without alluding to the shooter's ideology or motive: The reason is no mystery.

"The Jewish American right decided long ago to ignore Trump's white nationalism, and to look the other way when it came to his anti-Semitic dog-whistles," Israeli journalist Edo Konrad observed. "Why? Because it decided that Trump's pro-Israel, anti-Muslim positions were more important than the very safety of our people."

In 2017, this writer noted the Zionist-White supremacist alliance that took shape in the White House after Trump assumed office.

That year, the Zionist Organization of America welcomed at its gala Sebastian Gorka, a former Trump adviser who was a member of an anti-Semitic Hungarian ultra-nationalist group previously controlled by the Nazis.

But the alliance is international.

Its most obvious manifestations include not only the Trump-Netanyahu partnership, but also the Israeli prime minister's embrace of anti-Semitic leaders like his Hungarian counterpart Viktor Orban, an open admirer of the Nazi collaborator Miklos Horthy, who sent half a million Hungarian Jews to their deaths in Hitler's camps.

Another manifestation is how Israel is arming Ukraine's openly neo-Nazi Azov Battalion.

A key driver of this alliance of convenience is that Israel uses its self-description as a "Jewish state" to offer a whitewashing service to anti-Semitic and even neo-Nazi movements and leaders as long as they profess support for Israel's anti-Palestinian policies.

After the Pittsburgh synagogue massacre, for instance, Netanyahu and his government mobilized their efforts to shield Trump from blame for inciting white supremacism and anti-Semitism, just as many Jewish Americans attempted to hold the US president accountable.

This is not a new phenomenon, historically leaders in the Zionist movement were willing to work with Nazis and anti-Semites as far back as the 1930s as long as they thought it advanced their quest for colonization in Palestine.

But what many Jews are noting with alarm today as this alliance is reinvigorated is that what is deemed good for Israel by some lobby groups is potentially lethal to them.

American Jewish cartoonist Eli Valley did not mince words, calling the Zionist Organization of America "Nazi collaborators" for its silence about the anti-Semitic white supremacy that movitated Saturday's deadly attack in California.
Tags