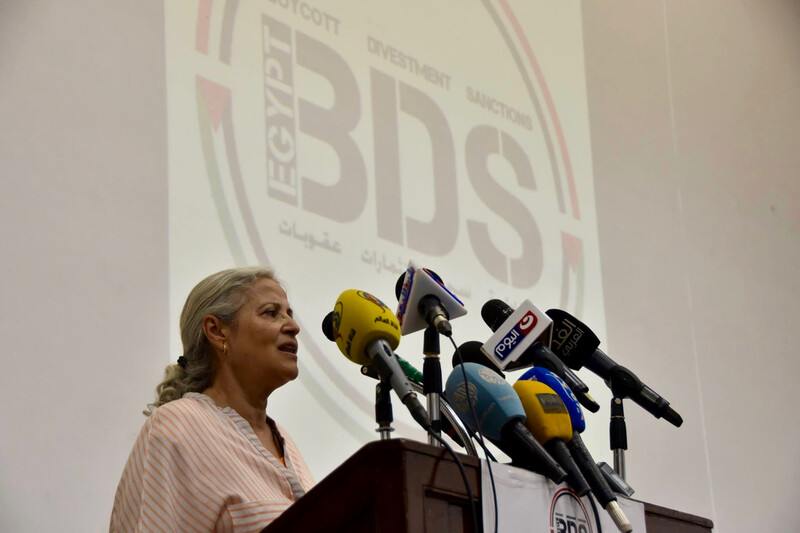 Activists in Egypt are calling on companies and agencies in the country to end contracts with G4S, the multinational private security and incarceration firm that profits from Israeli military occupation in Palestine.
BDS Egypt launched the campaign on 14 May at a conference in Cairo that also marked Nakba Day, the annual commemoration of the 1948 ethnic cleansing of Palestine by Zionist militias.
The conference was held at the headquarters of the Egyptian Medical Syndicate, an endorser of BDS Egypt.
Building on Orange win
The focus on G4S, which has a major presence in Egypt, is the BDS Egypt coalition's second major campaign.
"After our victory in our first campaign against Orange, we have become part of a strategic threat to the Zionist entity as it itself has admitted," BDS Egypt said in a statement sent to The Electronic Intifada, referring to Israel's escalating efforts to stop the momentum of the boycott, divestment and sanctions movement.
Launched in 2014, BDS Egypt saw quick success with its 2015 boycott call against Mobinil, the subsidiary of French telecom giant Orange.
This March, G4S announced it intended to sell off its Israeli businesses, but could hold on to them for up to two more years.
The announcement came after campaigners in Jordan succeeded in getting several UN agencies to drop their contracts with G4S.
But campaigners cautioned that pressure needed to be maintained on the company, which has a history of reneging on promises.
Since 2010, G4S has lost contracts worth millions of dollars as a direct result of activist campaigns.
Stop G4S, a global campaign endorsed by the Palestinian BDS National Committee, aims to hold the company accountable for providing equipment and services to Israeli prisons in which thousands of Palestinian political prisoners, children and administrative detainees are subjected to inhumane treatment.
G4S also provides equipment for checkpoints along Israel's wall annexing Palestinian land in the occupied West Bank and for its settlements built in violation of international law.
The firm also co-manages the Israeli police academy in Jerusalem.
Repression in Egypt
The Cairo conference took place in the context of a general crackdown on Egyptian activists and dissenters by the regime of Abdelfattah al-Sisi, which toppled Egypt's first democratically elected president in 2013.
In his address to the conference, Rami Shaath, a founder of BDS Egypt, noted that five of the coalition's members and co-founders are currently in prison over "freedom of expression related charges, including prominent activists like Haitham Mohamadein and Taher Mokhtar," Daily News Egypt reported.
Shaath also told the website Arabi 21 that he is left "speechless" by the Egyptian state's contradictory policies regarding Israel.
"You always hear the government and its top officials telling people that Egypt is confronted with danger, with new forms of war and with a Zionist-American conspiracy in order to occupy and destroy the stability of Egypt," Shaath said.
"But then you find the state's top figures normalizing and building relations and security exchanges with Israel and working together in Sinai," he added.
"This contradiction is what pushed people into grassroots work," Shaath said. "Free societies and peoples are what will force their regimes and force Israel to comply and to end [Israel's] crimes."
Tags