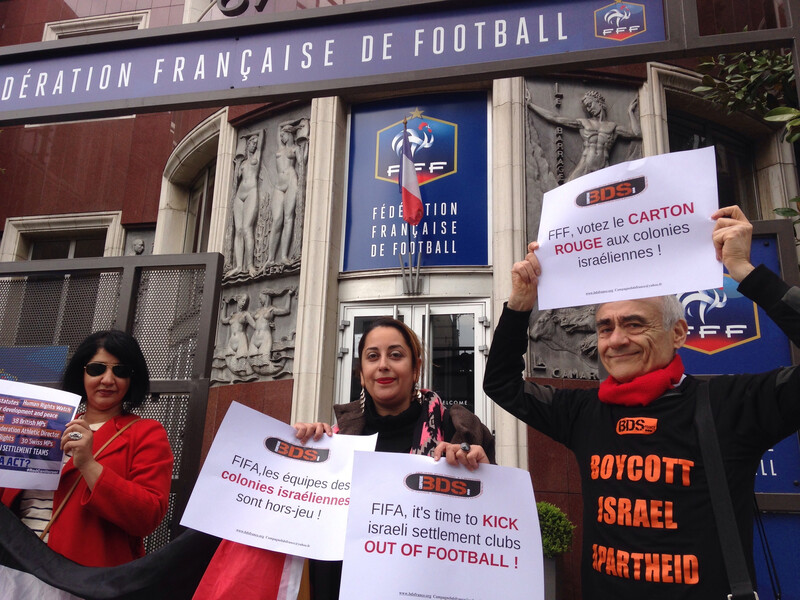 More than 170 Palestinian football clubs and sports associations are urging FIFA to suspend the Israel Football Association because of its inclusion of Israeli teams based in settlements in the occupied West Bank.
Israel's settlements are illegal under international law.
The Palestinian clubs made their appeal in a letter to member nations of the FIFA Council, world football's decision-making body that will hold its congress in Bahrain on 11 May.
Israeli settlement clubs
The clubs urge FIFA to immediately suspend the Israel Football Association if it does not ban the settlement teams. FIFA rules bar national associations from holding matches on the territory of another member without permission.
Many governments and international bodies, including the International Criminal Court, consider the West Bank and Gaza Strip to be part of the territory of an occupied state of Palestine.
Human Rights Watch detailed in a recent report how FIFA and the Israel Football Association jointly profit from Israel's illegal colonization of the West Bank and the settlement teams that play there.
"The harassment of Palestinian footballers, the deliberate obstruction of our right to movement in the occupied territory denying us the ability to attend training sessions and matches are well documented," the clubs add. "In addition, Israel's military has bombed Palestinian stadiums several times and prevents football spectators and fans from traveling to matches."
Last month, more than one hundred sports associations, trade unions, human rights organizations and faith groups from 28 countries joined world footballers, scholars, cultural figures and politicians in making a similar demand.
FIFA appointed a special committee to look into the settlement issue two years ago, but there have been repeated delays in publishing its report and taking action.
Israeli pressure
There have been recent signs that FIFA officials are bending in the face of a major Israeli diplomatic counteroffensive aimed at staving off action at next week's congress.
The Palestinian clubs express concern over reports that FIFA will again let Israel off the hook by giving it a six-month "warning period," without specifying any consequences if the Israeli association fails to act in that time.
"FIFA's persistent delays in making a decision on this matter give the impression that FIFA isn't serious about the protection of our human rights, or respect for its statutes," the Palestinian clubs state. "It shows that FIFA is putting politics ahead of human rights by giving Israel a free pass."
Tags