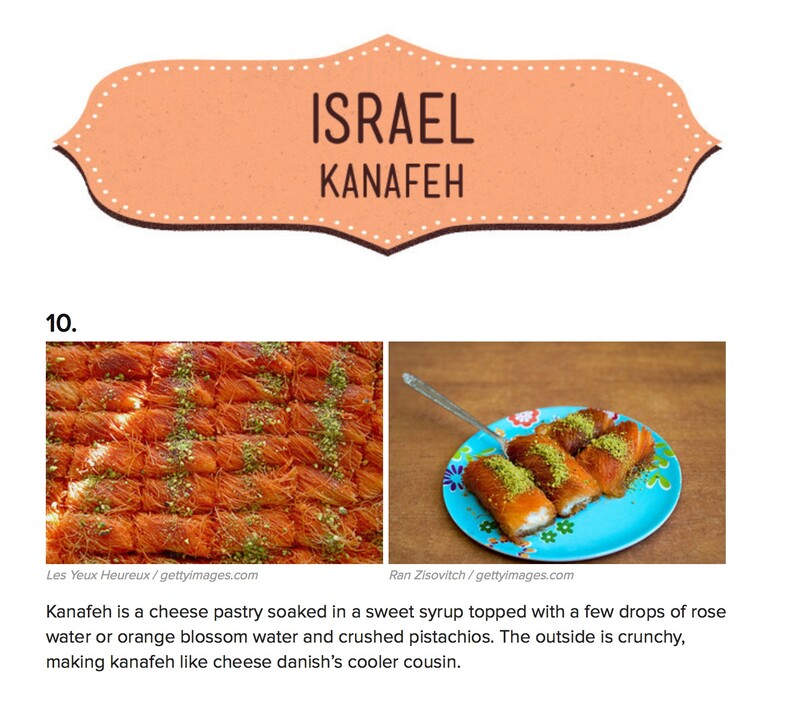 Update, 5 June: Talenti pulls BuzzFeed post
Following widespread derision and dismay on social media, Talenti Gelato has pulled down its sponsored BuzzFeed post claiming that an iconic Palestinian dessert comes from "Israel."
The company received a number of complaints, like the one on Facebook from Kamal Marwan Al-Asmar in Amman, Jordan, who urged the ice cream maker to do "a bit of research" before claiming that knafeh is "an Israeli dessert."
The company responded: "Thank you for bringing this fact to our attention. The intent of this BuzzFeed sponsored post was to take readers on a fun trip around the world to enjoy the best desserts. It was not to offend or upset anyone. We sincerely apologize if we have. We have worked with BuzzFeed to remove the post."
This pleased Facebook user Yazeed Ibrahim, who replied: "Thanks! now I can try your gelato with a clear conscience."
Original post
This image is making its way around the Internet. It comes from a feature published by BuzzFeed, sponsored by the ice cream maker Talenti, purporting to promote "17 Incredible Desserts From Around The World."
There's mooncake from China, maple taffy from Canada, sachertorte from Austria and then "from Israel," there's "kanafeh."
This is the latest example of blatant cultural appropriation of indigenous Palestinian and regional culture to add to a long list that already includes falafel, hummus, olive oil, maftoul ("Israeli couscous") and other staples that are frequently misrepresented and promoted as Israeli, while erasing or denying their connection to the country's indigenous people and culture.
Knafeh (it can be transliterated many ways) is perhaps the most iconic Palestinian dessert for which the occupied West Bank city of Nablus is particularly renowned.
As the Institute for Middle East Understanding explains, knafeh is "made from mild white cheese topped with a crispy layer of shredded wheat, and covered with sugar syrup."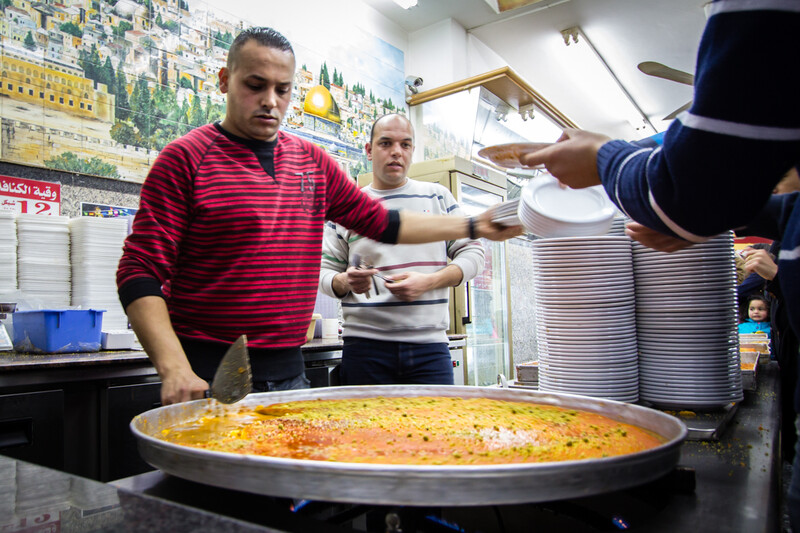 Many Palestinians, excluded from returning to their country, have fond memories of eating knafeh at Jafar Sweets in eastern occupied Jerusalem – a place that still serves it up every day.
Knafeh is so iconically Palestinian that a few years ago, in an effort to establish legitimacy and popularity, the US-backed, appointed Palestinian Authority Prime Minister Salam Fayyad took part in a photo op in Nablus with what was claimed to be the world's biggest knafeh.
Personally, I admit a strong pro-knafeh bias: it is delicious. But it is not "Israeli."
Sometimes, when Palestinians react to Israeli efforts to appropriate their culture, they're scolded: shouldn't cultures mix and share?
Of course they should – Palestinian cuisine has its own distinct features but shares many features and influences with food from other parts of the region, including desserts (there are many regional variations of knafeh including in Jordan, Syria, Lebanon and Turkey – a wonderful resource on Palestinian cuisine is Laila El-Haddad's book The Gaza Kitchen).
Palestinians frequently see the efforts to market their culture as "Israeli" as part of Zionism's ongoing campaign to erase them culturally and physically from the geography, history and future of Palestine.
Resisting this cultural appropriation can therefore take on great significance for Palestinians.
BuzzFeed, for its part, is a company that poses as a "news" site, but in fact sells advertising that blurs the line between editorial content and news – the word is "advertorial."
This particularly item, as noted, comes from an ice cream maker, rather than a pro-Israel organization.
But as Joe Lo reported for The Electronic Intifada recently, pro-Israel groups are making use of BuzzFeed as well.
Tags