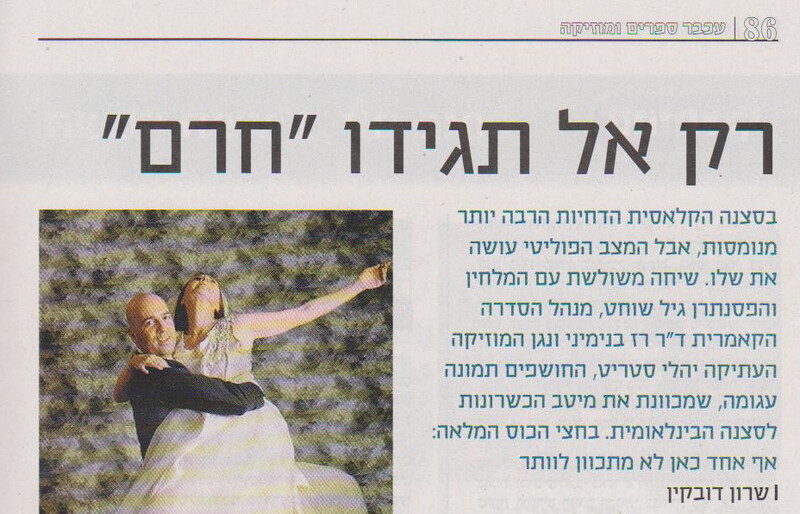 The cultural boycott of Israel is beginning to bite, a prominent figure in Israel's classical music world has admitted.
Gil Shohat, an Israeli composer and conductor, who is also the Classical Music Advisor to the Israel Festival and Artistic Advisor to Israel's Red Sea International Classical Music Festival, told Israeli reporter Sharon Dubkin:
In the world of classical music things are neither in-your-face nor crass, by the very nature of classical art, which is more noble, quiet, and introverted, but there are choirs and opera companies which are not interested in coming to Israel. Even if they don't say it's because of the political issue, they prefer not to get involved in such a sticky situation. As a composer active on the world scene, I can testify that more than once projects have been cancelled or postponed based on their 'Israeliness.' And again - these things are not said crassly, no one will say: we are conducting a boycott. The word boycott doesn't exist, but the political situation of Israel also impacts this field. This is primarily true about larger projects, and less so regarding the activity of individual musicians.
Shohat was quoted in an article headlined "Just don't say 'boycott' " by Sharon Dubkin that appeared in the city life supplement of Haaretz called 'Akhbar Ha'ir ("City Mouse"). The article appeared in hard copy, in Hebrew, and a copy was obtained by The Electronic Intifada.
Cultural boycott of Israel is one of the pillars of the Palestinian campaign for boycott, divestment and sanctions (BDS), and PACBI, the Palestinian Campaign for the Academic and Cultural Boycott of Israel has published guidelines for how it should be applied.
Israeli issues "urgent plea" for boycott of settlements
Meanwhile, Dor Glick, who is described as editor of the website of the Goethe Institute, the German-funded cultural center in Israel, issued a call in Ynet to escalate boycott, albeit only of settlements in the 1967 occupied territories:
This is an urgent plea to the Swiss, South Africans, and especially the Americans – help the sawed off Israelis set their borders. Help us, because as opposed to some fine individuals who are nearing the end of their lives and are recently writing grim columns about the beautiful years we had here, we have many more years to live. We love this place and do not wish to leave. Many members of our generation, who also did not wish to leave, have despaired and are getting away from here; this is much more than a drizzle by now.

So save Israel, buy Israeli-made products, and only Israeli-made – the place where Israel's egalitarian law applies and is recognized. Maybe you, along with the young people who live here, would be able to save the memory of these 19 years of a "Jewish and democratic state" – a Jewish state offering social and political equality to all. The State of Israel.
Glick indulges in common "liberal Zionist" delusions that prior to 1967, Israel was a model and exemplary entity, as if the ethnic cleansing of 750,000 Palestinians in 1948 never happened, and as if Palestinians who survived the Nakba and remained in Israel did not live under harsh military rule, continuing to suffer systematic theft of their land for the benefit of Jews only. He also appears totally unaware that there is today nowhere in historic Palestine ruled by Israel where any "egalitarian" law applies.
He also indulges the fantasy – recently popularized by Peter Beinart – that one side of the Western side "green line" one can find "democratic Israel" while on the eastern side are the evil settlers who are ruining the Zionist dream.
Glick, like Beinart, is therefore calling for an illusory "Zionist BDS" based on the fantastical notion that the West Bank settlements to which they object are not politically, socially, economically and militarily rooted in and entirely dependent on so-called "democratic Israel," principally its "democratic" government.
Nonetheless, Glick's plea is notable given that Israel last year made it illegal to call for any sort of boycott, including against settlements in the occupied West Bank. It represents at very least an understanding that Israel must be subjected to external pressure if it is to change.
Fears of wider boycott increase
The Shohat and Glick comments come amid a wider sense that world public pressure for boycott of Israel is not only increasing, but increasingly effective.
Last week, after Israeli Prime Minister Benjamin Netanyahu announced 851 new Jewish-only colony homes in the occupied West Bank, Haaretz diplomatic correspondent Barak Ravid wrote that Israel had "triggered a wave of recent and severe condemnations" from governments around the world. But his conclusion was most notable:
However, the harsh condemnations show the great frustration and anger among Israel's European allies over increased settlement activity. More and more EU states are facing heavy public pressure to take steps against it, such as marking products made in the settlements or banning them altogether.

Thus far, most EU governments aren't doing anything about it, with the exception of Britain, Ireland, and Denmark, who are all weighing measures on the matter.

But the trend is clear: as long as the diplomatic standstill lasts and settlement activity continues the threat of a European ban on settlement products and Israeli products increases from theory to tangible reality.
It appears that increasingly, when it comes to fighting BDS, Israel is its own worst "delegitimizer." With thanks to Dena Shunra for assistance with translation.
Tags