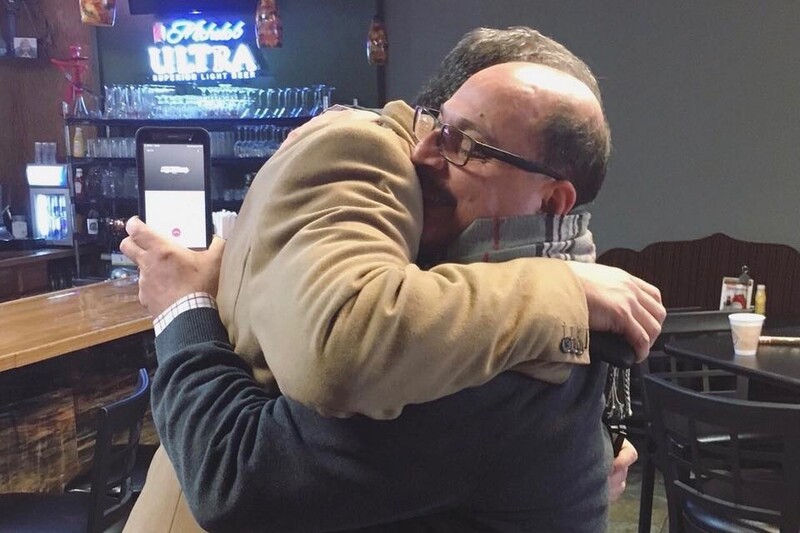 Activists are calling for urgent action to stop the deportation of Amer Othman Adi, a leader in the Palestinian American community.

Adi, a businessman who has lived in Youngstown, Ohio, for decades, is married to a US citizen and has four US-citizen daughters.

He was "inexplicably ripped away from his loved ones and detained the morning of 16 January while attending a scheduled meeting with Trump's Immigration and Customs Enforcement (ICE)," an action alert from the US Palestinian Community Network (USPCN) states.

Adi, who owns a convenience store and hookah bar, has also been a long-time activist with USPCN.
"Treated like an animal"
Adi was accompanied to the ICE meeting by a member of Congress who has supported his case, and who expressed outrage at his constituent's detention.

His imminent deportation marked an unexpected and frightening turn in what had until recently been a relatively good news story.

USPCN had invited community members to a farewell gathering for Adi on 6 January when it appeared there was no hope his removal from his community of 30 years could be avoided.

But then USPCN announced that "in an incredible turn of events, massive community pressure and the important work of US Representative Tim Ryan of Ohio" had succeeded in winning a stay of Adi's deportation and a review of his case.

The planned farewell would instead be a celebration in a community that has shown Adi enthusiastic support.

Calling Adi a "pillar of our community," Ryan welcomed the decision to let him remain in the US for the time being:

But elation turned to anger and shock, following Adi's detention during what was expected to be a routine meeting with immigration officials. The congressman had accompanied Adi to the meeting in a show of support. Ryan called the government's decision to detain Adi "the most outrageous, inhuman act I've ever seen in my entire career." "To see a man who has an American wife, four American daughters, lifelong businessperson, pays taxes, job creator, passes out 300 turkeys on Thanksgiving to the poorest people in our community, get treated like an animal today is disgusting," the congressman said.
"Spectacle"
Ryan told local public radio station WOSU that there was no possible justification for the detention, as Adi had been prepared to leave the country if his legal options ran out.

"He had flights, he had his passport, he had an itinerary, all of which he submitted to the immigration service," Ryan said. "And he would leave. If they said he couldn't stay and he had to go, he would go. But instead, they make a spectacle out of it."

"We were ready to go before," Adi's wife Fidaa told media. "We sold our house, we had plane tickets and were prepared to leave [for Amman, Jordan] when they said we did not have to. Then they do this. Are they deliberately trying to be cruel?"

While Ryan is a Democrat who has been critical of the administration's high-profile immigration crackdown, WOSU noted that the local Republican Party vice chair, a Trump supporter, had also expressed her outrage at Adi's detention:

The government accuses Adi of entering into a sham marriage to get permanent residency when the Jordanian citizen came to the United States almost 40 years ago.

Despite his offering evidence that his nearly three-year first marriage was genuine, he was first ordered deported in the 1990s, a decision he and his family resisted for years.

According to Adi's lawyer David Leopold, the only issues reviewed by the government were "technical."

Leopold maintains that the government has not looked at the evidence, which includes an affidavit from Adi's first wife saying she was coerced into declaring the marriage had been a sham.

American entertainer Alyssa Milano has helped raise the profile of Adi's case by tweeting about it to her 3.4 million followers:
Breaking up families
Adi is one of a number of longtime US residents who appear to be victims of the Trump administration's determination to demonstrate its anti-immigrant bona fides.

On Monday – Martin Luther King Jr. Day – immigration authorities deported Jorge Garcia, who had been brought from Mexico to the US as a child 30 years ago, separating the 39-year-old from his wife and two children.

Garcia arrived in Mexico this week, a country he hasn't been to in decades, leaving behind a traumatized family in Michigan.

On Tuesday, immigrant rights activist and father of four Jean Montrevil was deported to Haiti after living in the United States for more than 30 years.

That came just days after Trump reportedly referred to Haiti and African nations in a White House meeting with lawmakers as "shithole countries."

And in Detroit, a church is offering sanctuary to Ded Rranxnurgaj, an immigrant from Albania who if deported would be separated from his wife who lives with multiple sclerosis and depends on him.

The US deportation machinery, which set new records during the Obama administration, has apparently kicked into even higher gear.

The San Francisco Chronicle reported Wednesday that the federal government is planning a massive sweep aiming to deport 1,500 undocumented persons in Northern California, "while sending a message that immigration policy will be enforced in the sanctuary state."

As one consequence of the US anti-immigrant crackdown, the number of deaths in ICE detention facilities last year hit the highest number since 2009.

Many of the detention centers are run by the GEO Group, the largest operator of private prisons in the US.
Tags