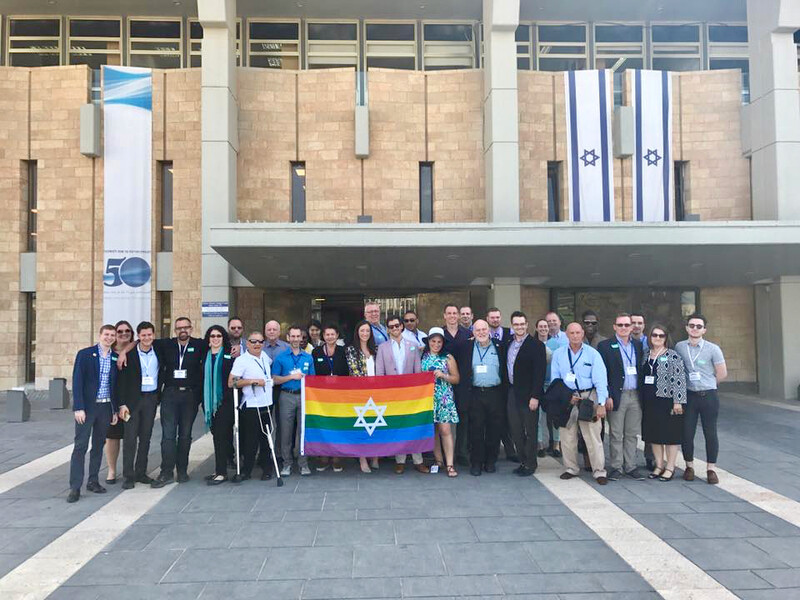 The pro-Israel group accusing Chicago's Dyke March of anti-Semitism for asking several people, including its Midwest manager, to leave, has a history of fabrications about attacks against Jews.

A Wider Bridge made global headlines this weekend with its claims about the incident in which several individuals were asked not to display "rainbow Jewish flags" at the Dyke March in Chicago's Little Village neighborhood on Saturday.

The flags had blue stars similar to those on Israel's flag, on a rainbow background.

The group is demanding that the Dyke March "issue a full public apology for dismissing LGBTQ Jews," and that it engage in "a constructive dialogue about how anti-Semitism and calls for the disappearance of the Jewish state are creating an unsafe environment for LGBTQ Jews and allies."

The Human Rights Campaign, the Washington gay rights lobby group that endorsed Hillary Clinton, added its criticism, calling the Dyke March's actions "not right."

Founded in 1996, the Dyke March Collective describes its annual gathering as a "grassroots mobilization and celebration of dyke, queer, bisexual and transgender resilience."

Often seen in contrast to the corporate and gay-male dominated official pride march, usually held the same weekend, the Dyke March calls itself "an anti-racist, anti-violent, volunteer-led, grassroots effort with a goal to bridge together communities across race, ethnicity, socioeconomic status, age, size, gender identity, gender expression, sexuality, culture, immigrant status, spirituality and ability."

The Dyke March Collective is not apologizing to A Wider Bridge and laments that "our celebration of dyke, queer, and trans solidarity was partially overshadowed by our decision to ask three individuals carrying Israeli flags superimposed on rainbow flags to leave the rally."

The group said that the decision to ask three people to leave "was made after they repeatedly expressed support for Zionism during conversations with Chicago Dyke March Collective members."

"The Chicago Dyke March Collective is explicitly not anti-Semitic, we are anti-Zionist," the group added. "We want to make clear that anti-Zionist Jewish volunteers and supporters are welcome at Dyke March and were involved in conversations with the individuals who were asked to leave."

(Note: On 27 June, the Chicago Dyke March Collective published a longer statement, providing more details of provocations by the persons affiliated with A Wider Bridge, including the altering of chants to erase the word "Palestine," and further refuting its claims).
What's in a flag?
The group For The People Artists Collective, whose members were present at the Dyke March, offered a similar account.

FTP Artists Collective said that the marchers carrying the flags "were approached and engaged by both Palestinian and Jewish anti-Zionist participants of the march" in order to "find out more about the intention behind the flags, as they are often seen at Israeli pride parades, are widely used in pinkwashing efforts and were visually reminiscent of the Israeli flag due to the color and placement of the star."

"We recognize and affirm that the Star of David is a Jewish symbol and not inherently connected to Israel or Zionism," FTP Artists Collective added. "The cooptation of the Star of David by the state of Israel is deeply saddening and makes it hard to distinguish between imperialist ideology and non-state, religious belief."

The Star of David is not only a symbol of the Israeli state, but of its army, which carries out the kind of mass violence against Palestinians that is currently being examined as possible war crimes by the International Criminal Court.

Stephanie Skora, who works with Jewish Voice for Peace-Chicago and organizes with the Trans Liberation Collective, was part of the discussions that led to the three people – two of them had been carrying flags – being asked to leave.

Skora told The Electronic Intifada that the rainbow flag emblazoned with the Star of David "is being argued across Facebook as either a Jewish pride flag or an Israeli pride flag as if it could never have both meanings."

"They were asked to put the flag away and then they could stay," Skora said, but "one of the persons refused and became increasingly hostile and then the organizers asked them to leave."

"Organizers were right to prioritize safety of traumatized people over the right to display a flag that has ambiguous connotations in a space that's supposed to be safe for everyone," Skora said.
Denying pinkwashing
Caleb Wagner, a queer anti-Zionist Jewish activist, was also part of the discussions. He rejected the claim that the individuals were asked to leave because they were Jewish, noting that most of those opposing the display of the flags were also Jewish.
The objections to the flag, he insisted, were also based on its use in Israel's pinkwashing.
Pinkwashing is the public relations strategy that deploys Israel's supposed enlightenment toward LGBTQ issues to deflect criticism from its human rights abuses.
It often involves gross exaggerations of Israel's progressive policies, accompanied by outright lies about Palestinians.
A recent example was the national US tour of Israel's "first trans officer" which aimed to present the Israeli army in a favorable light to LGBTQ - Lesbian, Gay, Bisexual, Transgender and Queer – communities, neglecting to mention the officer's role in Israel's ongoing ethnic cleansing of Palestinian Bedouins.
Wagner said those carrying the flag refused to acknowledge that the symbol could have any association with pinkwashing. "They refused to acknowledge how that association with Israel – not Judaism – is not welcome in this space that is anti-colonial and pro-Palestine."
A Wider Bridge's Midwest manager Laurie Grauer insisted on putting forward pro-Israel arguments, Wagner said. "But that's like coming into this space and saying you want to have a dialogue about anti-gay marriage or anti-trans," Wagner said. "You coming into this space and trying to have a dialogue about the merits of Zionism is wrong and immoral in this space that is designed for queer people of color."
"From my perspective, she came in there with a particular agenda to open up a dialogue about Zionism and be pro-Zionism," Wagner said of Grauer.
False claims
This is not the first time A Wider Bridge has made false accusations of anti-Semitism against Chicago activists expressing solidarity with Palestinians.

Last year, A Wider Bridge was at the center of fabrications that protesters had disrupted Shabbat prayers during the National LGBTQ Task Force's annual Creating Change conference.

In fact, the activists protested a reception for A Wider Bridge – an Israel lobby group.

Although the Jewish Telegraphic Agency, one of the media organizations that spread the false claim, later retracted it, the damage was done.

A Wider Bridge itself helped to fan misinformation and hyperbole about what happened.

This story is taking on a familiar pattern, where A Wider Bridge's distorted version is making headlines and setting in place a false narrative.

A key goal of Israel and its lobby groups in recent years has been to inoculate Israel against criticism by obscuring the line between anti-Jewish bigotry, on the one hand, and criticism of Israel and its state ideology Zionism, on the other.

"I really think people are ganging up on this situation because it looks bad on the surface, but it was not like that in reality," Skora said. "It didn't help that A Wider Bridge was involved and their propaganda jumped on it immediately."

Skora said that members of the Dyke March Collective she's been in touch with "have spent the last 36 hours fielding personal attacks from Zionists, including rape and death threats," and that "international news has had a field day."

A Wider Bridge says it is "building a movement of pro-Israel LGBTQ people and allies." It also opposes what it claims are the "demonizing and delegitimizing" of Israel – terms habitually used by Israel and its surrogates to justify repression of the Palestine solidarity movement.

In 2014, A Wider Bridge sponsored rallies addressed by Israeli government officials in support of Israel's 51-day bombing campaign that devastated the Gaza Strip and left 2,200 Palestinians – more than 550 of them children – dead.

Among its major funders is the Jewish Federation of Chicago, which has led efforts to combat activism for Palestinian rights.

A Wider Bridge also has a history of working with StandWithUs, an Israeli government-funded lobby group with ties to right-wing anti-LGBTQ activists.

This article has been updated since initial publication.
Tags