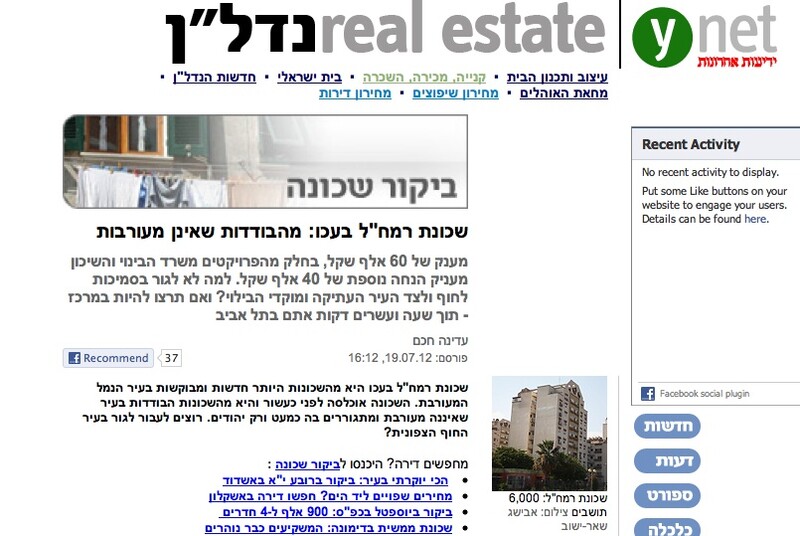 "Acre's Ramchal neighborhood: one of the few that is not mixed." That's the stunning headline in an article in the real estate section of Israel's Ynet, the website of mass circulation Yediot Ahronot.
Before describing the charms of the area – ample public services, kindergartens, parks and tennis courts – the piece, by Adina Hacham – CEO of a real-estate brokerage called Anglo-Saxon – begins:
Acre's Ramchal neighborhood is one of the newer and more desired neighborhoods in the mixed [ethnicity] port city. The neighborhood was populated about a decade ago and is one of the few neighborhoods in the city that is not mixed, and whose residents are almost entirely Jews. Want to go live in the northern beach town?
The readers comments posted under the article mostly amplify the open racism of the article itself, with very few exceptions.
This is what's called "racial steering" and it is illegal in the US
While this kind of racism is considered normal in Israel, to put this in an American context, let's recall that the United States also has a long history of violently and legally enforced racial segregation of urban areas whose legacy can be seen in cities all over the country.
However, the Civil Rights laws of the 1960s put an end to any form of legal segregation.
If you've tried to buy a house in the United States, you may know that realtors are prohibited from providing you with any information about the racial or ethnic makeup of a neighborhood you may be interested in moving to.
This is to prevent what is called "racial steering" – the attempt to maintain the specific racial (or ethnic or religious) makeup of a neighborhood, or to deliberately change it, by discouraging some people from – or encouraging others to – live there.
The protections against discrimination in the sale and rental of housing in the United States are contained in the Fair Housing Act of 1968, which also makes it illegal for people selling or renting out properties to:
Advertise or make any statement that indicates a limitation or preference based on race, color, national origin, religion, sex, familial status, or handicap.
US authorities routinely prosecute allegations of racial steering.
Housing racism not only not prohibited in Israel, it's policy
In Israel, by contrast, the state itself – as well as its agents such as the Jewish National Fund and the Jewish Agency – aim to "Judaize" vast areas at the expense of the Palestinian population. Meanwhile, hundreds of rabbis whose salaries are paid by the government, have issued widely disseminated public calls on Jews to refuse to sell or rent homes to Palestinians and other non-Jews.
The ethnic cleansing of Acre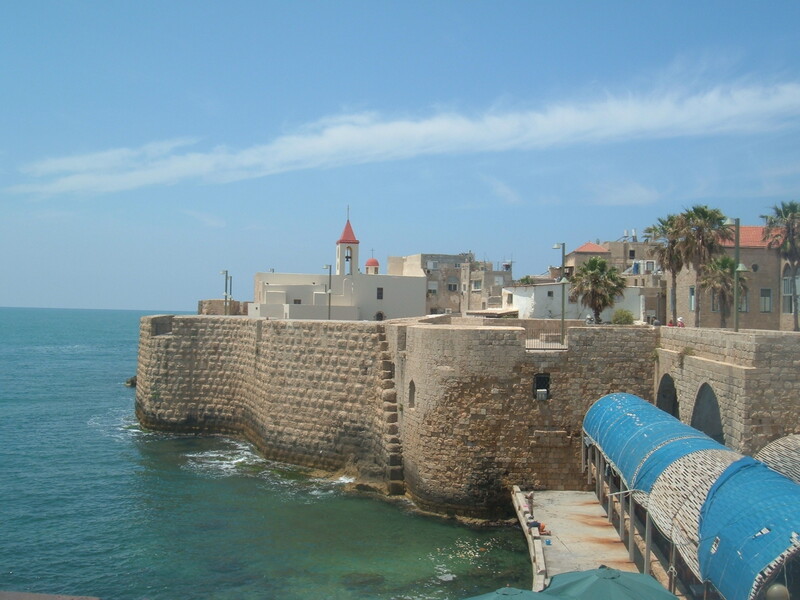 Acre – Akka in Arabic – is an ancient northern Palestine port, most of whose Palestinian population was ethnically-cleansed by Zionist militias during 1948. As the Palestinian population from surrounding villages and the major city of Haifa were forced out, many came to Acre and were forced to flee by sea to exile in Lebanon.
In April 1948, Zionist militias targed Acre itself. "The first wave of departures from Acre was triggered specifically by Jewish mortar harassment of the town in the last week of April, which produced the feeling that Acre was next on the list," writes Benny Morris in The birth of the Palestinian refugee problem, 1947-1949 (p.107).
Weeks of Zionist attacks forced the city to surrender by mid-May. By that time, only a few thousand of the city's 13,000 Palestinian population remained.
"Mixed city"
After 1948, Israel settled mostly poor Jews from Arab countries in what were then seen as undesirable urban slums – the homes of Palestinians forced out. But as Jews became wealthier and moved to suburbs, Palestinian citizens of Israel moved back into inner city areas. Today, the city's population is approximately 27 percent Palestinian.
In recent years, Israeli settlers from the West Bank have moved to Acre founding "religious" schools and stirring up violence, with the explicit goal of "reclaiming" Acre for Jews only.
As I wrote in a 2008 article:
Yeshiva Hesder-Akko, founded in 2001, is a pro-settler national religious school in the midst of a now majority Arab neighborhood called Wolfson. Over the years, many of the area's Jewish residents had become more affluent and moved out, and poorer Arabs moved in. This hesder-yeshiva, a school for Israeli Jewish men who combine military service with religious study, often attracting strict adherents of the militant settler movement, is run by Yossi Stern, a rabbi from the militant West Bank settlement of Elon Moreh. Stern, who is also on the Acre city council, told The Washington Post last year that he and his associates were working on projects designed to "attract Jews to Acre," including a 350-unit housing complex designated for Jewish military families, and another yeshiva (Scott Wilson, "Israel's Arab Citizens, Isolation and Exclusion," 20 December 2007). The Washington Post also reported that Palestinian residents and leaders consider these efforts to be part of a systematic assault on their presence in the city using tactics long deployed against Palestinians in the West Bank. Some accuse Acre's Likud mayor of supporting the efforts.

Yeshiva Hesder-Akko's own website states that "[f]rom a luxuriant Jewish neighborhood it [Wolfson] has turned into a decrepit Arab neighborhood." The school's purpose is "to try to return and strengthen the Jewish character of the city." Although the city was "almost lost" to Jews, the site states that "The long awaited salvation has begun."
This ethnic cleansing is now tidied up and packaged for Israel's real estate buyers by Ynet, who are invited to consider a "desirable" new neighborhood, desirable because it is a place cleansed of non-Jews.
With thanks to Dena Shunra for translation.
Tags