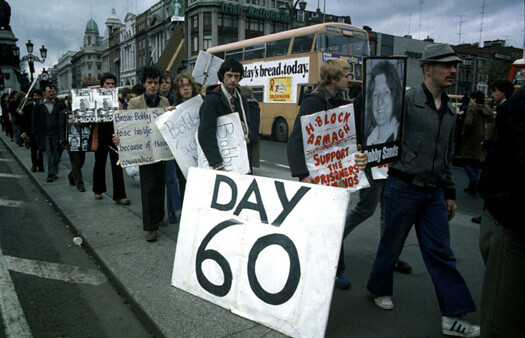 Bobby Sands died on 5 May 1981, aged 27, after 66 days on hunger strike against British refusal to grant political status to him and other Irish republican prisoners.
Today, as Khader Adnan is on his 65th day of hunger strike, the Secretary of the Bobby Sands Trust, Danny Morrison, called on the Israeli government to immediately release Adnan, who is close to death.
Morrison was himself interned without trial (administratively detained) as a teenager. He was later the Director of Publicity for Sinn Féin and was elected to the Northern Ireland Assembly (1982-86). A friend of Bobby Sands he was nominated by Bobby Sands as his spokesperson during the 1981 hunger strike. Today he is a writer and secretary of the Bobby Sands Trust whose members include Sinn Fein President Gerry Adams. Morrison said:
Here in Ireland the British government's prime minister Margaret Thatcher thought that she could break the will of our struggle by killing our prisoners who were hunger striking for their rights as political prisoners. She was wrong and the violence that the British sewed only reaped a whirlwind of resistance but at a heavy cost in Irish and British lives. The lesson from history is that one must talk and negotiate and recognise the rights of people to be free and to be free  from injustice and persecution.

An earlier British prime minister, Ted Heath, thought that he could also break us through the use of 'administrative detention', that is through the use of internment-without-charge-or-trial, which is the pretext used by the Israelis for imprisoning Khader Asnan against whom they have no evidence. People in Derry who marched against internment were massacred on Bloody Sunday and fourteen of them were killed by British paratroopers. Again, that did not break us but only made us more determined to fight for our rights.

It is probable that Israeli rulers are so hardened that they cannot find it within themselves to exercise clemency and resolve this hunger strike. They possibly do not even care what effect their behaviour has on their reputations and how people around the world view Israel's behaviour with disgust. But they cannot win over the Palestinian people – even should Khader Adnan lose his right to life.

It was a great Irishman, Terence MacSwiney, the Mayor of Cork, who was arrested by the British and went on hunger strike to the death, who said: 'It is not those who can inflict the most but those who can suffer the most who will conquer in the end'.

The thoughts of Irish republicans throughout Ireland are with Khader Adnan and his family and we hope that he wins his right to freedom.
Tags