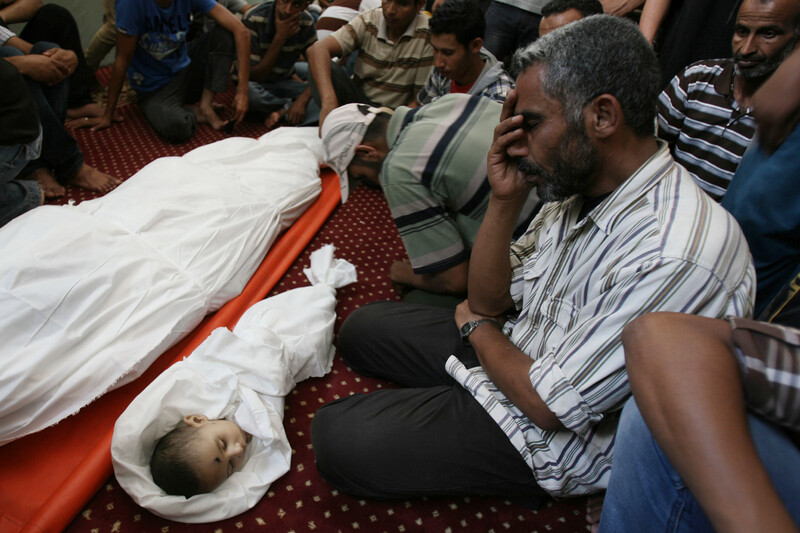 The death toll from Israel's assault on Gaza continues to rise rapidly.
At least 61 people, at least 12 of them children, were killed on Friday alone, the second day of Israel's ground invasion of parts of the Gaza Strip, and the twelfth and bloodiest day since Israel began bombarding the territory with airstrikes and land-based and naval artillery.
Eight members of a single family, the youngest six months old, were killed when a missile struck their home.
By Friday evening Gaza time, 296 people had been killed and more than 2,200 injured since the Israeli bombardment began, according to Ma'an News Agency
But any death toll reported in the media is quickly out of date, as the numbers keep rising.
Eighty percent of the fatalities are civilians and half of the injured are women and children, according to the UN Office for the Coordination of Humanitarian Affairs (OCHA).

At least 58 of the dead are children, according to Dr. Ashraf al-Qidra, the health ministry spokesperson in Gaza.

Gaza residents and journalists have reported heavy and indiscriminate shelling across the coastal strip.

Journalist Mohammed Omer is using his Twitter feed to provide an almost real-time account of the horrifying toll of the Israeli attack.

Several Gaza residents have told The Electronic Intifada that they are without electricity for most of the time.

Massive destruction continues: 1,780 housing units have been destroyed or severely damaged in Israeli bombing, according to OCHA.
Eighty-four schools and six health facilities have been damaged in the attacks and another 13 health facilities are unable to operate, OCHA states in its latest update.
The number of Palestinians seeking shelter at UN-run schools has risen to 33,500, or 11,000 more than the previous day.
Human Rights Watch said this week that Israeli air attacks it investigated "have been targeting apparent civilian structures and killing civilians in violation of the laws of war."
The group called on Israel to "end unlawful attacks that do not target military objectives and may be intended as collective punishment or broadly to destroy civilian property."
Children killed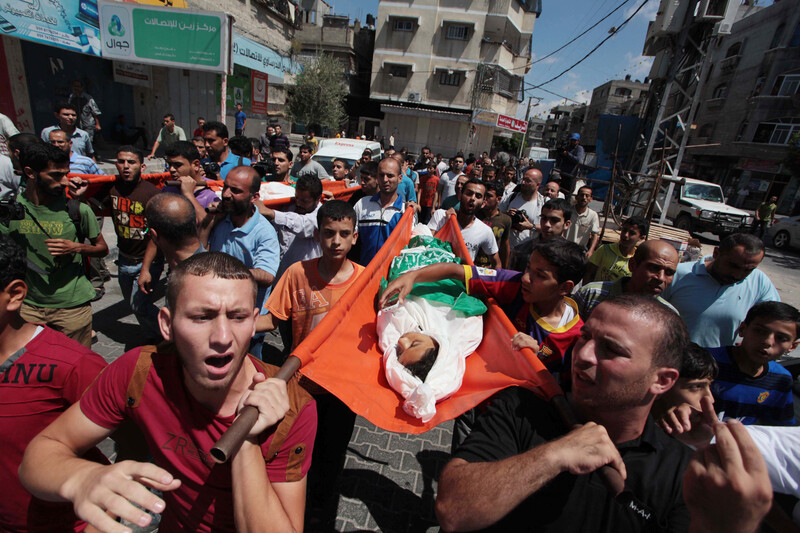 Early on Friday, five-month-old baby Faris Juma al-Mahmoum was killed and his mother and 18 others were injured by "heavy and indiscriminate" Israeli shelling in the border area east of Rafah in the southern Gaza Strip.
Salmiya Ghiyad, aged 70, and 22-year-old Amr al-Mahmoum were also killed in the indiscriminate shelling of the area.
Imad and Qassim Alwan, both children, were killed as a result of artillery shelling in eastern Gaza City, Ma'an News Agency reported.
Rizk Ahmad al-Hayk, aged 2, died in air strikes in Shawwa Square in Gaza City, while Sarah Muhammad Bustan, 13, was killed in the al-Tuffah neighborhood in Gaza City, Ma'an said.
On Friday afternoon, three siblings were killed when their apartment building in the al-Nada housing estate was shelled in the town of Beit Lahiya in northern Gaza.
They were named as Ahmad Ismail Abu Musallam, aged 14, Walaa Ismail Abu Musallam, aged 13, and Muhammad Ismail Abu Musallam, aged 15.
On Friday evening, eight members of the Abu Jrad family, including four children were killed when a missile struck their home in Beit Hanoun, Ma'an News Agency reported.
The children's names were given as Haniyah Abd al-Rahman Abu Jrad, Samih Naim Abu Jrad, Musa Abd al-Rahman Abu Jrad, 6 months, and Ahlam Musa Abu Jrad.
Hospital attacked
On Thursday night, amid heavy shelling, frail and elderly patients were evacuated under fire from the al-Wafa hospital.
In an interview with The Electronic Intifada, hospital director Dr. Basman Alashi said that Israeli forces began relentless shelling of the building just before nine in the evening.
Ground invasion meets resistance
One Israeli occupation soldier was killed during the ground assault in Gaza, which Israel claims is aimed at tunnels used by Palestinian resistance fighters.
The Israeli army said that the occupation soldier was killed at around 3am on Friday morning in the northern part of Gaza. Israeli media reported that "the army is investigating the possibility he was killed by friendly fire."
The Qassam Brigades, the military wing of Hamas, said in a communique sent to local media that its forces engaged the Israeli invaders in the north of the Gaza Strip and had succeeded in setting off a bomb under an Israeli tank.
Qassam also said that it engaged in "face to face" fighting with an Israeli special forces unit east of Rafah, in the south.
Some corroboration for Qassam's account of the battle came from Israel's Ynet on Friday which reported that "Two of the IDF [Israeli army] soldiers wounded Friday in an explosion against their vehicle in Gaza have had a downturn in their condition."
Ceasefire efforts
Ceasefire negotiations, supported by the United States and brokered by Egypt's Israel-allied military regime, have yet to produce results.
On Thursday, UN Secretary General Ban Ki-moon meekly chastised Israel for the slaughter.
"I regret that despite my repeated urgings, and those of many regional and world leaders together, an already dangerous conflict has now escalated even further," Ban said.
"I urge Israel to do far more to stop civilian casualties," he added.
On Friday, Israel defended its slaughter in Gaza at an emergency session of the UN Security Council called by Jordan.
Ban was set to fly to the region on Saturday "to express solidarity with the Israelis and Palestinians" and to engage in talks aimed at securing a ceasefire.
Meanwhile, Israel's government approved plans to call up 18,000 more reservists amid threats to expand its bloody assault.
Tags