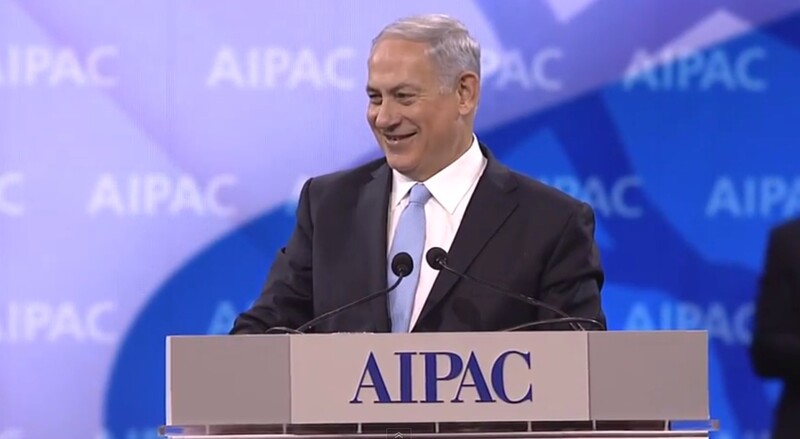 Israeli Prime Minister Benjamin Netanyahu today launched a frontal assault on the boycott, divestment and sanctions (BDS) movement.
"One movement that's definitely on the wrong side of the moral divide is the movement to boycott Israel, the so-called BDS," Netanyahu told the cheering delegates, in his keynote speech to the annual gathering of the powerful Israel lobby group AIPAC in Washington, DC.
"That movement will fail," Netanyahu predicted.
While claiming that people were "flocking to Israel" for its technology from all over the world, Netanyahu warned, "I don't want you to get complacent – because the fact that they're going to fail doesn't mean that the BDS movement shouldn't be vigorously opposed."
"Anti-Semites"
Netanyahu proceeded to defame supporters of Palestinian human rights in the crudest terms: "Throughout history, people believed the most outrageously absurd things about the Jews, that we were using the blood of children to bake matzos, that we were spreading the plague throughout Europe."
Those who support BDS today are just as bad, Netanyahu asserted: "Those who wear the BDS label should be treated exactly as we treat any anti-Semite or bigot. They should be exposed and condemned. The boycotters should be boycotted."
This speech is Netanyahu's highest profile attack on BDS, although last summer, he put responsibility for fighting against the movement for Palestinian rights into the hands of the "Ministry of Strategic Affairs."
Israel is also placing dedicated anti-BDS operatives in its foreign embassies.
In recent months, top ministers in Netanyahu's government have repeatedly declared that BDS is the "greatest threat" Israel faces.
Desperate
Responding to his remarks, Rafeef Ziadah, a spokesperson for the Palestinian Boycott, Divestment and Sanctions National Committee, the Palestinian civil society coalition that leads the BDS movement, said in an emailed statement:
"Netanyahu's desperate attack on the BDS movement comes as European pension funds are blacklisting Israeli companies and banks, as Israeli concert organizers find it increasingly difficult to persuade artists to perform in Israel and as governments begin to take action to hold Israel accountable for its violations of international law."
"At its core, the BDS movement is a movement against Israel's systematic discrimination and apartheid policies. The BDS movement is opposed, as a matter of principle, to all forms of discrimination, including anti-semitism and Islamophobia. The world is growing increasingly weary of Israel's attempts to conflate criticism of its violations of international law with anti-semitism."
Ziadah is right. It's hard to see how people who are not already on board with Netanyahu will be swayed by his invective.
If Israel's only answer to people all over the world who are horrified by its oppression of Palestinians and ongoing theft of their land, is to call them "bigots," then Netanyahu should fully expect the BDS movement to grow.
Tags