Azzam Tamimi
Document reflects deep changes in thinking within Islamist resistance movement. Read more about What's behind Hamas' new charter?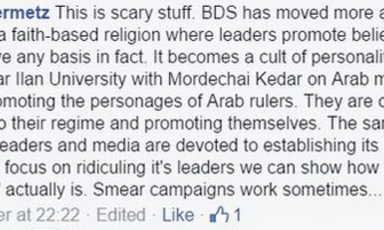 Hilary Aked 16 January 2015
Leaked screenshots from a private StandWithUs UK Facebook group show student supporters of Israel want to "attack BDS."  Read more about Revealed: pro-Israel students plot "smear campaigns" to "attack BDS"
Rana Baker 27 February 2013
It was agreed that the Palestinian resistance was able to deter Israel from achieving its goals in Gaza and that it emptied Israel of its "military supremacy" myth. Read more about Intellectuals gather in Gaza to discuss effects and consequences of Israel's November assault