As student Palestine solidarity activists in the UK begin gearing up for Israeli Apartheid Week on campuses in February, I recently got a glimpse inside the weird world of pro-Israel student activism.
Displayed below is the description of a secret Facebook group managed by Jonathan Hunter, the director of the UK student section of StandWithUs, a right-wing Zionist organization with links to the Israeli government.
Presumably written by Hunter, the description notes that the hidden group was formed after the annual student strategy meeting of StandWithUs UK and is intended to enable the group to "assemble teams of pro-Israel activists on short notice" — though, notably, he believes it is "impossible" to counter all the "anti-Israel" events taking place on campus.
Hunter instructs the "Israel advocates" who are members of the group to add only those "you can trust." But someone in the group was so unhappy with discussions taking place there that they decided to leak these screenshots to The Electronic Intifada.
One student in the group is Jacob Silvermetz, a former Israeli air force pilot who immigrated to Israel from America and currently studies at the University of Manchester. He has campaigned against pro-Palestinian Right to Education initiatives there and tried to prevent Manchester students twinning their institution with An-Najah National University in Nablus, an attempt which (despite the alliterative hashtag #TwinningWithTerror) failed.
"Take down their leaders"
In one discussion on the private group, Silvermetz, who also founded a website called "Students for Change" (principally, it seems, to oppose the twinning vote), discusses "trying to target and take down" the "leaders" of boycott, divestment and sanctions (BDS), the non-violent, Palestinian-led movement he says he finds "scary."

When he pointedly observes that "smear campaigns work sometimes," he is unmistakably, albeit implicitly, advocating such tactics. For their overall strategy, he believes Zionist activists should try to "show how idiotic" the BDS movement is and focus on "ridiculing it's [sic] leaders."

He comes across as somewhat ridiculous himself, however, commenting, for instance, that BDS has "moved in the direction of a faith-based religion" and become "a cult of personality," even at one point comparing the human rights defenders who advocate BDS to "religious crusaders."

It's hardly surprising that his source for these claims is Mordechai Kedar of Israel's Bar-Ilan University, in whose twisted mind "the only thing that will deter" potential terrorists is "if they know that either their sister or mother will be raped."
"Attack BDS"
Meanwhile, a member of the group (whose name was redacted by the source who leaked the screenshots) speaks of needing to "attack BDS" and to do it "more aggressively" and "more assertively."
Next to chip in is a pro-Israel student at University College London, who describes himself as a "Christian, Conservative, Zionist." Lewis Barber's suggestion that Mossad may be tracking and targeting BDS, though probably intended as a joke, is in fact far from outlandish. Israel's international security, intelligence and spying agency does indeed appear to be engaged in countering BDS, both directly and by directing groups like Shurat HaDin.

Hunter concludes the conversation by picking up on Silvermetz's "smear campaign" suggestion and noting "in terms of smearing groups like the PSC [Palestine Solidarity Campaign], there are a lot of sites like Stand for Peace, CiF watch and PSC Exposed."

CiF Watch is a well-established pro-Israel blog, whose raison d'etre is to lambast the popular "Comment is Free" section of the left-leaning British newspaper the Guardian. Its activities are supported by the anti-Palestinian media watchdog organization CAMERA.

Stand for Peace is a British group which claims to be a "counter-extremism" organization. Having also also received US money, from the extremely Islamophobic New York-based Gatestone Institute, this self-appointed mandate looks more than a little hypocritical. Directed by Sam Westrop, it specializes in smearing mostly Muslim and pro-Palestinian individuals and groups by dubbing them "extremists."
PSC Exposed (which began life as a report Westrop wrote under the banner of his former shell-organisation, the Institute for Middle Eastern Democracy) is now one of Stand for Peace's campaigns: an absurdly sensationalist attempt to present the PSC as "anti-Semitic," "homophobic" and, for good measure, "Christian fundamentalist" to boot.
Against free education
In a separate discussion leaked by the source, Hunter disapprovingly posted a motion put forward at a recent Union of Jewish Students (UJS) conference, that called for UJS to support free education. He tagged Elliot Miller, a University College London student and UJS representative at the pro-Israel communal body the Board of Deputies, and Nathan Abraham, a former president of the Jewish student society at Greenwich University, who has opposed efforts to separate Israeli campaigning from Jewish society activities.
Other right-wing, pro-Israel students in the group also voice their disgust. One comments that "the people who give money to UJS must be seething," which could be a reference to the Community Security Trust and the United Jewish Israel Appeal whose logos both appear on the UJS website, under the words "proudly supported by."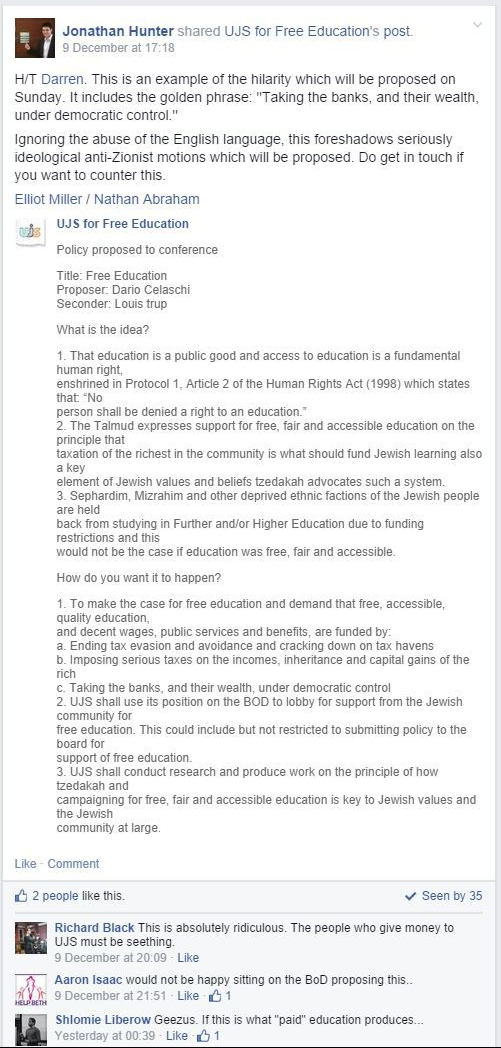 Given that the motion was proposed by Dario Celaschi, a member of UJS and the National Union of Students National Executive Council who has also put forward a motion arguing that Israel advocacy is central to the work of UJS and calling for it to continue campaigns opposing BDS, Hunter and friends would seem to be natural allies, at least on the issue of Israel.
But Hunter's bizarre claim that the motion for free education "foreshadows seriously ideological anti-Zionist motions" suggests he sees any left-wing or liberal ideas whatsoever as potentially threatening to Israel. Such a view epitomizes what Ilan Pappe calls "neo-Zionist" politics, which has been dominant in Israel since at least the turn of the millennium.
Evidently the StandWithUs group is being used not only to promote Israel, but to advance right wing politics in general. Its main purpose, however, appears to be organizing to combat Palestine solidarity activism, in particular BDS. It is clear that Israel's advocates, in their struggle to suppress BDS, are using underhand tactics explicitly identified by their protagonists as "smear campaigns."
Indeed, since 2010, when Tel Aviv think tank the Reut Institute issued an influential report calling for "sabotage" of the BDS movement, these types of tactics have often been Zionists' first port of call. But these methods are only effective up to a point.
If the fact that this secret Facebook group boasts just 112 students, despite being nationwide, is revealing, yet more telling is the the leaking of these images. It suggests that even in a group supposedly populated by people who see "the urgency to defend the State of Israel from the continued demonization it faces on campus," full commitment to this cause is somewhat lacking.
It also indicates that there's little love lost between members of this group, perhaps as a result of the tendency to engage in this kind of dirty and dishonest politics.
Sour times for pro-Israel student activism in the UK.
Tags