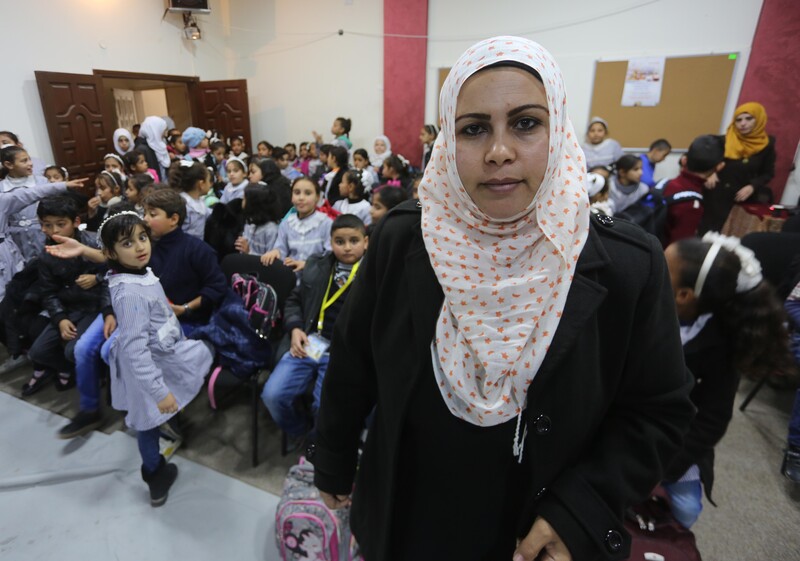 The title is suggestive, hopeful and – possibly – self-fulfilling.
Hashtag: Gaza will become a better place is the first play from the Bozour Culture and Arts (bozour translates to "seeds") theater group. It is a play about how Gaza has become a place from where young people want – desperately – to leave and are willing to risk drowning at sea to do so.
Ultimately, however, the play suggests that there is reason to stay.
That it is written, produced and directed by Bozour's three women theater directors is arguably an indication the hopeful title is more than wishful thinking.
Bozour is Gaza's women-led theater group. Its directors, Wissam El-Dirawie, Manal Barakat and Ola Salem Deeb, wanted to open such a company, they said, to provide greater opportunities for women in performing arts.
"We have worked in this field for a long time now," said El-Dirawie. "I think it's time there is something dedicated to women."
The 40-minute play is Bozour's first production; the company was only established in 2016. It has been staged at the Al-Aqsa Sports Club in the refugee camp of the central Gaza Strip town of Nuseirat since October and the cast is drawn from the youth of the camp.
Reaching the children of the camps
There is little mistaking the enthusiasm of the young actors, whose ages range between 10 and 17.
"I wanted to join Bozour for a long time," said Nisma Louz, 17, who plays the role of a fisherman's daughter in Hashtag: Gaza will become a better place. It is an experience that has taught her much about acting, she said.
"We've learned new techniques, especially how to interact with our audience, using our body movements," she told The Electronic Intifada after a recent performance.
The idea for the play came after the three directors traveled the coastal strip, spending time in marginalized communities and refugee camps.
"We contacted local UNRWA schools and met with students and their families," said El-Dirawie. "It was in those sessions," at schools of the UN agency for Palestine refugees, "that we realized how frustrated schoolchildren are with the current conditions in Gaza."
The play received some funding from the Palestinian Performing Arts Network, but is only the first stage of what the women behind Bozour hope to be several projects going forward.
Bozour was founded as a nongovernmental organization and its three directors hope it can fulfil a variety of functions, in addition to producing theater.
"We plan to launch another program, called storytelling for local women," El-Dirawie said. "We are planning to reach women in remote, marginalized Gaza areas, where women's roles are confined to household errands, unfortunately."
The idea, she added, is to bring women together to talk to each other about their experiences and from there to "select the best [story] and turn it into a theatrical performance."
The group is also hoping to launch a training program for UNRWA schoolchildren focused on animation, said Barakat, who has experience in this field.
Collecting testimonies
The three directors decided to create the group in 2014 after the last major Israeli aggression on Gaza.
"We had collected women's stories from the 2014 war and we wanted to present them to the outside world," said Barakat. Their attempts to go to Ramallah in the occupied West Bank foundered, however, when Israel refused to grant travel permits. It was then they decided to create their own organization in Gaza.
The move could prove groundbreaking, said Yusri Abdallah, deputy secretary-general of the Palestinian Union of Artists in Gaza.
"I am very proud of what they have achieved. Women's drama has been limited in Gaza over the past 15 years," Abdallah told The Electronic Intifada.
But there are limits to what subjects they can broach, acknowledged Deeb, who said the group had to respect Gaza's conservative and religious norms.
"We cannot touch themes that have something to do with sexuality and romantic relationships, for example. Our message remains educational and instructive and we always make sure to continue and not to argue. We have no choice."
Abdallah said he hoped the example of Bozour would inspire other female performers in Gaza – he said there were currently some 20 women directors and 40 actresses – and suggested there might be a window of opportunity right now.
"When Hamas took over Gaza in 2007, artists here faced many restrictions. Actresses were compelled to wear headscarves, for instance. Over the past three years, there has been some easing of those restrictions. The Hamas-run Al-Aqsa TV itself has produced a number of series involving actresses."
Combined with this, Abdallah said he hoped reconciliation talks between Hamas and Fatah will also lead to a thawing of restrictions in the cultural sphere. Certainly, the young audience at the Al-Aqsa Sports Club professed themselves happily entertained by Hashtag: Gaza will become a better place.
"Fazeea, Fazeea [fabulous, fabulous]," said Abdullah Abu Maraheel, 12, copying the manner in which one of the actresses had used the word on stage.
Rami Almeghari is a journalist and university lecturer based in the Gaza Strip.
Tags