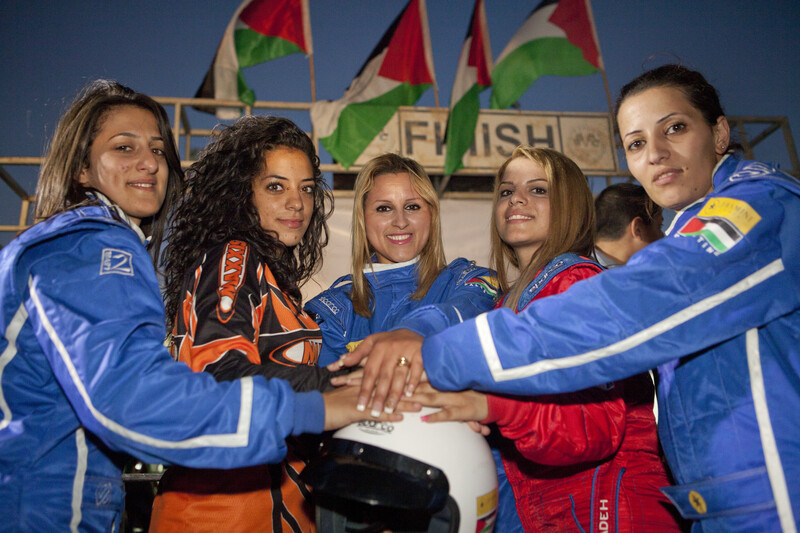 Speed Sisters directed by Amber Fares (2015)
Google "sport" and "Palestine" and what does the search engine return? Football, football and more football.
Soccer seems to be the only kind of sport associated with Palestine — and the fever which grips the West Bank and Gaza during national games or matches between popular international clubs like Barcelona and Real Madrid bears this out.
But Amber Fares' Speed Sisters — premiered in Australia and the US in 2015 and on release in the UK this spring — follows a very different set of enthusiasms.
This gutsy, moving, exciting and deeply personal film follows the Palestinian women's rally-car racing team through two seasons of hopes and heartbreak, love and rivalry, punctuated by scenes of cars screeching and skidding to pounding rock, metal and hip-hop soundtracks.
Snappy portraits
Female participation in rally-car racing is rare the world over, so it's unsurprising that Palestinian women have been doing it for only a decade.
One of the pioneers was Mona Ali, one of the five members of the Speed Sisters racing team followed through the film.
Along with teammates Marah Zahalka, Noor Daoud, Betty Saadeh and captain Maysoon Jayyusi, Ali provides the focus for the interwoven tales of cars and West Bank life that the film narrates.
Fares' snappy portraits rapidly show the five women racers to be very different personalities. Quiet, serious Mona races not for trophies but "for release." Glamorous Betty, scion of a wealthy family of racers, identifies as both Latina and Palestinian — she was born in Mexico — and insists on her femininity despite the boyish image of her sport.
Filmed having a manicure, she refers to herself as "a brand … beautiful and attractive."
Marah, with whom Betty maintains a sometimes bitter rivalry, comes from Jenin refugee camp but, contrary to the camp's conservative image, is backed by her family to extraordinary lengths.
According to Marah's father, a dental technician who is shown working 14-hour days to fund his daughter's sport, he first spotted her talent when, at the age of 11, she stole the family car and burned out the engine driving around the neighborhood.
At times, Noor — now the Middle East's only female drift racer — seems to be Marah's main supporter in her competition with Betty. But it falls to captain Maysoon, an elegant businesswoman, to use her diplomatic skills to keep the team together.
Maysoon's skill in handling people is also reflected in her comments on the fear many men have of strong women. She has to make herself "smaller," she admits, to persuade the head of the Palestine Racing Federation to accept her advice without resenting her gender.
The competition between Marah and Betty, exacerbated by what looks like genuine bias on the part of federation officials, provides a large part of the film's narrative thrust, moving from one race meeting to another, the two women racking up times that differ by just a second or two.
Alongside the drama of this story are the personal tales and dilemmas of the five women and their fight for the ability to race.
One of the biggest obstacles is the lack of facilities in the Israeli-occupied West Bank. Competitions are held in makeshift venues such as the Jenin vegetable market and the presidential airstrip in Bethlehem.
The Speed Sisters' main training ground is a piece of wasteland donated by the Ramallah municipality. But it is close to Israel's Ofer military prison and the women are increasingly threatened and shot at by Israeli guards.
In one scene, a photo shoot for a German magazine is abruptly cut off when Betty is injured after being hit in the back by a high-velocity tear gas canister, resulting in huge bruises.
Intelligent and thoughtful
Mona, the oldest of the group, is the first seen preparing to get married, with the inevitable questions of whether her husband will support her continued involvement in such a macho sport.
In a deeply honest and thought-provoking scene, Maysoon looks genuinely floored when Mona suggests that, if necessary, she will give up racing to keep her future husband happy.
Later, Maysoon reveals that she comes from a fairly conservative family who "worry about" their children, especially the daughters.
But she also insists that, despite family pressure, she will never marry just for the sake of it, but is waiting for a man who will really make her happy.
Although she looks doubtful that this will happen, we later see her blissfully alongside her fiancé, a member of the Jordanian rally team with whom she ends up pursuing a new racing career from their home in Amman.
The issues explored through these women's lives are not confined to love, marriage and the role of women in Palestinian society.
We see Marah, for instance, contemplating the question of fasting during Ramadan and what it means to her and other Muslims as a symbol of empathy with the poor and destitute.
And on the eve of her move to Jordan to get married, we witness Maysoon — usually glamorous, with long blonde hair — wearing a headscarf and billowing dress in order to visit the al-Aqsa Mosque in Jerusalem to pray.
Her reflections on what it means to live in — and to leave — Palestine highlight that fact that, as well as being feisty, tough and sexy, these women are also intelligent and thoughtful, engaging with the challenges that the Israeli occupation and their own society throw at them.
We see the emotional impact of these challenges when Marah finally obtains a permit to pass through Israeli checkpoints to go to Jaffa, a city inside present-day Israel, with Noor and Maysoon (who have Jerusalem IDs, allowing them to access Jaffa) to celebrate Maysoon's engagement.
Marah, coming from a less privileged family and confined by Israeli walls and rules, has never seen much of Palestine beyond the West Bank, and is shocked by her first encounters with Jerusalem and the Mediterranean coast.
"I was surprised by Jaffa and Jerusalem," she says in tones of wonder. "They took the most beautiful places we had."
Sarah Irving is author of a biography of Leila Khaled and of the Bradt Guide to Palestine and co-editor of A Bird is not a Stone.
Tags