Israeli-American real estate mogul Adam Milstein recently made headlines when it emerged that he had solicited funds on behalf of two student senate candidates at the University of California at Los Angeles (UCLA) who espouse strong anti-Palestinian views.
When asked about the donations, which had reportedly been funneled through UCLA's chapter of the Zionist campus organization Hillel, by Mondoweiss' Alex Kane, Milstein feigned ignorance: "When I make a donation to the UCLA Foundation or what have you, I don't know what they're doing with the money."
However, Milstein's claims were swiftly belied by emails discovered by Chloe Hunt of UC Berkeley campus newspaper The Daily Californian.
The emails show that Milstein had, in fact, personally directed donors to send checks for the candidates, Avi Oved and Avinoam Baral of the right-of-center Bruins United party, to UCLA Hillel's director of fundraising, explicitly asking the donors to earmark their checks for "UCLA student government leaders."
In an email thanking Milstein for his efforts, the candidates wrote that "[We] and the rest of the Bruins United slate are prepared to make sure that UCLA will maintains [sic] its allegiance to Israel." More specifically, Oved and Baral pledged to ensure that their party would take a firm stance in support of the university's continued investment in companies supplying Israel with arms. In the same email, the candidates express their excitement at representing "the ideologies of Israel."
The campaign controversy was further inflamed by a pattern of racist and Islamophobic tweets by Milstein, in which he made derogatory remarks about Muslims, and railed against President Barack Obama for "cuddling up to Islam."
The fear of any form of boycott, divestment, and sanctions (BDS) against Israel being endorsed by the university senate (which has led UCLA Hillel to enlist the services of a public relations firm) figured heavily in Milstein's sales pitch: "It's of extreme importance that [Oved and Baral] prevail vs. some anti-Israel, pro-BDS students that are competing against them," he wrote.
"Delegitimize and discredit"
Last week, the UCLA campus newspaper Daily Bruin published a new investigative report including additional leaked emails to and from Milstein.
Among other things, the emails reveal a much closer working relationship between Milstein and UCLA Hillel than was previously known, including their partnership in "an ongoing strategy to delegitimize and discredit" student organizations that support divestment, "such as" Students for Justice in Palestine and Jewish Voice for Peace.
One email includes an explicit request by Avinoam Baral, now president of the student government, the Undergraduate Student Association Council, for a Milstein employee to help conceal evidence of their relationship.
The mistruths to Kane and the recent revelations in Daily Bruin turn out to be the tip of the iceberg in a much larger pattern of attempting to conceal aspects of Milstein's past.
This includes a conviction for tax fraud, after which Israeli diplomats wrote to a federal judge seeking a more lenient sentence for Milstein.
Who is Adam Milstein?
Adam Milstein, whose name on many legal documents in the United States is Tuvia Milsztein, is a managing partner at the real estate investor Hager Pacific Properties, overseeing the firm's financing and other operations.
Since arriving in the United States from Israel in 1981, he has amassed a net worth estimated in 2009 at $147 million, according to government filings in his legal case.
Milstein has poured a considerable amount of his vast wealth into conservative and anti-Palestinian causes, primarily through his private charity, the Adam and Gila Milstein Family Foundation.
The foundation's declared mission is "strengthening the State of Israel" and "ensuring the Jewish identity and the special affinity to the State of Israel of the young and the future Jewish generations."
Milstein sits on the board of many of the anti-Palestinian advocacy groups to which he donates, including StandWithUs, Hasbara Fellowships and the Israel on Campus Coalition (a nominally independent body spun off from Hillel International in 2010).
He also serves on the national council of the American Israel Public Affairs Committee (AIPAC).
Buying influence
The uproar over Milstein's UCLA donations, which had not been disclosed by the candidates, nearly derailed the appointment of Oved to the more influential post of student regent and raised questions about the propriety of outside donors attempting to covertly influence student politics.
This was not the first time that Milstein had found himself at the center of a UCLA campus controversy: Milstein's foundation also provides generous funding for the American Jewish Committee's Project Interchange program in California, which offers free, guided trips to Israel for student leaders, part of a larger, international program that also targets university administrators, police chiefs, politicians, journalists, and other influencers.
The Milstein-funded program sparked a furor of its own when many UCLA student leaders signed a pledge not to avail themselves of such trips, widely seen as another outside attempt to manipulate student politics. The pledge came in response to revelations that another anti-divestment senator from Bruins United, Sunny Singh, had accepted a free trip to Israel from the Anti-Defamation League (ADL).
The UCLA student government's election code is notable for providing little transparency or accountability for the financial dealings of parties and candidates, which may spend unlimited sums with no obligation to disclose funding sources, and offers no clear mechanism for auditing self-reported campaign expenditures. This stands in sharp contrast to the elections policy in place at the University of California Berkeley.
On other campuses, such lax oversight of student government has led to outright manipulation by outside interests, including by for-profit corporations.
"Where do you hide a dead body?"
There are more than a dozen social media accounts under Milstein's legal name Tuvia Milsztein on such sites as LinkedIn, SlideShare, Flickr and many others. Numerous domain names containing Milsztein's name have also been registered since 2010.
The accounts bearing timestamps share the common distinction of being completely or almost completely unused since their creation. But why would a person known to so much of the world as "Adam Milstein" go to such elaborate lengths to create a web footprint under a different name?
In addition to the sites named above, accounts in the name of Tuvia Milzstein exist on two others: Naymz and iKarma.
Naymz is a platform that, according to its website, allows users to "manage your social reputation," while iKarma bills itself as providing "reputation and customer feedback systems for businesses and professionals."
Online reputation management is a growing industry, with many consultants charging over $5,000 per year for their services.
Milstein's interest in such services appears to be more than casual: Lori Randall Stradtman, author of Web Reputation Management for Dummies, told The Electronic Intifada that the creation of large numbers of social media profiles with no particular intention of using them is a "standard practice for disreputable reputation services, as is flat out lying."
According to search engine optimization (SEO) consultant Thomas Léger, the proliferation of content bearing the name of Tuvia Milzstein is "definitely some kind of attempt at search engine manipulation."
Because search engines tend to rank social media profiles highly among search results, creating a large number of them can easily cause them to dominate the first few pages of results for a name, thus pushing undesirable results farther down.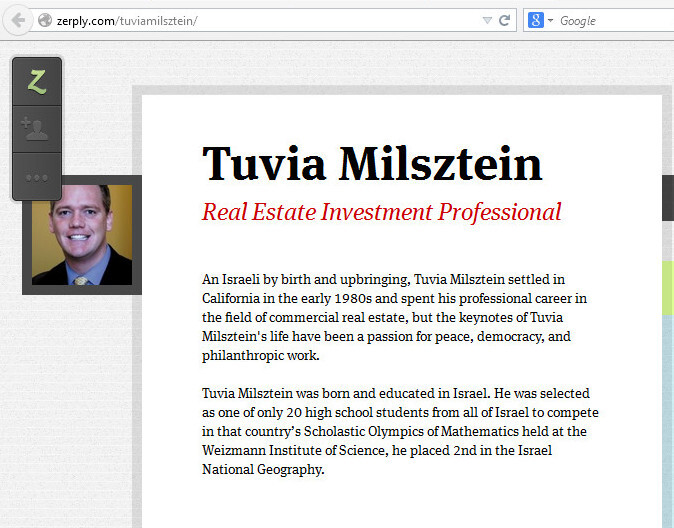 Curiously, several of Milztein's profiles include a photograph, though not of Milsztein: A reverse image search shows the man in the photograph to be one George Divel III, a financial consultant with serious reputation issues of his own.
"Where do you hide a dead body?" asked Stradtman. The answer? "On the third page of Google results."
Felony conviction
Buried in the sea of empty social media profiles returned in searches for "Tuvia Milsztein" (and buried even more deeply if one searches for "Adam Milstein") is a sole document that reveals what Milstein likely hoped would remain out of view, a record of the case "United States v. Milsztein."
The document is a redacted copy of a judgment resulting from Milstein's 2009 conviction for felony tax evasion.
Milstein was sentenced to three months imprisonment, 600 hours of community service, three years of supervised release, a $30,000 fine and repayment of taxes owed.
He served his three-month term at the Taft Correctional Institution, a minimum security federal facility in Southern California named as one of the "best places to go to prison" in the United States, and known in part for its "immaculate" bathrooms.
At Milstein's change of plea hearing, defense attorney Edward M. Robbins, Jr. promised to deliver a "very comprehensive nice package" for the court, making the case for a lenient sentence. This document and other case materials cited here are included in the PDF files at the end of this article.
The hefty "package" included a letter from Milstein himself, a list of charities supported by his foundation, and scores of letters from Milstein's family, friends and associates, employees and colleagues, a psychiatrist and a long list of officials from anti-Palestinian advocacy groups.
Anti-Palestinian leaders who requested leniency for Milstein following his felony conviction included Esther Renzer and Roz Rothstein of StandWithUs, Elliot Mathias of Hasbara Fellowships (which at one time employed Milstein's daughter Natalie), senior AIPAC consultant Carol Aminoff, and many others — nearly all of them on the official letterhead of their respective organizations.
Philanthropy: a "device to defraud"?
Noteworthy among the list of officials who intervened on Milstein's behalf was Jacob Dayan, who was at that time Israel's consul-general in Los Angeles .
Writing on official Israeli-government letterhead, Dayan praised Milstein as a "virtuous" individual who "honors the revered trust between civil society and individual generosity."
"I have known Mr. Milstein to be an integral part of the greater community through his remarkable compassion and extensive philanthropic activities," Dayan wrote, adding that Milstein "has personally assured me that in the future he will follow the precise letter of the law."
Prosecutors acknowledged the extent of Milstein's charitable giving, but warned of "an obvious concern that much of his philanthropy appears to have been merely a device to defraud the government."
Throughout the three-year term of his supervised release, Milstein was required to obtain court approval for travel outside the United States.
Requests submitted as part of this process shed light on the nature of Milstein's travel. Milstein's trips during this period included an AIPAC "president's cabinet mission" to Israel and Jordan in 2009, a lavish $18,000 Italian vacation in 2010, and a "trustee study tour" to Israel and Egypt with the AIPAC-affiliated Washington Institute for Near East Policy later the same year.
On the AIPAC junket, Milstein and other major donors (the president's cabinet requires a minimum annual commitment of $25,000) met with Prime Minister Benjamin Netanyahu and other senior Israeli and Jordanian officials.
One itinerary included meetings in Amman with Jordan's King Abdullah, Prime Minister Samir al-Rifai, intelligence chief General Muhammad Raqqad, and US Ambassador Robert S. Beecroft.
It is unclear if Beecroft, now ambassador to Egypt, knew that he was meeting with a recently convicted felon.
The preliminary itinerary for the Washington Institute trip also included dinner with then Israeli President Shimon Peres, possible meetings with Palestinian Authority officials Mahmoud Abbas and Salam Fayyad, and meetings in Egypt that appear to have included then-dictator Hosni Mubarak, ousted only two months later.
Kickbacks
Milstein was but one of many individuals prosecuted in connection with the Spinka affair, in which numerous individuals, mainly affiliated with the Spinka sect of Hasidic Judaism, were charged with various counts of conspiracy, tax fraud and money laundering.
According to a document submitted by the government in Milstein's case, the accused parties participated in "a tax fraud and money laundering scheme through which taxpayers would claim false charitable tax deductions based upon contributions that were reimbursed through an elaborate underground banking network and by international monetary transfers into foreign nominee bank accounts."
A detailed overview of the case's development up to January 2008 was written by Amy Klein of Jewish Journal. The case against Milstein, however, did not begin until September of that year.
A plea agreement limited the scope of the fraud charges to his tax returns only for the years 2005 and 2006. He admitted that during these years $170,000 dollars of donations were to Spinka-related entities and that he received cash kickbacks for 90 percent of those contributions.
"You're a liar!"
Participants in the Spinka scheme were denounced in a fiery sermon by Rabbi Steven Weil of Beth Jacob, an Orthodox synagogue in Beverly Hills to which at least one participant belonged.
A past president of the synagogue recounted Weil's sermon to Jewish Journal: "He said that when non-Jews look at our behavior, they don't look at whether you keep Shabbos or wear tzitzit or keep kosher, they look at how you treat your employees, how you deal with the government, are you an honest and straightforward person?"
Referring to nominally observant Jews who, like Milstein, engage in lying, cheating, or stealing, Weil had harsh words: "You call yourself a tzaddik [righteous person], you're a liar!"
Milstein's conviction for his part in a high-profile money laundering and tax evasion scheme, and his apparent attempts to conceal it, suggest that the concerns raised about his financial involvement in campus politics — and the lack of transparency surrounding them — are well-founded.
Following the release of the emails concerning Milstein's donations to Oved and Baral, The Jewish Daily Forward's Yardain Amron noted that funneling money to the candidates would likely have violated the bylaws of UCLA Hillel, which prohibit any of the organization's income or assets from being directed "to the benefit of any private person."
UCLA Hillel development director Rachael Petru Horowitz denied that the bylaws had been violated, despite the fact that Oved and Baral clearly did benefit from the funds that were sent to Hillel. Horowitz had earlier described Oved's position in student government as being "advantageous" to Hillel-affiliated anti-Palestinian activists.
Amron's article quoted Hillel directors across the United States who took issue with the UCLA affiliate's actions in the Milstein-Oved-Baral affair, but a representative of Hillel International told Amron that his organization "strongly supports the donations" due to "the need to back pro-Israel candidates in campus elections."
Pattern of dishonesty
In 2013, Adam Maslia, now associate director of the Hillel-linked Israel on Campus Coalition, had urged anti-Palestinian activists to cultivate relationships with students by "contribut[ing] to their endeavors financially."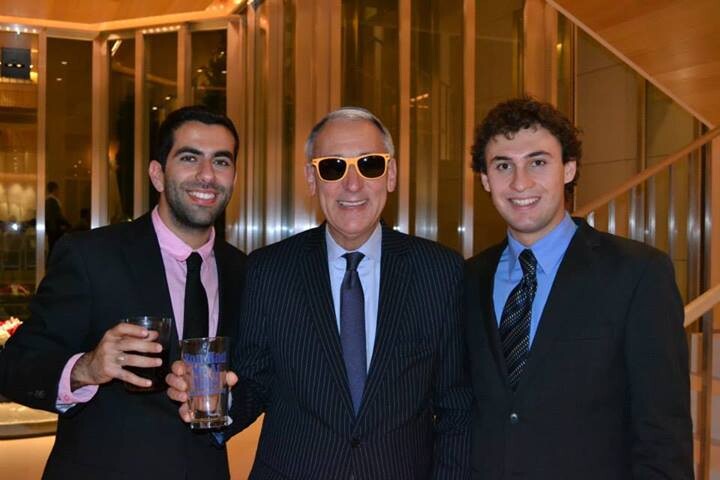 According to sources affiliated with Bruins United, Milstein solicited funds on behalf of the party's candidates again in 2014. It is unclear whether Milstein has contributed to or solicited funds on behalf of students leaders on other campuses who pledge to support continued investment in Israel's arms suppliers. Milstein's involvement in the Project Interchange program, however, would certainly have provided him with access to such students.
Tuvia Milzstein, AKA Adam Milstein, has demonstrated a pattern of dishonesty and outright criminality. From his participation in the elaborate Spinka money laundering scheme, to claiming that he did not know where his donations to Avi Oved and Avinoam Baral were going, to the apparent attempts to conceal digital evidence of his criminal past, Milstein/Milsztein has shown himself to be unscrupulous and untrustworthy.
This is the person on whose behalf the Israeli government has intervened in an American court, and who is bankrolling much of the anti-Palestinian movement on California campuses.
Despite Milstein's efforts, UCLA's student senate voted in favor of divestment from firms linked to the Israeli occupation on Tuesday, 18 November. The vote elicited a visceral response from Avinoam Baral, now senate president, who had earlier admonished meeting participants to keep their "emotions outside."
Milstein did not respond to repeated requests for comment.
More: "Adam Milstein: Documents he hoped you'd never see," a post by Abraham Greenhouse providing additional details and links to the documents about this case.
Tags