Abdelrahim Younis spent five months building his own home in the 1990s. Tall and spacious, it was complemented by a rose garden and palm tree at its entrance.
"I wanted to have my extended family with me and my wife when we get old," said Abdelrahim, 64, who worked in the construction trade for decades.
His wife Ibtisam recalled that "our life was perfect" at the house, which was located in Beit Lahiya, northern Gaza.
"My children and grandchildren were all around me," she said. "I always organized parties for their birthdays and so many family gatherings. I never expected that we would lose all of this within a moment."
The family became concerned for their safety as soon as Israel began to bomb Gaza in a major offensive during the summer of 2014. On 8 July that year – the first day of the offensive – all 23 people living in the family's home were evacuated.
Finding temporary refuge in the homes of relatives, they did not bring anything with them, apart from the clothes they were wearing.
On the evening of 29 July, Abdelrahim received the news he had been dreading. A neighbor phoned him to say the house had been bombed.
"I couldn't believe what I heard," Abdelrahim said. "It was like a nightmare."
Abdelrahim requested that his sons wait until the following day before going to inspect the damage. It was too dangerous to venture outdoors that evening.
"In the morning, my sons and I went to the house and got a huge shock," he said. "Everything was destroyed. The beautiful garden was turned into a big pile of rubble."
Painful decisions
The family learned that three missiles were fired at the home from an F-16 warplane, supplied to Israel by the US.
Abdelrahim is mystified about why his home was targeted. "My sons and I don't belong to any political party and were not involved in any military or political activities," he said. "All we cared about was building the future for our sons and daughters. Israel destroyed my family."
Across Gaza, more than 19,000 homes were destroyed or made unfit to live in during Israel's 2014 offensive. A further 100,000 were damaged.
The destruction of their home forced members of the Younis family to make painful decisions.
With Israel placing heavy restrictions on the entry of construction materials into Gaza, rebuilding the home became a major ordeal. And with opportunities extremely limited in the besieged territory, members of the family began emigrating.
Nael, the eldest son of Abdelrahim and Ibtisam, was the first to do so. He moved to Belgium in the winter of 2015 along with his wife and four children.
"I couldn't stay in Gaza after losing the house," Nael, a 40-year-old computer engineer, said. "I knew that it would not be rebuilt the same way. We had lost forever our beautiful moments together."
Two months after Nael's departure, his brother Muhammad went to Paris. Muhammad initially went alone, traveling through the Rafah crossing, which separates Gaza and Egypt.
He secured a permit to exit Gaza on the basis that he was attending a conference in France. Muhammad's wife and children were able to join him in Paris within a few months.
Helped by a Palestinian Authority representative in Paris, Muhammad arranged for his mother Ibtisam to emigrate to France during 2016.
Ordeal
Two other brothers, Mahmoud and Ahmad, encountered considerable difficulty in entering Europe.
Both of them left Gaza without their wives or children last year, first traveling to Algeria. They had hoped to enter Spain via Morocco. But the people smugglers who were in charge of their journey abandoned them after taking their money.
The brothers eventually succeeded in entering Spain – but only after they have spent seven months in Africa.
Today, Ahmad is still trying to find a way to bring his family to Spain. Mahmoud has moved on to Sweden and has been diagnosed with health problems caused by the stress of emigration.
"I might return to Gaza," Mahmoud said. "I can't imagine another year without my wife and children."
Mahmoud's eldest son Nadim was only 2 at the time of the 2014 attack. Being displaced at such a tender age has forced him to grow up quicker than could ever be considered normal or desirable for a child.
"I try not to put him under any pressure," said Nadim's mother Zeinab. "But Nadim always offers to help. Because his father is not here, he feels that he has to take responsibility for many things."
"Scattered"
The family's home was partly rebuilt during 2018 with assistance from UNRWA, the United Nations agency for Palestine refugees. It is considerably smaller than it used to be.
Abdelrahim is distressed that his wife and many of his children have been pushed to emigrate.
Only two of his sons – Hassan and Alaa – remain with him in Gaza. Abdelrahim and Ibtisam also have two daughters, who are still living in Gaza; they had moved out of the family home before it was attacked.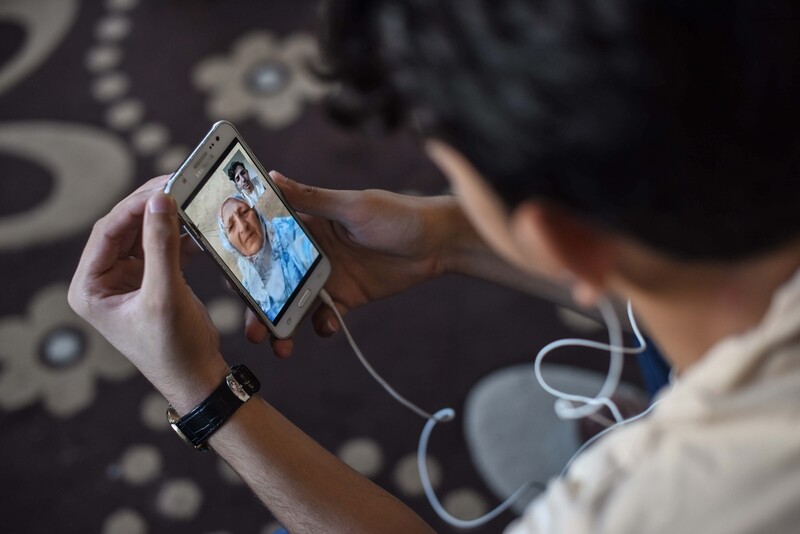 Alaa recalled a conversation he had with his mother in their old house. "She told me that she would search for a bride for me once I had graduated from university," he said.
Alaa got married in 2016. His mother was unable to attend the wedding. She had left Gaza for France a couple of months earlier.
At 19, Hassan is the youngest boy in the family. He still has vivid memories of his old bedroom in the house, where he kept his PlayStation and a Brazil football jersey.
Five years have passed since the family's home was destroyed, yet "the pain of losing everything has never gone away," Hassan said.
"My family is scattered now," he added. "I know that I am grown up. But I will never stop missing my mother and my brothers. I need them to be with me."
Sarah Algherbawi is a freelance writer and translator from Gaza.
Tags