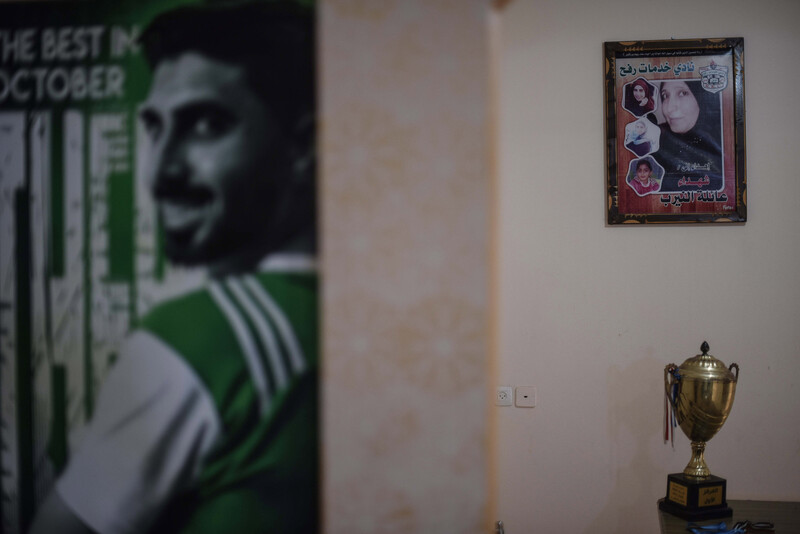 Palestinians are obstructed from playing and, sometimes, even watching football. I learned that as a child.
One day in the summer of 2004, I was making my way to see a match in a southern Gaza stadium. To get there, I had to cross an Israeli military checkpoint.
When I and other football fans arrived at the checkpoint, the soldiers there told us to wait. After an hour had passed, we were informed that we could not venture any further because of "security reasons" – the excuse Israel often uses to stop Palestinians living normal lives.
The incident left me with a deep sense of anger. Football is a sport enjoyed universally. Why were we not allowed to enjoy it too?
Since then, Israel has supposedly "disengaged" from Gaza. Its forces of occupation have moved to the boundary between Gaza and Israel, from where they frequently fire on Palestinians.
I wish that I could say the situation has improved following the "disengagement." In truth, it has got worse.
Mahmoud al-Neirab has been recognized as Gaza's best football player for the most recent season and has represented Palestine at the international level.
In August 2014, Israel attacked the al-Neirab family home in Rafah, Gaza's southernmost city. Mahmoud's mother Arwa and three of his sisters – Ibtisam, Duha and Ola – were killed.
"I can't describe how it feels to lose your mother," said Mahmoud, now aged 27. "But it never stopped me from following my dream. I have dedicated every goal I scored after that to my mother."
"Big lie"
Mahmoud is a member of the Khadamat Rafah football team, which qualified for this year's Palestine Cup Final against Markaz Balata from the occupied West Bank city of Nablus.
Held in Rafah at the end of June, the final ended in a 1-1 draw. A rematch was, therefore, scheduled to take place in Nablus several days later.
The Palestine Football Association requested that 35 people representing Khadamat Rafah – including the team's players – be allowed travel through Erez, the military checkpoint separating Gaza and Israel, for the replay. Yet the Israeli army only granted permits to four people on the list, just one of whom was a player.
Most of the permits were rejected for "security reasons." Israel's secret police, the Shin Bet, claimed to have information "linking most of the teams' members with terror," according to press reports. That allegation has been described as a "big lie" by Jibril Rajoub, chair of the Palestine Football Association.
Israel's stance meant the replay has not yet taken place.
"I was eagerly waiting for this match," said Mahmoud al-Neirab. "I was very close to my dream of winning the Palestine Cup. It wasn't enough for Israel to kill my mother and three sisters. Now they have killed my dream too."
Israel's restrictions also prevent Gaza's football players from joining teams based in the West Bank.
The restrictions have severe economic consequences. The salary paid to a professional player in Gaza is around $150 per month. According to one local sports journalist, West Bank players receive $1,400 per month – almost 10 times more.
Bader Mousa, a Gaza player, has signed a three-year contract to play for a team in the West Bank city of Hebron. Yet he is stuck in Gaza: Israel has declined to issue him with a travel permit.
Mousa had hoped that playing in the West Bank would help him secure a place on the Palestine national team. "Israel destroyed my dream before I could even start," he said.
Five years without family
Another Gaza resident, Omran Abu Belal, has been selected to play for Markaz Balata. By preventing him take up his place, Israel has deprived his family of sorely needed money.
"My family is in a difficult situation," he said. "I'm eager to support them."
While being picked for Palestine's national team is an honor for football players, it offers no protection from Israel's cruelty.
In 2008, Suleiman al-Ubeid moved from Gaza to Ramallah in the West Bank so that he could play with the national team. Israel would not allow his wife and children travel with him. He did not see them until he came back to Gaza in 2013, a move that harmed his career.
"For five years, I did not hug my children." he said. "It was a very difficult decision to sacrifice playing with the national team. But Israel forced me to decide to either keep my job or keep my family."
Two months after he became engaged in 2016, Ibrahim al-Nateel was offered a place with the Jerusalem team Hilal al-Quds. After leaving Gaza, he spent the next year trying to secure an exit permit for his fiancee, so that she could join him in the West Bank. Israel refused to grant her one.
His fiancee become so frustrated that she called off the engagement.
"My fiancee couldn't wait any more," al-Nateel said. "It was very difficult for me to end my relationship with her. But I had to respect her choice."
Al-Nateel returned to Gaza later in 2017, after being injured during a match.
"Psychological war"
According to Fadi Hijazi, head of sports with the newspaper Alresalah, there are around 40 football players from Gaza in the West Bank. Most have not been able to bring their families with them.
"There is a deliberate psychological war against these players," said Hijazi.
Some Gaza players – including players who moved to the West Bank – have been jailed by the Israeli occupation.
Samy al-Daour is among them.
After one training session in 2016, he was stopped at a military checkpoint as he was going home in Hebron – where he lived at the time.
"An Israeli soldier asked for my ID card," he said. "I explained to her that I'm a football player but suddenly, I found myself on the ground and they arrested me. I still don't know why I was arrested."
Al-Daour, now a player with al-Ahli Gaza, spent 10 days in Israel's Ashkelon prison without charge or trial.
Also in 2016, Fadi al-Sharif was traveling back to Gaza from a knee operation in Jerusalem, when he was apprehended by Israeli forces.
"I left the hospital and returned to Gaza directly," he said. "I didn't imagine that I would be arrested, especially as I wasn't able to move my leg. I'll never forget the two weeks I spent in prison."
At the time, al-Sharif was part of the team al-Hilal Gaza but the detention led him to stop playing football.
Football is known to countless fans as the beautiful game. By persecuting Palestinian players, Israel seeks to steal its beauty.
Hamza Abu Eltarabesh is a journalist from Gaza.