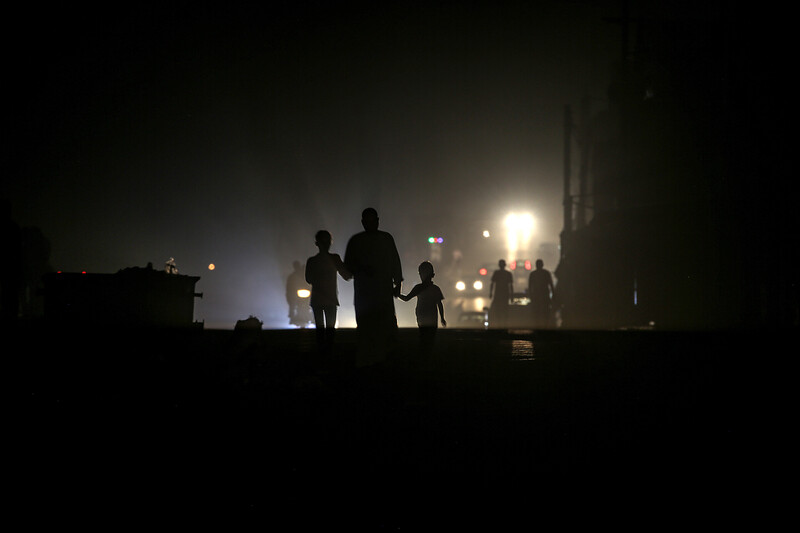 Some people call Gaza City the Dark City.
The nickname became increasingly relevant lately. The shutdown of Gaza's only power plant meant that lights often could not be switched on at nighttime.
"I used to meet up with friends in the evening hours," said Ahmad Khalid, 29, during the power outages. "But with the electricity crisis, I hate going out of the house now and seeing darkness everywhere. It's as if we are ghosts walking in the street."
The crisis was caused because Israel banned fuel deliveries to Gaza's power station last month.
Following two weeks of electricity cuts, Israel lifted the ban in early September.
The cuts took place against the backdrop of what was widely known as an "escalation" between Israel and Palestinian resistance fighters.
As well as bombing Gaza repeatedly in August, Israel further tightened a severe blockade it has imposed for more than 13 years. The tightening was presented as retaliation for how some youths in Gaza launched incendiary balloons into southern Israel.
Israel's cruel behavior increased the suffering of Palestinians in Gaza.
Within a week of the power station closing, Gaza's health ministry announced that it had confirmed the first COVID-19 infections beyond quarantine facilities in the territory. Several people who contracted the disease have subsequently died.
Gaza's medical care system was already under great strain before the pandemic.
Hospitals have been targeted during major Israeli attacks on Gaza. Stocks of essential medicines have become seriously depleted due to the siege.
Babies at risk
According to the Gaza health ministry, the power cuts threatened the lives of newborn babies.
Incubators and some other hospital equipment require an uninterrupted supply of electricity yet that could not be guaranteed after the power station closed. Generators and solar panels were not sufficiently reliable, the ministry stated.
Fears were also voiced for patients needing intensive care, emergency surgery or dialysis, as well as for women who required C-sections while giving birth.
The Gaza authorities introduced a lockdown in response to the COVID-19 outbreak. As a result, people had to stay inside for long periods – without electricity.
"It feels that we are no longer living," said Ali Salem, a 25-year-old living in Gaza City. "The conditions are so harsh it is like we are dead."
Once Gaza's power station was shut, the amount of electricity available fell to just a few hours per day.
The times when power was supplied varied. On occasions, the electricity was only available after midnight and before dawn.
"How can I get up in the middle of the night?" asked Asma al-Said, another Gaza City resident. "I should be sleeping then."
The power cuts meant she was unable to bake bread for her children and perform other household chores.
Tragedy
Following weeks of power cuts, a horrific tragedy occurred in Gaza.
Late on 1 September, three children from the Huzeen family died when their home caught fire in Nuseirat refugee camp, central Gaza. The three brothers – Yusif, Mahmoud and Muhammad – were aged 5, 4 and 2.
It is believed that the fire was started by a candle lit during a power cut.
The incident illustrates how Israel's cruelty makes people unsafe.
Israel's cruelty also hinders children from having their right to education fulfilled.
"My children were passionate about learning but I felt that passion has lessened," said Jihad Muhsin, a resident of Khan Younis in southern Gaza.
"It is difficult to study in the evening when there is no electricity. The light from candles is very dim. The children cannot see clearly," she added.
Said, a 12-year-old also from Khan Younis, could not bear being in his home when it was pitch dark. He would venture outside, frequently taking a mattress with him so that he could sleep on the street despite the restrictions put in place in response to COVID-19.
"I close my eyes and imagine what it is like in other parts of the world," he said. "How come they have electricity every hour of the day? Why do we have to live the way we do? I shouldn't be on the streets but at home, in front of the television."
Ruwaida Amer is a journalist based in Gaza.
Tags