"The Israelis are using a wide variety of sophisticated modern weapons against a basically naked civilian population," said renowned Norwegian doctor Mads Gilbert in a phone interview with The Electronic Intifada on Tuesday, 22 July.
"This is state terrorism at a very sophisticated and very high level," he added.
Speaking over the phone from al-Shifa hospital where he is helping to treat the wounded, Gilbert described the horrors he has witnessed in Gaza in recent days as the bodies of mostly Palestinian women and children are brought to the hopsital torn to shreds by an Israeli arsenal deliberately aimed at civilians.
Listen to the entire interview with Dr. Gilbert or read the transcript below.
War on children
With the Gaza death toll quickly approaching 700, the United Nations says some 80 percent are civilians, among them at least 168 children. Over the last few days alone, Israeli forces have on average killed at least one child in Gaza per hour. Children also make up one-third of the more than 4,000 wounded, many with debilitating injuries that Gaza hospitals are ill-equipped to properly treat due to dire shortages caused by the Israel's illegal siege.
"One of these kids would have a whole cross-professional team in an American hospital or Norwegian hospital," said Gilbert.
Israel, it seems, is waging a war on children. 
Meanwhile, more than 100,000 Palestinians in Gaza are internally displaced, access to clean drinking water is increasingly scarce and electricity is practically non-existent, explained Gilbert. Gaza is a man-made humanitarian catastrophe. 
Bombing hospitals, killing paramedics
Israel has bombed at least 25 health care facilities, killing and injuring several medical workers, said Gilbert, whose repeated appeals for the UN to step in and protect Palestinian hospitals from Israeli attacks that clearly violate international law have been resulted in meaningful action on the ground.
"[Medical facilities] are being targeted and they're being bombed and the patients and the staff are getting killed," said Gilbert.
"What would have happened if Palestinian fighters had bombed an Israeli hospital and killed five patients?" Gilbert commented. "The world would have turned upside down. What is this second-hand, or even third-hand or fourth-hand citizenship in the world for the Palestinians?"
Yesterday the prestigious medical journal The Lancet published an open letter co-authored by Gilbert and signed by several doctors and scientists strongly denouncing Israel's crimes against Gaza's health sector. 
"Israel is saying that they are bombing Gaza to get rid of tunnels and terrorists," said Gilbert. "I see no tunnels and terrorists in Shifa hospital. I see only ordinary people like you and me."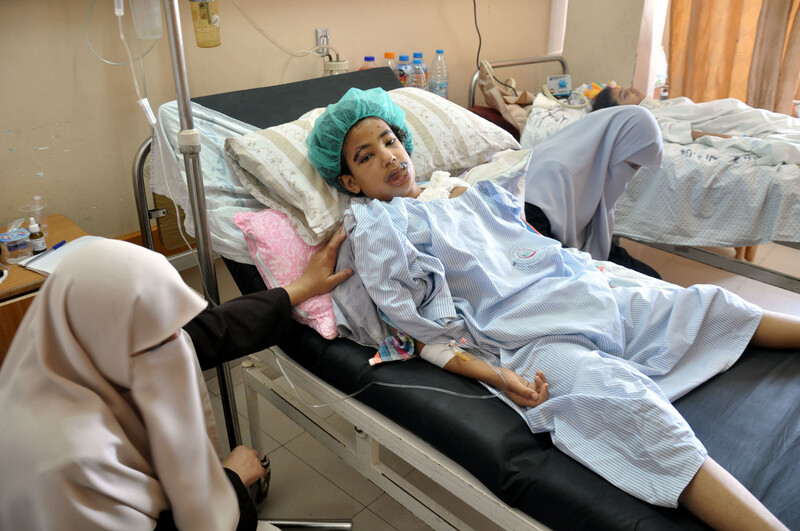 The following full transcript of the interview with Dr. Gilbert has been edited for clarity.
Rania Khalek: Some crazy things happened on what's yesterday for you all. There was a UN school that was shelled, several mosques have been hit. So I'm wondering how things are going at the hospital amid all the chaos. 
Mads Gilbert: It's demanding, but the Palestinians are keeping their high spirit. The hospital is working and it's receiving patients, the caseloads are coming, the injured have been taken care of, the killed are taken to the morgue.
The relatives are crowding into the hospital and what is new since last time we talked is of course the huge Shujaiya massacre in which we don't know yet how many were killed but it was a large number of Palestinians killed during this night of immense bombardment of Shujaiya, which is a city of around 60,000 people. And that night we received 400 patients from midnight until the next morning. We received among them I think it was 47 killed. So of course that was a very dramatic night. 
And in the early morning hours, as the sun rose up, the refugees or those who had been trapped in this bombardment, came wandering to Shifa, many with bare feet and very pale and shocked and devastated and they had lost their homes and many had lost their family members. And they sought refuge in the garden of Shifa and suddenly Shifa had not only the patients and their families, but they had a large group of refugees, internally-displaced persons actually in the middle of its garden. 
So the garden was crowded with hundreds of homeless Palestinians who had been through a hellish night. I talked to some of them and it was heartbreaking to hear their stories of how they had been trapped in their houses, extremely careful of the bombardment of course, desperately calling to get some help to get evacuated. I talked to several families who had injured family members who could not be evacuated by the ambulances and actually bled to death before they could be evacuated. 
So that was a very dramatic night and morning and we worked continuously. The whole fabulous, incredibly hardworking staff at Shifa did I would say an outstanding job to try and accommodate all of these. People are exhausted but they're standing tall and they show up for their shifts despite the fact that they get no salaries. 
The framing of Gaza is often forgotten. 
There is almost no water, ninety percent of the water is undrinkable. The water supply to the residential areas if very very limited. There is almost no electricity. Gaza is running on generators and battery charged lights. When you're sitting there working on some report or your on the Internet, suddenly it's time for the electricity to disappear and there will be eight hours of blackout. 
RK: I was going to ask about the bombing of the hospital yesterday. It wasn't the first hospital that was bombed, but it was the intensive care unit that was targeted?
MG: It was. 
RK: Are you at all concerned at Shifa?
MG: Of course. But bear in mind that twenty-five different medical institutions have been attacked by the Israeli occupation forces and nine medical staff have been killed or injured. 
Three have been killed — one doctor, one pharmacist and one administrative worker — and six have been injured. And as I said, twenty-five medical facilities, among them thirteen primary health care centers, eight ambulances. We have the bombing of the [Mobarat] hospital, killing three handicapped patients. 
And then came of course the horrible bombing of al-Aqsa hospital, which is totally in contravention to all international laws. And they claimed, as they always claim, that it was used as a hide out for some anti-tank positions for the Palestinian fighters. 
I don't know if you saw us on Huffington [Post] Live tonight. There was a debate about Gaza. I was participating on Skype from Gaza and the [World Health Organization] boss in Gaza. He was challenged by the anchor in the US, that the Israelis said that the reason they had to shell the hospital was that the Palestinians had an anti-tank position close to the hospital. 
He then replied that they had immediately sent down an investigative group consisting of several [United Nations] experts and OCHA [UN Office for the Coordination of Humanitarian Affairs] people and they could find absolutely no trace of any weapon. The hospitals in Gaza have never ever been proven to conceal or hide or harbor any militant needs, be it fighters or weapons. This is just another of the many lies which the Israeli propaganda machine is spewing out. Israel is puking it out around the clock. 
So al-Aqsa hospital [was] attacked, absolutely horrible, and it caused me and the Ministry of Health to send out a press release yesterday calling for the international community to consider the attacks on health facilities as war crimes under international law and called upon the international community and the United Nations to take immediate actions to prevent further attacks on medical facilities, ambulances and patients. 
I myself have repeatedly appealed and urged the UN to place [inaudible] a UN flight at all hospitals in Gaza and to escort ambulances and to have international observers at all health facilities in Gaza. This has not been followed up, they're sort of coming and going every now and then. I don't think it is a lack of willingness from the local UN staff, but I think this is at a higher level. 
You could ask UN headquarters in New York, why are you not protecting the Palestinian civilian hospitals and the ambulances? They're being targeted and they're being bombed and the patients and the staff are getting killed. Turn around, do it the other way, put up the mirror. What would have happened if Palestinian fighters had bombed an Israeli hospital and killed five patients? The world would have turned upside down. 
What is this second-hand or even third-hand or fourth-hand citizenship in the world for the Palestinians?
RK: Let me ask you about the injuries you're seeing. Is it the same injuries as before? Last time we talked you mentioned most of the injuries were shrapnel wounds. Is it the same or are the injuries you're seeing now more from bombing homes? What's happening now?
MG: The Israelis are using a wide variety of sophisticated modern weapons against a basically naked civilian population. They have no shelters, which is largely uncommunicated I think in the picture of Gaza. Whereas we see all these reports about individual shelters and home shelters and big cover shelters in Israel, and that's fine. But Israel has never allowed Palestinians to build shelters and they don't have early warning systems like sirens and they don't have a civil defense that is really capable of defending the civilians. 
So they are easy prey for this large arsenal of very powerful and carefully engineered weapons used by the Israeli armed forces. 
So what we see are a variety of injuries caused by a man-made hand. The large artillery shells are causing devastating amputations. The explosions cause burns and blast injuries, meaning that the power wave of the explosion hits the body and can rupture internal organs so they start to bleed. 
We just had a patient now, a young man, who had shrapnel openings. I could fit my fist into the shrapnel opening into his abdomen. He had maybe a hundred, small and large, the largest being large enough to accommodate my hand. One of them went down to his thigh and had ripped off the muscles attached to his leg. 
We had a very young shebab [boy] also with a shrapnel that had penetrated his brain, which was very professionally extracted by the neurosurgical team here at Shifa. They are extremely good staff and doctors. They are doing surgery at a high level. 
We had a young man who had a shrapnel, he was sitting in his home yesterday in central Gaza at the family's apartment. It was shelling close to his apartment and the shrapnel traveled through the window and through his neck and caused an open fracture of the mandible [of the jaw] and also ripped open his carotid artery. So that was life-threatening bleeding. He was treated. We just went [on a] night round to look at him. He had a repair of his carotid artery and he had a reconstruction of the shattered jaw with metal plates and very small screws, like tiny nails to put into and reconstruct it. And he had an opening of the air pipe to breathe directly through the hole on the neck instead of directly through the mouth.
He of course was looking like a football and had a very severe edema, but he will survive. He was clenching the fist when we asked him, both eyes totally closed by the edema and unable to speak because of the large jaw injury, but he communicated with us and was taken good care of in the ICU. 
I saw a little girl tonight, what was her name? Shumaiya, 4 years old, lost her mother and two of her siblings in an attack on Shujaiya, penetrating shrapnels to the abdomen, laparotomies, meaning opening the abdomen twice already. She will have another operation tomorrow.
And next to her laid Madeleine, 14. Two of her uncles were killed. She had severe burns on those arms and open fractures. I could go on forever. 
That's why I wrote in the open letter. I said, Mr. Obama, if you have a heart, come to see us. Spend one night in Shifa, I will dress you up as a cleaner and I'm sure it's going to change your whole perception of what this is all about. You are so alienated to these empty words of "I regret so much that civilian casualties, blah blah," that you don't even have any empathy that can in any sense influence your political decisions. Instead you provide new tens of millions of dollars to this merciless Israeli war machine. Come on. Come visit us. Come and explain to the mothers and fathers, come and explain to Shumaiya why her mother had to be killed and her two siblings had to be killed. 
Israel is saying that they are bombing Gaza to get rid of tunnels and terrorists. I see no tunnels and terrorists in Shifa hospital. I see only ordinary people like you and me and our children. 
RK: Yesterday there were several families that were wiped out in their homes. Is that what you're seeing at Shifa as well, entire families?
MG: Yes, of course we see that. We had three dead come in today. We had the Baker family yesterday that was shelled next to the hospital. I believe three were killed or died on admission. That was very close, just a block away from Shifa and the whole building was shaking when the F-16 rockets hit. And that was the same family who lost the four shebab, the four boys playing football on the beach. 
RK: Their home was bombed yesterday?
MG: Yeah, their whole family residential block was bombed and we had forty injuries coming into the hospital immediately because it was so close. I believe three were killed, the rest were more or less injuries. We did four or five major surgeries. There were shrapnels and bleedings and screams and the whole clan came to the hospital and it was really a moment of chaos and horrible scenes. Within an hour or two we had sorted and patched up and selected those to have surgery and did operations on them and they filled up the ICUs, and so passes the day. 
RK: Lastly, I want to ask you, is there anything in the past two days since I spoke to you last that has really struck you as something that you feel people need to know about, other than everything you've already said? 
MG: The UN count is now 100,000 internal refugees in Gaza — 100,000 people who have either lost their homes or been threatened by Israeli attack forces to leave their homes and they have more or less nowhere to go. The family homes are so crowded now.
This is state terrorism at a very sophisticated and very high level. 
If you go on Al Jazeera English, there is a piece by Richard Falk today. You know him?
RK: Yes I do. 
MG: He has a very, very powerful piece today where he uses the same term I've been using, mainly state terrorism. He's talking about the unspeakable acts of violence. 
I'm at a loss for words to explain to your leaders [why] it is that these Palestinian people are constantly being exposed to merciless killings from this huge power which has another huge power behind it that seems to have a circle of empathy which is just outside their own. The government of Israel is not having any human core in the sense that they include the rest of humankind in their ideal system. 
It seems that the Palestinians have been excluded as worthy of the same value systems as they [Israelis] apply to themselves. 
This is of course the core problem, two core problems. Number one, Israeli apartheid which we see in the numbers I gave you last time. And number two, Israeli impunity. Impunity and apartheid are two key words to understand the current situation. 
To conclude, let me give you the latest update. As of tonight, 622 killed since 6 July, and 160 of these 622 killed are children. 
There are 3,099 injured. Of these 1,213 are children. Now imagine 1,200 injured children, just to care for them, just to comfort them, just to follow up with feeding, with cleaning, with rehabilitation, with pain relief. It takes a whole team. One of these kids would have a whole cross-professional team in an American hospital or Norwegian hospital. Here, they have their family around them, that's their most important asset. But 1,200 injured children, it's an enormous task for any health care system. And 698 women injured. We're up to 1,800-1,900 injured children and women. 
In the ICU, there are 104 injured, and for the last 24 hours we had 64 killed and 489 injured — for the last 24 hours. 
During that night of the massacre in Shujaiya, the 20th of July, we had 141 killed and 452 injured; 47 of these killed came to Shifa. We had horrendously heartbreaking scenes when the families were reunited with their dead ones. And still nobody knows how many dead are lying in the rubble of the bombed houses in Shujaiya. 
Last night they bombed a high-rise building, I think it's 12 stories high. When they shot the first rocket, the front wall fell off in a way. In one of the apartments, the fifth or sixth floor, there was a family of two adults and five children screaming to be released. And then came the second rocket and they were all killed. We got them in charred. Five children and two adults. Terrorist, hmm? Tunnels? Hamas?
These are people. These are people. They are covered by international law. They are covered by the UN declaration for human rights. But Israel is exempted, has this phenomenous impunity that makes it seem like both you and I are paralyzed in the domain of Israeli control. 
RK: Every time I talk to you it's just heartbreaking and awful. I really hope the next conversation we have isn't so dark. 
MG: Can I just give you the light side? The light side is the resilience of the Palestinians. This is not a suffering people. This is not a begging people. They stand up. They stand tall. 
My love and my immense admiration for the staff and the volunteers in Shifa. And not to forget the paramedics — the sacrifice, the risk in every mission they do out in this dark city of death and destruction from the Israeli attack forces. My deepest admiration. 
Shifa hospital stands tall. People are tended to. The surgeons, the operating room scrub nurses, they work day and night. Nobody dies because nobody tried to rescue them. If they die it's because the injury was too devastating for a body to sustain or if they came to us too late. 
RK: Thank you for all that you do and I hope this is over soon. 
Tags