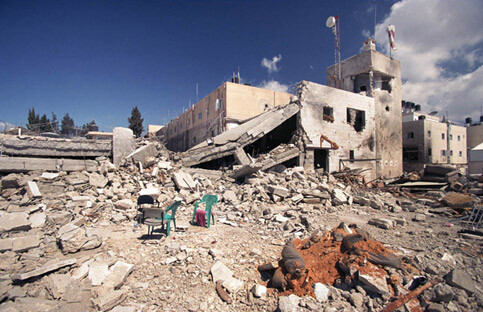 Widespread protests have accompanied Yasser Arafat's appointment of his nephew Musa Arafat as the new head of the Palestinian General Security Service. Thousands of people demonstrated in the Gaza Strip on Saturday night against the appointment while the Al-Aqsa Martyrs' Brigades, the armed wing of al-Fateh, described Musa Arafat as a "symbol" of the PA's corruption.
The appointment deepened the rift between Arafat's generation, which led the Palestinian struggle from exile for decades, and young Palestinians who struggled against the Israeli occupation and who accuse the old guard of corruption and monopolizing power.
On Friday, six persons were taken hostage by armed groups, including tthe now sacked police chief Brigadier-General Ghazi Jabali and four French aid workers. These events triggered the resignation of Rashid Abu Shbak, the head of the Preventive Security Service in the Gaza Strip and Amin al-Hindi, the head of the Palestinian Intelligence Service. The Palestinian president then replaced Ghaza Jabali with Saeb al-Ajez and then appointed his nephew Musa Arafat as head of the National Security Service in the Gaza Strip. These appoinments were greeted by thousands of angry Gazans.
On Saturday, Prime Minister Ahmed Qurei ("Abu 'Ala") submitted his resignation in response to the hostage taking in the Gaza Strip by armed groups who demand an end to official PA corruption. As a common response, the Palestinian president rejected the resignation. "There is a crisis," Qurei told the Palestinian cabinet in Ramallah. The first Palestinian Prime Minister, Mahmoud Abbas, quit after four months.
Ghazi Jabali, who the armed group who took him hostage called "corrupt", once said about himself: "I should be a professor of law at Harvard University." After Supreme Court judges ordered the release from prison of a Hamas activist in 1997, Palestinian Police Chief Ghazi Jabali shouted at them over the phone for "interfering in security matters," and then ignored their order. He later told a reporter: "These stupid judges don't know anything. Who do they think they are to tell me what to do? I know better than all of them."
As head of the Palestinian police, Jabali has been identified as Arafat's "enforcer," known for cracking down on any dissenters. Jabali has made many enemies over the years among Palestinians who see him as corrupt.
On Friday, an armed group ambushed his car carrying Jabali and exchanged fire with his body guards. Two of the bodyguards were hospitalized with moderate wounds. The men broke the car windows, then kidnapped the police chief and took him to the Bureij Refugee Camp in the central area of the Gaza Strip.
Five months ago, a Palestinian policeman was killed and 13 others were wounded in a gun battle at police headquarters in Gaza. Some people in Gaza described it as an assassination attempt against police chief Ghazi al-Jabali. Palestinian Police said that the incident was a failed bid to assassinate the Palestinian Police Chief, who escaped the gun battle unhurt. Palestinians affiliated with the Palestinian Security Service denied this, saying he was only beaten severely. Other reports said he escaped uninjured. Accounts differ as to what happened. "A group of lawless individuals of the lowest level tried to assassinate the founder of the Palestinian national police, sent by some parties that do not want security and peace for the homeland," the police said in a statement.
Some said that the assailants were members of the Palestinian Preventive Security Service in Gaza, acting on behalf of Mohammad Dahlan, the former head of that service. Dahlan was frequently at odds with Arafat during his tenure as minister for security affairs under Palestinian Prime Minister Mahmoud Abbas, and views Jabali as a rival.
Jabali, who arrived with the PLO in 1994, is one of the most controversial figures in the PA security establishment. Last year Arafat fired him following allegations that he had abused his power to accumulate a fortune and was involved in a series of "moral" scandals. He was known for violations of human rights, silencing the press and cracking down opposition. In 1997-99, he was responsible for most of the PA's security operations in Gaza. However, in 2002, Arafat fired Jabali, due to both allegations of corruption, and American and Israeli pressure. The latter was due to Israel's allegations that Jabali had been involved in sending a Fatah cell to commit an attack in the Nablus region. In October 2003, Arafat decided to reinstate him.
Palestinians saw Jabali's reinstatement as part of a process by which Arafat is reinserting his cronies in key positions from which he had been forced to dismiss them over the past years, due to international pressure. Moreover, Arafat's appointment of Musa Arafat is also seen in this context. Palestinians view this process as preparation for a more determined PA assault on opposition factions such as the Aqsa Brigades, Hamas and Islamic Jihad in the Gaza Strip. Musa Arafat is the former head of the Palestinian Intelligence services. In 1996, during a mass arrest of Hamas and Islamic Jihad affiliates, he shaved the heads and beards of the men he imprisoned to humiliate them. Human rights groups have accused him of torture and abuse.
On Sunday, in Nuseirat refugee camp, dozens of Palestinians protested against the appointments. In Rafah refugee camp, armed men exchanged fire with guards at the Preventive Security headquarters. Armed men broke into a PA building in Khan Yunis and burned two offices. Hundreds of Palestinians demonstrated in Gaza against Musa Arafat.
Related Links
Deep-rooted corruption in Palestine, Hasan Abu Nimah

&

Ali Abunimah (23 June 2004)
Cement and Corruption, Arjan El Fassed (11 June 2004)
A Palestinian Authority steeped in paralysis and corruption, Hasan Abu Nimah (18 February 2004)