Old Jerusalem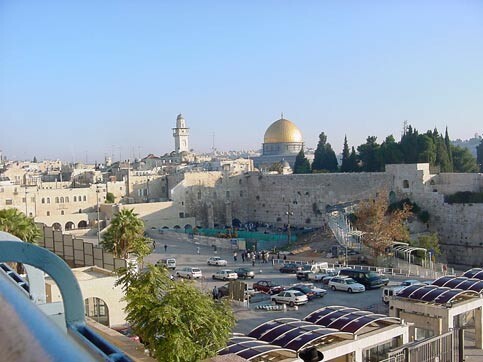 March 10th, 2005 — We left Bethlehem in the rain this morning and moved to Jerusalem. Now we're at Notre Dame just across from the Old City; with medieval walls that were built in the 1500's. More specifically, we are across from New Gate, one of two entrances to the Christian Quarter, and one block east of the Green Line, which used to separate Jordanian controlled Jerusalem from Israel, prior to 1967.

We are a few blocks east of where we met with progressive Israeli activists three days ago, and where Israeli interrogators have been known to torture Palestinians; and where some of Jerusalem's best nightspots are. We are also only a few blocks west of Damascus Gate, the heart of the Palestinian City, which goes to bed early.

We are a few blocks away from centers of Israeli intelligence, and also Palestinian resistance, not to mention the International Solidarity Movement. It all plays out on a stage, just walking distance from here.

We do a quick and intense walk through Old Jerusalem, through the Christian Quarter and inside the Church of the Holy Sepulcher: the spot where Catholic and Greek Orthodox Christians believe Jesus was crucified. We walk through the Arab Old City. We pass the entrance to Al-Haram Al-Sharif, the Noble Sanctuary, the third holiest Shrine to Islam; The Dome of the Rock, the place were Abraham offered his son for sacrifice (the Jews and Christians say it was Isaac; the Muslims say it was Ishmael); and here Muslims believe Mohammed ascended into heaven.

It is also the place that Jews call The Temple Mount, based on accounts in the Torah and Old Testament; where King Solomon's First and Second Temples were built long ago, and subsequently destroyed. The remaining Western Rampart of Solomon's Temple is known as The Western Wall, the holiest shrine to Judaism. Unfortunately we don't have time to clear Israeli and Muslim security and see these sacred Jewish and Muslim Shrines; this takes time. At the Dome of the Rock, getting in is now usually impossible, unless you are a Muslim. There has been widespread mistrust, suspicion and strife over the last 5 years. In 1985, I was able to just walk through the Arab entrance and see this beautiful Dome, and the Rock beneath it.

This is the place where in September 2000, Ariel Sharon walked with a thousand Israeli troops inside the Noble Sanctuary on the Temple Mount. Sharon is infamous among Palestinians because of the Sabra and Shatilla Massacre in Lebanon, when he was defense minister in 1982; this is the most well known of Sharon's acts, among other massacres (like Al Qibba in 1956 near Ramallah, just north of here).

On that day in September when the Oslo peace process was mortally wounded, Sharon was making a political statement, which enraged Palestinians, started riots and sparked off the current 4 years of violence; This has lead to over four thousand Palestinians and about a thousand Israelis being killed in this second Palestinian uprising. This uprising is known as the Al-Aqsa Intifada, named after the Al-Aqsa Mosque, which is located over there in the Noble Sanctuary, or Temple Mount. As we climb up to the Jewish and then Armenian Quarters, we are treated to a Mass, featuring Armenian monks singing Gregorian chants; I am moved, tears swell up; I am overcome by all these conflicting and contradictory spiritual movements!

Now it is time to board the bus to Israel proper, so we hurry out of Jaffa Gate and cross the street north back to Notre Dame. Our bus heads past the Knesset, and down from the hills of Judea, past hillsides that played out wars, mass killings, and flights of Palestinian Arab refugees in 1948. The Palestinians call this time Al-Nakba or The Catastrophe. The Israelis proudly call this time The War for Independence. The ruins of Israeli military trucks from 1948 are still visible along the highway. The hills flatten out to a fruited plain in spring time, and Israel blooms. I immediately regain the feeling of being back at home in the West. This could be the San Joaquin Valley in Central California, except the signs are in Hebrew.

Kfar Saba

We head northeast of Tel Aviv, to the town of Kafr Saba. It is beautiful. It feels much more tranquil here, compared to the hills of Bethlehem, Jerusalem and Ramallah, not to mention the hideous Erez Checkpoint into Gaza. We disembark the bus, and enter Majdi Restaurant where Jewish and Arab Israelis meet as friends and companions. There is a spirit of unconditional love and optimism here that has not been part in our trip so far.

The term "Israeli Arab" deserves some elaboration. These people are really Palestinian Arabs, and their descendants, who never left after Al-Nakba in 1948. They have relatives in the West Bank and Gaza, and also in refugee camps in Lebanon, Syria, Jordan, Egypt, and throughout the Palestinian Diaspora. Israeli Arabs are citizens of Israel, and can vote in Israeli elections. They comprise about 20% of the current population of Israel. Although they generally have a better standard of living than their extended families in the Occupied Territories and the Palestinian Diaspora, they are still second class citizens, living as non-Jews in a Jewish State.

We decide to mix it up: our delegation with our Jewish and Arab Israeli hosts. On my left is Yenny Gutman, a beautiful blond haired blue eyed clinical psychologist. We start out speaking in English, but when I discover that she is a Jewish immigrant from Uruguay, we continue our conversation in Spanish. On my right, is Mafra' Mahmoud, an Israeli Arab, and Deputy Mayor of Bostan El-Marj Regional Council.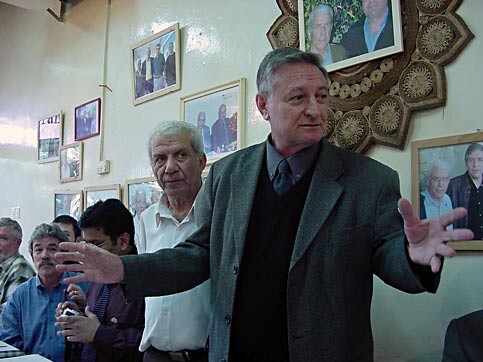 Our group is called to order by Dr. Ernesto Kahan, who is the current Israeli regional Vice President of the International Physicians for the Prevention of Nuclear War (

IPPNW

). He shares this position with his Palestinian colleague Dr. Hikmat Ajjuri, whom we met 4 days ago at the Palestine Red Crescent Society Hospital in El Bireh near Ramallah. Dr. Ernesto was an immigrant from Argentina.

He explains that Majdi Restaurant is a sanctuary, where Arabs and Jews find common ground in a place where they can build personal relationships in spite of the bitter conflict; they are working for a better future.

After lunch, we head to the top of a water tower, to view the topography of Israel and the West Bank. We are at the narrowest waist of Israel. Here, it is only 14 kilometers (9 miles) between the Mediterranean Sea and the border with Qalqilya in the West Bank. We can see all this from the tower.

We look south, and see the skyscrapers in Tel Aviv. We look northwest and can see the beach city of Netanya, where the 'Passover Massacre' occurred in March, 2002. A Palestinian suicide bomber struck a hotel, murdered 29 Israelis and wounded scores of others celebrating the holiday. Israeli Prime Minister Ariel Sharon ordered the re-invasion and occupation of the West Bank and Gaza as a result, including the flattening and mass killing in the West Bank city of Jenin and the reoccupation of Ramallah, Bethlehem, and other towns in the Palestinian Territories. This essentially erased the meager gains that Palestinians had made as a result of the Oslo peace process of the 1990's and brought them far graver setbacks.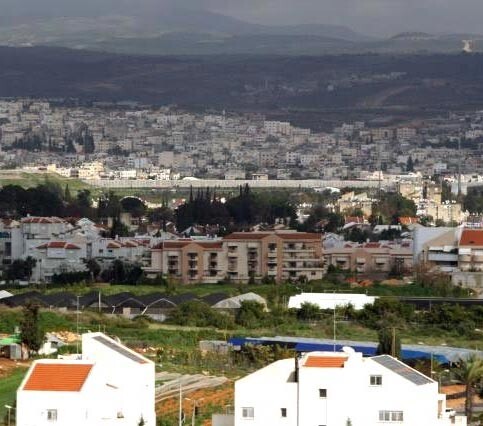 We look to the east and can see The Wall in the distance, separating the West Bank town of Qalqilya from Israel, and No. 6, the main North-South highway in Israel. Dr. Ernesto explains that the wall acts as a sound barrier between the busy highway and the town of Qalqilya in the West Bank.

This may be true, but subsequent inspections of aerial photographs and interviews, with Palestinian sources like Dr. Mustapha Barghouti, will indicate that there is much more to it than that. The Wall is trapping Qalqilya, a town of 100,000, into a giant enclaved ghetto.
Next, Gush Shalom and Physicians for Human Rights in Tel Aviv
Dr. Bill Dienst is a rural family and emergency room physician from Omak, Washington, USA. In March 2005, he traveled to Palestine and Israel as part of a delegation sponsored by Washington State Physicians for Social Responsibility (WaPSR). The delegation met with prominent Palestinians as well as members of the Israeli peace movement. They also traveled inside the Kiryat Arba'a settlement to hear a prominent member of the settler movement. In this series of articles, Dr. Dienst describes these meetings. Dr. Dienst has been to Israel-Palestine twice before. In November 2003, he spent 10 days in Gaza sponsored by Gaza Community Health Programme, and in 1985, he spent 4 1/2 months in Egypt the West Bank and Gaza sponsored by the Palestine Red Crescent Society.